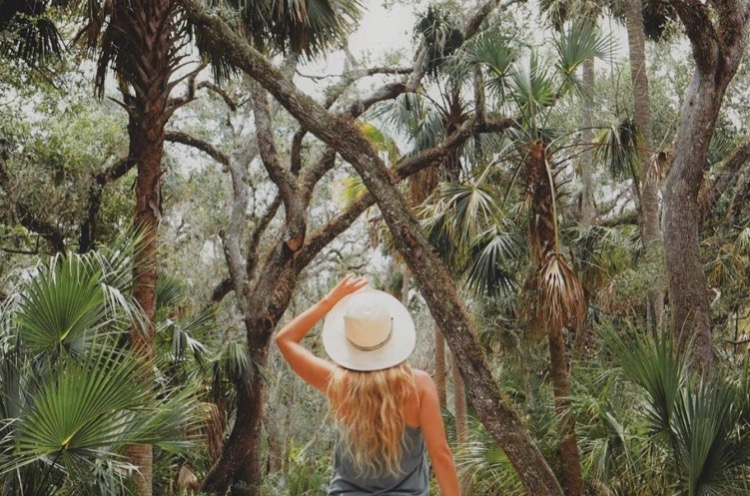 The gardens offer visitors a peaceful stroll along winding reflection ponds sheltered by a picturesque oak hammock. Washington Oaks is also famous for the unique shoreline of coquina rock formations that line its Atlantic beach. This ancient rock formation creates the perfect spot for beachcombing, tidal pool exploring, and photography.
Photo Credit: @praveenacharan
Visitors can picnic and fish from either the beach or the seawall along the Matanzas River on our west boundary. The park also offers a number of short trails providing opportunities for hiking and bicycling, as well as a visitor center for learning about the park's natural and cultural resources.
Washington Oaks hosts several annual events including an Earth Day celebration, Holiday in the Gardens and saltwater fishing clinics. First Friday Garden and History walks along with Second Saturday Plant Sales offer the community consistent monthly programming to enjoy. Hiking, birding, fishing, strolling or spending a day at the beach - Washington Oaks offers something for everyone!
Photo Credit: @davidlong3653
PARK HISTORY
This land is part of Bella Vista Plantation once owned by General Joseph Hernandez, a Floridian of Minorcan descent. Hernandez was a militia general who commanded troops in this part of Florida during the Second Seminole War. A surveyor named George Washington, a relative of the first President of the United States, married Hernandez's daughter in 1845.
In 1818, Jose Mariano Hernandez, a St. Augustine native, bought the land, and named it "Bella Vista." Hernandez' career as a planter was typical for many in northeast Florida. He was a citizen of a Spanish colony, owning lands granted by Spain. In 1821, Florida became a U.S. territory. On his many land holdings, Hernandez raised cotton, sugar and crops to feed the family, workers and slaves. Bella Vista adjoined his cotton plantation to the south, but was apparently never developed as a separate farm itself.
Much of what you see in the park today was left by Mr. Owen D. Young and his wife Louise. Mr. Young bought the property in 1937 and they enjoyed it for many years as a winter retreat. Mr. Young helped found the RCA Corporation and became Chairman of the Board of the General Electric Co. in 1922. Mrs. Young donated the property to the State of Florida in 1964 following the death of Mr. Young.
Photo Credit: @leissamzil
Photo Credit: @pedrocollusso
Photo Credit: @shadowimages
Photo Credit: @hayleyconwellphotography
Photo Credit: @dehate
Photo Credit: @mikysya_fit
Photo Credit: @teanseatravel
MAP:
Address: 6400 N. Oceanshore Blvd. Palm Coast FL 32137
Website: Click Here
Phone: (386) 446-6780
Please call ahead to check park hours or for closures. As always, never litter and leave only footprints behind. Have fun exploring!
Related Articles