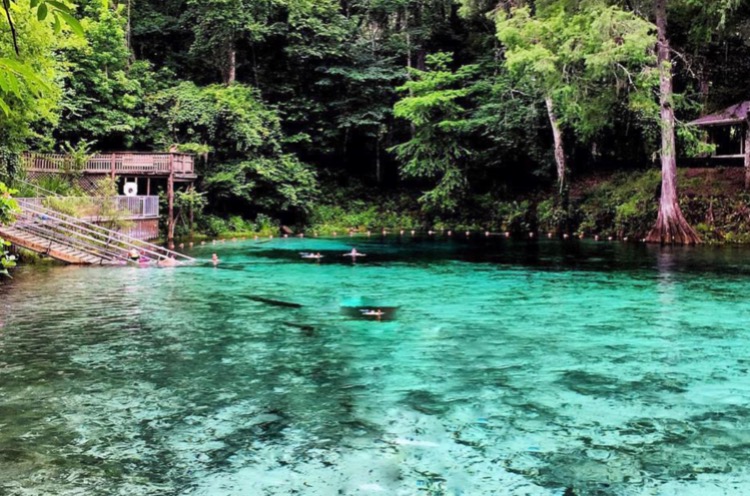 Photo credit: @theadventuresofmom
Located along the meandering Suwannee River, Fanning Springs is an inviting source of cool, clear crisp water that has attracted people for thousands of years.
Fanning Springs produces around 65 million gallons of water daily, making it a second-magnitude spring. Historically, Fanning Spring was a first-magnitude springs as recently as the 1990s. The springs not only offer the perfect 72 degree water to cool down on hot Florida days, it also offers an abundance of underwater wildlife to view such as musk turtles, bass, mullet, freshwater flounder, bowfin, and manatees during the colder days, just to name a few.
Visitors can enjoy grilling and picnicking under the majestic live oaks, kids can swing and run around at the playground, and friends and family can have a friendly game of volleyball on the white sand volleyball court. Their have a boardwalk that allows you to step back in time to old Florida as you stroll through a breathtaking cypress swamp with cypress knees standing six feet tall. This boardwalk ends with an overlook allowing you to see the Suwannee River and all it has to offer, including massive sturgeons jumping during the summer months.
White-tailed deer, gray squirrels, red-shouldered hawks, pileated woodpeckers and barred owls are some of the animals that may be seen around the park. An overlook at the park allows you to see the spring in its entirety and has a spectacular view of the boil.
Visitors can enter the park by boat from the Suwannee River or by vehicle from U.S. Highway 19.
Photo credit: @maureen.mitchel
HISTORY
Fanning Springs was occupied by aboriginal people for thousands of years. Approximately 14,000 years ago Paleo-Indian people first began to filter into the area. Over the next 2,000 years, the climate warmed and the natives subsisted on the animals, fish, shellfish and wild plants found in the Fanning Springs area. Several aboriginal sites have been found at the park.
Nearby Fort Fanning was built in 1838 during the Second Seminole War. Made of wood and situated in a warm, humid climate, remnants of the actual fort have long since disappeared. Originally called "Fort Palmetto," the fort was renamed to honor Colonel Alexander Campbell Wilder Fanning (1788-1846), who served under General Andrew Jackson in the First Seminole War. He was noted for his outstanding service as a lieutenant for leading a charge in a battle near the Withlacoochee River at the beginning of the Second Seminole War.
Fanning Springs served as the local landing for steamboats carrying products to and from local plantations until railroads crossed the Suwannee River in the early 1900s. The land has been used primarily for recreation since the mid-1900s. It was purchased by the state in 1993. In 1997 the Florida Park Service became the caretaker of this marvelous site.
PHOTOS
Photo credit: @yadontshea
Photo credit: @devan_rawn
Photo credit: @bone.lust
Photo credit: @kellywec
Photo credit: @ladylouder
Photo credit: @joshlarckadventures
PARK MAP
MAP & ADDRESS
Phone Numbers
Park (352) 463-3420
Address
18020 N.W. Highway 19 Fanning Springs, Florida 32693
Planning on visiting?
Share your experience with us by tagging us in your photos and using #904HappyHour. Please remember to not litter, stay on marked trails, and please protect our parks by only leaving foot steps behind
Related Articles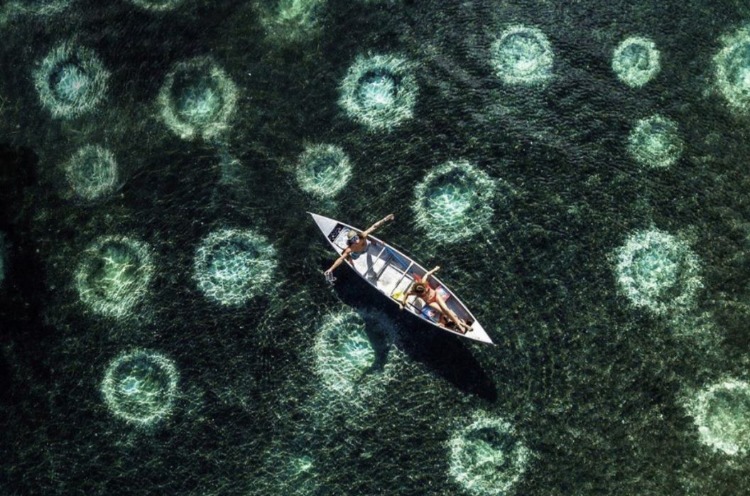 April 21, 2021
2399 views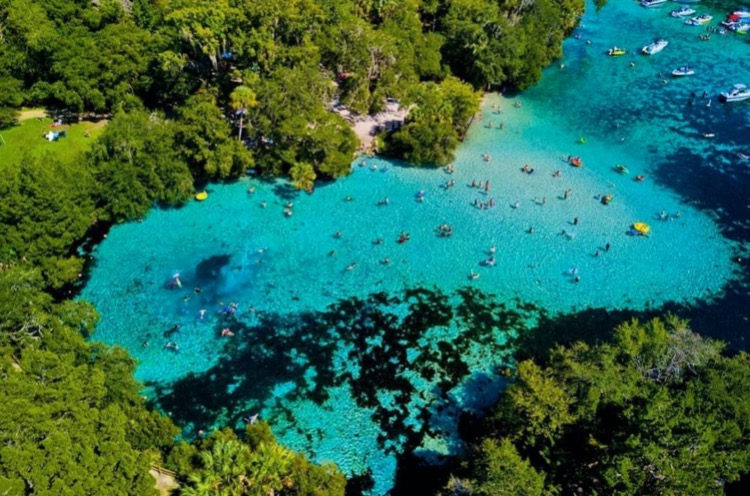 February 25, 2021
1774 views