New Rooftop Bar & Marriot Autograph Collection Hotel Coming to Downtown Jacksonville
by Charles Wagoner
February 3, 2022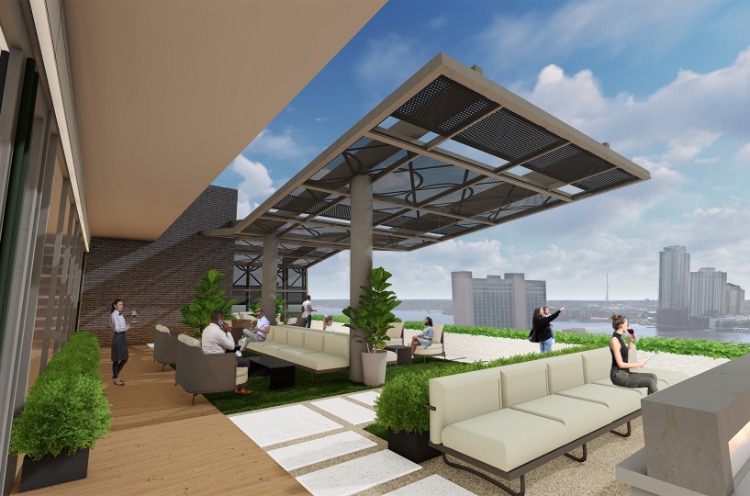 The Laura Street Trio spearheaded by Jacksonville's SouthEast Development Group will include a Marriot Autograph Collection Hotel and a 166-unit multi-family apartment building. The 141 key hotel will include the restored Bisbee Building and new addition that will not only give the space for new hotel rooms, but also an 11th story rooftop bar. The rooftop bar will be a pinnacle location to experience downtown Jacksonville and views of the St. Johns River. Additionally, the Florida National Bank is being converted into a restaurant, and the Florida Life Building is being adapted as part of the multi-family program. Dasher Hurst is excited to announce that the conceptual approval of the hotel was approved at the January DDRB meeting!

The residential apartments will be housed within a new component of the plan. An 11-story, 160,000-square-foot building will be built adjacent to the Historic Florida Life Building as a second phase of the development. Construction will be concurrent with the rehabilitation and adaptive reuse of the historic Laura Street Trio buildings, which will feature a 142-room Autograph Collection Hotel by Marriott.

"Together with our project team, we're pleased to share that the iconic Laura Street Trio development will support Downtown's evolution as a 24/7 neighborhood by adding to its residential density," said Steve Atkins, Principal and Managing Director of SouthEast Development Group. "Expanding the Laura Street Trio development plan to include multifamily housing has been a goal of mine for several years. Between our successful multifamily leasing program at The Barnett and increased demand for housing at various price points, we're confident that this new multifamily product will be a welcome addition to the neighborhood."

Twenty percent of the units will be offered as workforce housing for tenants earning up to 80% of the area median income (AMI). SouthEast Development Group will partner with the Jacksonville Housing Authority to support this critical community-building program.

"When developers recognize the benefits of mixed-income housing, our entire community benefits. We commend SouthEast Development Group for its commitment to workforce housing at the Laura Street Trio development," said Dwayne Alexander, CEO of the Jacksonville Housing Authority.

The project team for the Laura Street Trio includes Dasher Hurst Architects, Danis Construction, Pyramid Hotel Group and Piper Sandler & Co.
PHOTOS:
Renderings provided by Dasher Hurst Architects