Free Scoops At Grand Opening of Mayday's New St. Augustine in Midtown
by Charles Wagoner
July 19, 2022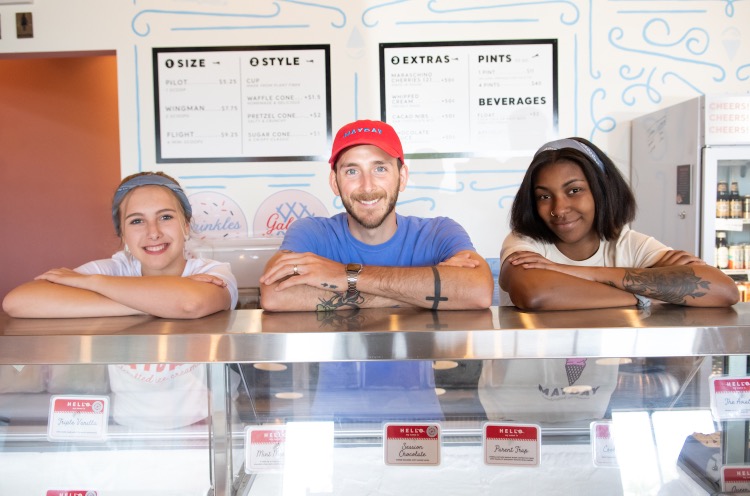 You can never have too many spots to stop for a sweet treat. That is one of the many reasons why Mayday Handcrafted Ice Creams continues to grow. On Thursday, July 21st, the locally-owned ice cream shop will celebrate the Grand Opening of its 9th location at Mayday Midtown, 1765 Tree Blvd., Unit 5, St. Augustine. The newest Mayday location will open on July 21st at its regular time of 11am and serve up their full menu plus half-price ice cream floats of wine, beer, and soft drinks. Then from 6-10pm, all customers can get a fun-size scoop on a sugar cone for FREE. One per person. There will also be music, a food truck on-site, and giveaways!
"We closed the original 312 location because it didn't have adequate seating to serve our customers," explained Stephen DiMare, owner of Mayday Handcrafted Ice Creams and its sister-company, Hyppo Gourmet Ice Pops. "In this newly-renovated location at Midtown, we will have a huge selection of seating inside and outside on our brand new patio. And the outside is very pet-friendly."
Mayday Handcrafted Ice Creams offers classic ice cream flavors with a modern twist such as Queen Salted Caramel, Cookie Crush, Triple Vanilla, Blueberry Toast Crunch, Mint Monster, Coffee + Donuts, and Ice Box Lemon, as well as non-dairy options like Pistachio Moon, Almond Butter Chocolate, and Strawberry Mint Sorbet. The Mayday Midtown location will be open Sunday through Thursday, from 11am to 10pm, and Friday and Saturday from 11am to 11pm.
"Mayday has grown quite quickly in its first few years here, but in some ways our company has been ready for this movement because of our experience growing The Hyppo," says DiMare. "It's really exciting to be creating and serving a product that has resonated with so many people. Mayday is all about the intersection of quality and fun. We combine the highest quality ingredients in ways that are fresh, whimsical, and approachable. Ice cream is a long-standing tradition, so we want to make sure we have something to please the die-hard vanilla-only crowd as well as someone looking to be delighted by new and different flavors."
As for the future of Mayday, DiMare says he would love to see the brand continue to grow into new markets – bringing more people into the artisan ice cream experience. "Our mission is to create an environment for our customers to share their small triumphs, their sunny Saturday's, and even their gloomy afternoons," he exclaims. "A great ice cream shop can really win the day!"
Mayday is owned and operated by Stephen DiMare, Mayday Handcrafted Ice Creams has nine locations throughout Florida, including Midtown St. Augustine, Downtown St. Augustine, Lakeland, Jacksonville San Marco, Jacksonville Beach, and Jacksonville Riverside. Mayday offers handcrafted ice creams and homemade delicacies such as sprinkles and waffle cones, as well as to-go pints. Mayday also operates the Mayday Ice Cream Truck, available for residents to purchase handcrafted frozen treats throughout St. Johns, Duval, Hillsborough, and Pinellas Counties. Learn more or order pints online for delivery at www.maydayicecream.com. Follow along on social media @maydayicecream
MAP:
Related Articles