"Drive-Thru" Food Drive At The St. Augustine Amphitheatre Happening This Saturday
by 904 Newsroom
May 15, 2020
793 views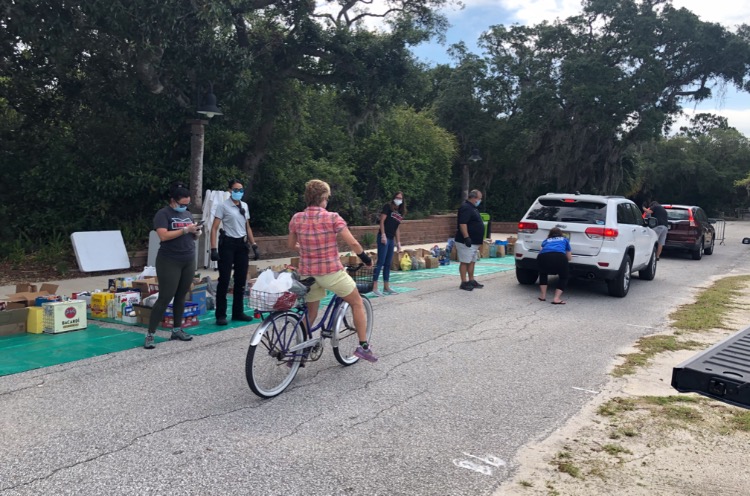 St. Johns County COVID-19 Recovery Team's effort to stay connected with our community and actively look for ways to provide for the ones who are in unmet needs just got a huge boost by the Amphitheatre's "ROCK the Pantries". On Saturday, May 9, the St. Augustine Amphitheatre hosted a very different type of event. What would normally be the site of a bustling Saturday Farmers Market and a spring concert in the evening, instead served as the host to the ROCK The Pantries: A "Drive-Thru" Food Drive to help answer an urgent need in the community.
St. Johns County in partnership with United Way of St. Johns County, recognizing the need and financial hardship because of the loss of jobs or income, and the special role our local Amphitheatre plays in the community, spearheaded a "Drive-Thru" Food Drive on Saturday, May 9 at the St. Augustine Amphitheatre. The seven-hour event welcomed 645 cars and received 16 tons (32,000 pounds) of non perishable items. St. Augustine Amphitheatre, United Way of St. Johns County, St. Augustine Beach Police Department and St. Johns County Sheriff's Office volunteers collected non-perishable food donations directly from vehicles at the drive-thru, while maintaining proper social distancing guidelines. All volunteers were provided PPE equipment by St. Augustine Beach Police Department.
Out of the 22 full time St. Augustine Amphitheatre and Ponte Vedra Concert Hall staff, 17 have since been repurposed to other departments within the County that were in need - including Disaster Relief, Housing, Public Works, and Veteran's Affairs. Public Relations and Community Relations Manager, Dianya Markovits who has been temporarily repurposed to Housing Affairs, with her unique knowledge of the community jewel we have, quickly identified how the St. Augustine Amphitheatre could be of service in this time of need. "The Amphitheatre is well-equipped to coordinate a high-capacity event – and what better way to be able to help the community than to repurpose how we use what we've got!," said Markovits. "The Amphitheatre is more than a music venue, it's a community space. This food drive is a prime example how the Amphitheatre's spirit of community and collaboration can serve as a springboard to positively impact St. Johns County," added Gabe Pellicer, General Manager of the St. Augustine Amphitheatre. Joy Andrews, Assistant County Administrator was so proud of the staff's effort and the outcome it produced, stated "Our Amphitheatre truly embodies the essence of collaboration and resiliency by playing a big part in anchoring our community."
Food pantries that benefited from community donations included: St. Francis House, Betty Griffin House, St. Augustine Youth Services, Arc of the St. Johns, Home Again St. Johns, Epic Cure, Pie in the Sky, Celebration Lutheran Church, Christ's Cupboard, Shepard's Haven, First Church of the Nazarene, Sea Community Help Resource Center, Family Worship Center, Emergency Services and Homeless Coalition, St. Johns Ecumenical Food Pantry, Lighthouse Church of God and Catholic Charities.
The second ROCK The Pantries: A "Drive-Thru" Food Drive will happen this Saturday, May 16 from 9am- 4pm at the Ponte Vedra Concert Hall, located at 1050 A1A North in Ponte Vedra Beach, Florida 32082. The St. Augustine Beach Police Department will also accept food donations for this effort now through 5 p.m. on Friday, May 15 at their location at 2300 A1A South, St. Augustine, Florida 32080.
Related Articles