The Return of Trey Anastasio Band
by Joseph Cartolano
May 28, 2019
624 views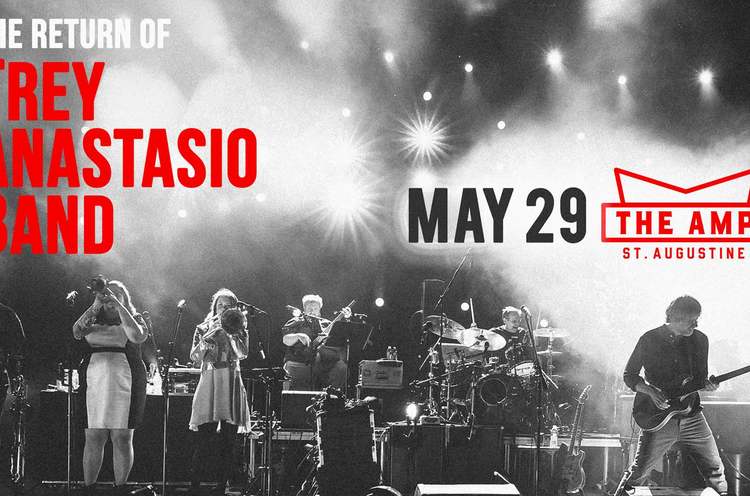 The St. Augustine Amphitheatre is pleased to welcome seminal improv rock band Phish co-founding member Trey Anastasio and his Band on Wednesday, May 29, 2019. Trey Anastasio Band announced today that it will return after an almost-two-year absence, and making St. Augustine one of the only two Florida dates.
Over the past three decades, composer/guitarist/vocalist Trey Anastasio has forged a multi-faceted career, winning acclaim in rock, classical and theatrical circles. He is a founding member of Phish, one of today's most successful and innovative rock bands. He has received GRAMMY® nominations for his recordings with Phish and for his solo work. Anastasio has collaborated with such artists as Dave Matthews, Herbie Hancock, Carlos Santana, Toots and the Maytals, B.B. King and The Roots, and – as part of the trio Oysterhead – Les Claypool (Primus) and Stewart Copeland (The Police). He co-wrote the music for the Broadway musical "Hands on a Hardbody", which received a Tony nomination for "Best Original Score" in 2013. In the summer of 2015, Anastasio joined the surviving four members of the Grateful Dead for five stadium shows, which celebrated the band's 50th anniversary and served as the band's farewell shows.
Since 1998, Trey Anastasio has toured and recorded with several backup musicians, including several side-projects organized and led by the guitarist and composer. While active, his bands did not have a name. Fans commonly referred to them as Trey Anastasio Band, or TAB for short. Through its brief history, Trey Anastasio's band continued to add members, starting as a trio and ending as a dectet.
In the fall of 2012 Trey's touring band, Trey Anastasio Band, returned to the road in support of Traveler, which also features many members of the band. From its beginnings in 1998 the band has included original members Russ Lawton (drums), and Tony Markellis (bass), and over the years has added Cyro Baptista (percussion), Ray Paczkowski (keys), Jennifer Hartswick (trumpet, vocals), Natalie Cressman (trombone, vocals). The latest tour featured new-comer James Casey (saxophones, vocals).
Tickets:
$69.50 – Standing Pit and Rows A-B in Level 100
$59.50 – Remaining Level 100 and Level 200
$49.50 – Level 300
$39.50 – Obstructed
Tickets on sale now!
Related Articles