The Queen of 5 Points
by Jordan Mixson
February 21, 2023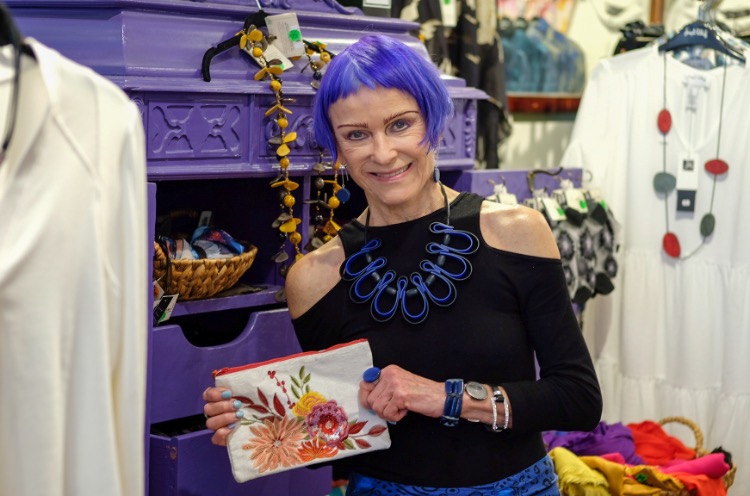 Gunnel Humphrey, affectionately known as "The Queen of 5 Points" has been a mainstay in Jacksonville's art district for over 50 years. Her successful women's fashion boutique, located in the heart of 5 Points, is the perfect place to find colorful and international clothing and accessories. Gunnel's iconic look - vibrant hair and clothes - reflects her enthusiastic and creative spirit, and her commitment to biking over 20 miles from her home shows her dedication to her business. This spring, show your support for small businesses and shop at Gunnel Humphrey's - the newest summer items are sure to make any wardrobe pop!
Gunnel Humphrey is an iconic fashion icon in the 5 Points neighborhood of Jacksonville, Florida. She has owned and operated her boutique, Edge City, for over 45 years and she is among the Riverside and Avondale neighbors and advocates who are glad about the change in ownership. Her story began when her husband Tom had an opportunity to buy the store. "It was nothing we ever talked about. I think Tom didn't have another idea and the opportunity fell in our lap" Gunnel said.
Humphreys has made a name for herself in the community with her colorful style and welcoming attitude to all. Edge City offers a unique selection of clothing, accessories and shoes that are often hard to find elsewhere. Despite the lack of a website, Humphreys' shop has been successful in the spotlight of the Jacksonville community.
Gunnel Humphrey's boutique is a must-see when you visit 5 Points in Jacksonville. With over 50 years of experience, Gunnel has become a fashion icon in the community, and her store stands out in the spotlight. Not only is she welcoming to all, but she also provides a wide range of stylish clothing and accessories that you won't find anywhere else. Whether you are looking for bright colors and unique patterns or something more simple, Gunnel's boutique has something for everyone. Shopping at Gunnel's boutique is not only an opportunity to find amazing fashion items, but it is also a chance to support a local business owner who has been successful for so long.
Related Articles