The Art House Celebrates New Location That Brings Art to the Community
by 904 Newsroom
July 21, 2023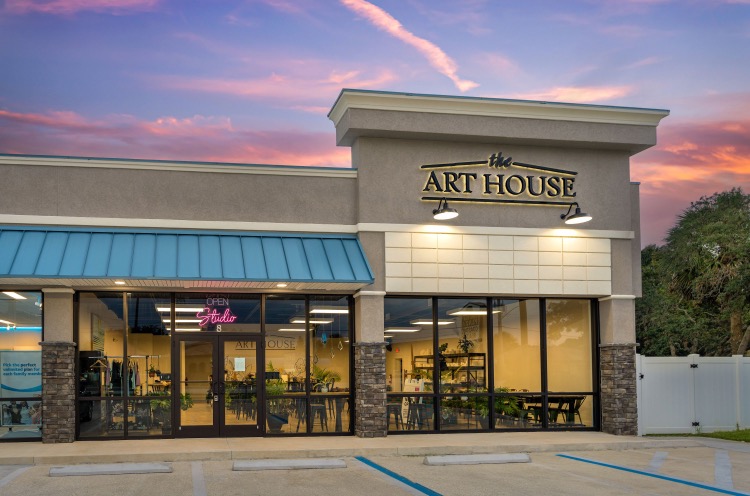 THE ART HOUSE CELEBRATES NEW LOCATION THAT BRINGS ART TO THE COMMUNITY
St. Augustine Beach studio offers open art space + beginners' classes taught by local artists
ST. AUGUSTINE, Florida (July 21, 2023) – St. Augustine has long been home to a vibrant and diverse artistic community. With its countless galleries and one of the finest liberal arts colleges in the South, the historic city has no shortage of amazing artists. What St. Augustine was lacking is an open studio space for the community and consistent, accessible art classes where local artists can connect with the community, both young and old, to share their skills and help shape the next generation of creatives. Enter The Art House, a 2,000-square-foot space with a grand opening on Thursday, August 3rd from 4pm to 8pm at 3920 A1A South in St. Augustine Beach.
"I wanted to create a space that I had wanted to see available in the community," says Melissa Noeth, owner. "I wanted to start throwing pottery again after a long absence because I recognized that even though I didn't consider myself artistic, I would definitely benefit from a creative outlet. And after the last few years, I'm betting I'm not the only one. I realized that St. Augustine didn't have a place where the community and visitors could just drop by on a whim and start creating."
The Art House will focus on two main purposes. The first is offering open studio space and a gathering place for beginners and artists to experiment with creative expression. The second is to offer classes and workshops for those looking to try something new, and if they like it, utilize the open studio to practice their new skill set. The Art House will start with beginners' classes in ceramics, watercolor painting, and drawing as well as private lessons in woodburning and sewing. They will also offer multimedia classes for toddlers in the morning, older children after school, and open studio time where families can paint pottery together.
Noeth says that another core reason for founding The Art House was local families. "My husband, Jon, and I have been raising our three kids here, locally, over the past eight years," she explains. "I wished there were more opportunities for kids to get involved with art and I hope this can be a gathering place where parents can bring their young kids to help keep them entertained and have fun."
The Art House will also offer a small, curated collection of unique, locally-made art as well as art supplies and beverages for purchase such as cold brew coffee, kombucha, sparkling waters, and coming soon, beer and wine. The Art House will host a grand opening on Thursday, August 3rd from 4pm to 8pm with demonstrations, live music by The Band Be Easy, drinks and hors d'oeuvres, bounce house, and face painting. The studio is located at 3920 A1A South, Suite 8, St. Augustine Beach, FL 32080. The space will be available for private event rental on a limited basis outside of normal business hours.
ABOUT THE ART HOUSE: The Art House offers art classes for all ages and open studio space for all experience levels. Located at 3920 A1A South in St. Augustine Beach, the studio is open Tuesday and Wednesday from 10am to 6pm, Thursday and Friday from 10am to 8pm, Saturday from 12pm to 8pm, and Sunday from 12pm to 5pm. Closed on Mondays. Follow along on social media @904arthouse