Super Girl Surf Pro Contest & Music Festival Coming To Jacksonville Beach
by Charles Wagoner
October 29, 2021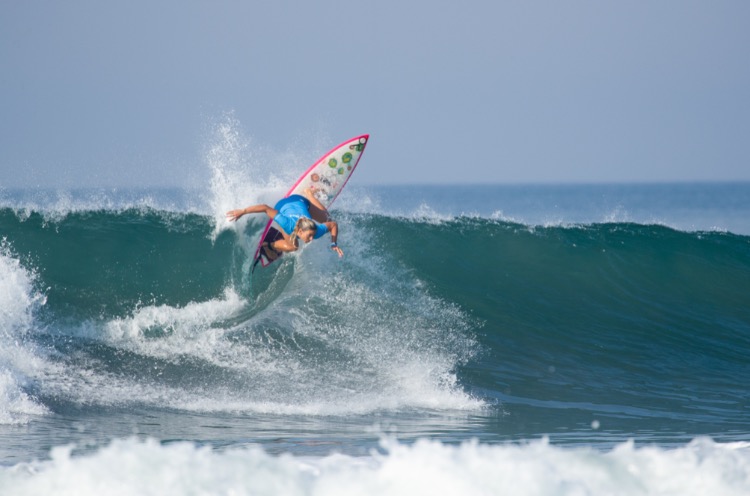 Jacksonville Beach will host the Super Girl Surf Pro from Nov. 12-14, 2021. This is the first women's professional surfing competition of its caliber to come to Northeast Florida. The event, organized by ASA Entertainment, is in its 15th year in San Diego and is expanding to the East Coast. The Super Girl Surf Pro is a celebration of female strength and empowerment while also drawing women's surf competitors from around the world, including 2021 Olympic Gold Medalist and 5-time World Champion, Carissa Moore. All competitions and activities are free to the public.
"The community of Jacksonville Beach is proud to showcase our beautiful coastline as well as welcome visitors from around the country," said Jacksonville Beach Mayor Chris Hoffman.
"We are excited about the athletes competing and the variety of events planned throughout the weekend that empower girls and women. This event will have a significant economic impact for our area as the expected attendance is 20,000 per day," she continued.
This is the first professional women's surfing competition to come to Jacksonville and some of the biggest names in women's surfing are expected to compete. This event, taking place at the Jacksonville Beach Pier, is a World Surf League (WSL) Qualifying Series competition and will include a field of well-known female surfers from around the world, including several from the host city of Jacksonville Beach. The Super Girl Surf Pro draws elite-level surfers like Carissa Moore and her USA Olympic teammate and Florida native, Caroline Marks, along with former Super Girl champion Sage Erickson, 2021 US Open Champion Caity Simmers, and The Ultimate Surfer winner Tia Blanco.
BEYOND THE SURF — CONCERT SERIES, VIDEO GAMES, OTHER SPORTS, FREE CLASSES AND MORE
In addition to world-class surfing, the event features an action-packed Festival Village, headquartered at the Sea Walk Pavilion, with 12 live concerts from the Plain White T's, the Expendables, John K and many more; an all-female DJ competition; women's beach soccer and beach volleyball tournaments; free classes in fitness, yoga, dance, wellness, and Pilates; celebrity speakers; panel discussions; a women's skateboarding competition; a Beer Garden; food trucks; family-friendly activities; a military appreciation tent; more than 50 video game stations; and more.
"When Super Girl was ready to grow and add an east coast event, we couldn't think of a better location for incredible surfing and a cool, welcoming vibe than Jacksonville Beach," said Rick Bratman, CEO of ASA Entertainment, the event's producer. "The Super Girl Surf Pro has made a long-term commitment to hosting an inspirational event that will empower young women, as well as showcase successful women in professional surfing and from many other walks of life," he continued.
Each Super Girl event is centered around providing social, athletic, cultural, educational, business and entertainment opportunities for young women in areas where they are traditionally underrepresented. Since 2007, the popular surfing competition and festival has been held annually in San Diego at the Oceanside Pier.
The Jacksonville Beach Super Girl Surf Pro is supported by Founding Partners: Florida Blue, CSI Companies, Atlantic Self Storage, the US Air Force, Jeep, CELSIUS, Gillette Venus, Jolyn, Lenovo, and the City of Jacksonville's Tourist Development Council.
The surf portion of the event will run daily at the Jacksonville Beach Pier from Friday, Nov. 12 through Sunday, Nov. 14 from 8 a.m. to 4 p.m. The Festival Village at Sea Walk Pavilion will run on Saturday, Nov. 13 from 12 p.m. to 10 p.m. and on Sunday Nov. 14, from 12 p.m. to 8 p.m. Access to the surfing, concerts, esports, panels, classes, beach volleyball, beach soccer and all elements are free to attend.
The event will be televised on FOX Sports and ROOT Sports / AT&T SportsNet RSN's in January and February. There will also be a two-day live webcast with 16 hours of coverage on several sites, including Twitch, YouTube, World Surf League, Surfline, The Inertia and Facebook.
Related Articles