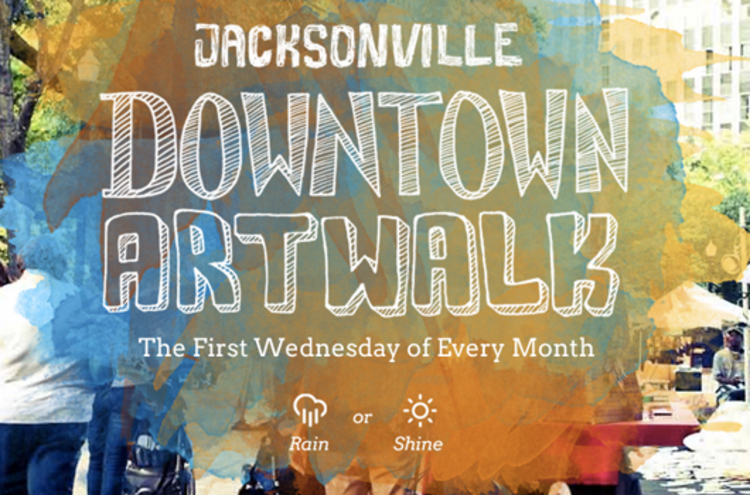 Jacksonville Fl - This month, First Wednesday Art Walk celebrates a decade of art and culture! Join Downtown Vision, Inc. and the participating artists and venues as we all celebrate 10 years of Downtown's signature event.


HIGHLIGHTS:

Headquarters @ Hemming Plaza: Celebrate with a cheers to 10 years toast at 6:15 p.m. on Laura Street, including an Art Walk retrospective, announcements, performances and more. Enjoy public art installations by Episcopal High School's National Art Honor Society and The Temporary Solution with live music by Mikey's Imaginary Friends and the Episcopal High School Jazz Band.

Grease Rags Clothing Co.: New location – Shop for unique clothing, shoes and accessories.

JAX Chamber - Features artwork by Chip Southworth and Keith Doles.

Mr. Mince Productions, Inc.: New location – Enjoy artwork by Overstreet Ducasse, Brian Bernard and Noel Scotsfield.

Southlight Gallery: Celebrate four years of Downtown's largest fine art gallery in its new location.

Main Library: Features artwork by Episcopal High School students presented by Bergmann Associates.

Chamblin's Uptown & Café: Enjoy "Knowvember" featuring spoken word show from The Lyricist Live, artwork by Jenny Wells and a children's book drive.

Jax Vision Care – Liane Downtown: Features a Champagne toast and live jazz music by Steve Gallatin.

Dive Bar: Hosts GAAM-Games Art and Music, plus original work from On Point Ink tattoo artists.


WHERE:
Hemming Plaza and Downtown Jacksonville galleries, museums, cultural venues, restaurants and businesses

COST:
Free

PARKING:
Free street parking after 6 p.m. The Downtown Garage at Adams and Clay offers free, covered parking Art Walk night, courtesy of LAZ Parking. (Enter on Clay Street.) Or park and then ride the Skyway, running until 9:30 p.m. Art Walk night.
Map: