New Developments For Jacksonville's Emerald Trail S-Line Connector
by 904 Newsroom
May 18, 2021
3059 views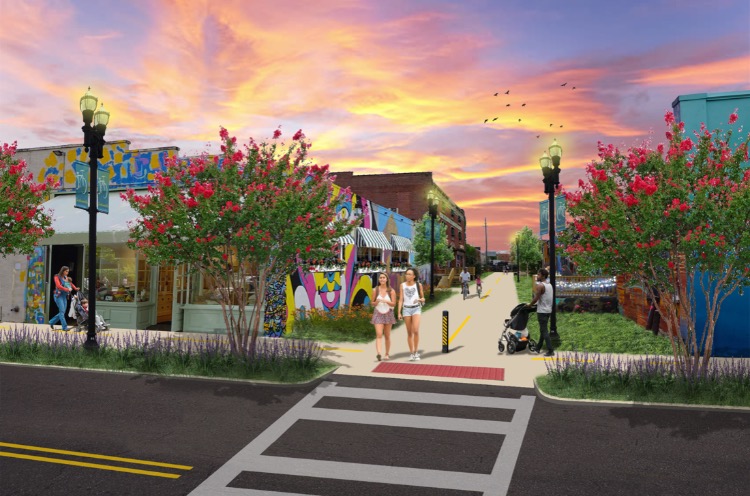 There could be a potential shift in city funds if change in Jacksonville gas tax plan goes thru- the proposed changes would grant the Emerald Trail $150 million dollars!
Groundwork Jacksonville announced a $50,000 donation from JTC Running, Northeast Florida's preeminent promoter of healthy lifestyles through running, fitness, and fellowship. The donation will help to fund the design of the Emerald Trail S-Line Connector which completes an unfinished 1.3-mile section of the existing S-Line Rail Link from 12th St. and Boulevard near Andrew Robinson Elementary School, to E. 21st St. The total design cost, to be shared equally by Groundwork and the City of Jacksonville, is estimated to be $860,000.
In June, Groundwork unveiled the design of the Emerald Trail LaVilla Link connecting Brooklyn to LaVilla and the S-Line. Construction of the LaVilla Link will begin later this year with an expected opening of fall 2021. Together, the S-Line Connector and LaVilla Link will form a six-mile contiguous trail enabling runners, walkers and cyclists to travel from Brooklyn to Norwood Plaza, near Gateway Mall.
One of the points of interest along the S-Line connector is the Phoenix Arts District, a 100,000-square-foot warehouse space spanning across a 4.5-acre campus space that will be converted into workshops, studios, apartments, event space, galleries, restaurants and more.
"JTC Running has been a tremendous ongoing supporter of the Emerald Trail," said Kay Ehas, CEO of Groundwork Jacksonville. "We are exceedingly grateful for JTC's generous monetary contributions as well as the group's advocacy for safe urban spaces to run, walk and cycle. Their support is truly helping make this endeavor possible," she added.
The S-Line is a 4.8-mile rails-to-trails multiuse path that runs from Myrtle Avenue just north of Beaver Street to 44thStreet. The S-line was an abandoned length of CSX railroad Right-of-Way — appropriately in the shape of an "S" — that was acquired by the City to create an urban greenway. It is now part of the planned 30-mile Emerald Trail.
JTC Running played a key role in launching the Emerald Trail project in 2018 by helping to underwrite the Emerald Trail Master Plan with a $50,000 donation. "The Emerald Trail personifies our mission of bringing people together through running and recreation and does so in a way that beautifies our city through greenscapes and creating a safe place for people and nature to co-exist," said Larry Roberts, President of JTC Running. "We are proud to partner with Groundwork Jacksonville and support this project, which greatly enhances our city overall."
The Emerald Trail is a public-private partnership between the City of Jacksonville and Groundwork that will connect 14 of our city's historic urban neighborhoods to downtown, the St. Johns River, McCoys Creek and Hogans Creek. When completed by 2029, the trail will link 16 schools, two colleges and 21 parks among other destinations like restaurants, retail and businesses, with an additional 13 schools and 17 parks located within three blocks of the trail. A catalyst for neighborhood revitalization, economic development, recreation, tourism, mobility, and improved community health, the Emerald Trail will transform Jacksonville's urban core.
RENDERINGS
Related Articles