Jaguars Unveil Plans for Stadium of the Future
by 904 Newsroom
June 7, 2023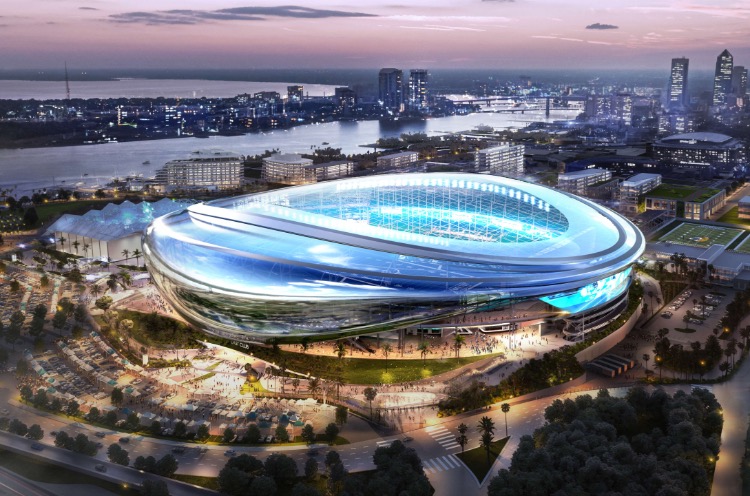 JACKSONVILLE, Fla. – The Jacksonville Jaguars today introduced conceptual designs for the Stadium of the Future, a design project nearly three years in the making intended to inspire a transformation of Downtown Jacksonville and secure NFL football in Northeast Florida well into the future.
The video visualization and renderings were unveiled on 1stdowntownjacksonville.com and across Jaguars' social media channels. Members of the media can click here to access digital files for editorial use.
"We have reached the end of this important and initial phase of this project, the design of the stadium we envision will be the home of the Jacksonville Jaguars and serve our entire community for generations to come," said Jaguars team owner Shad Khan. "From stadium discussions starting in 2016 to the formal process launched in July 2020 and now concluding, our objective has always been the same – lock in a promising future for the Jaguars and help our downtown become an economic engine to lift all of Jacksonville, particularly areas that have been underserved. Being able to share the video and stadium design highlights with the people of Jacksonville is a significant step forward in that effort.
"This is also all happening at a fantastic time for everyone. Jacksonville is red hot. Just check out all of the recent rankings -- best places to live, best housing market, hottest job market, best place to start a business, Jacksonville ranks within the top five in all of those lists. Add the fact the Jaguars are coming off a playoff season, and positioned for even better days ahead, and it all points to better and hopefully our best days just ahead in Jacksonville."
The Jaguars and City of Jacksonville officials began work toward a long-term stadium solution in July 2020 with a thorough engineering assessment of the current stadium, TIAA Bank Field. The assessment concluded it was possible to solve stadium challenges via a renovation of the city-owned facility versus new construction.
In-depth surveys of fans and other key stakeholders followed along with a comprehensive selection process for a design partner. After its selection as architect for the project team, HOK's Sports + Recreation + Entertainment practice then collaborated with the Jaguars on turning concepts into more definitive renovation plans.
"This transformation transcends the stadium's boundaries. The design creates an iconic, accessible community nexus that ties together the surrounding neighborhoods and riverfront," said Peter Broeder, HOK's design principal. "The venue will celebrate Jacksonville's natural landscape and climate, offering a park-like ambiance enriched by the latest amenities, engaging social spaces and state of the art technology. This unprecedented project will position Jacksonville as a premier destination for top-tier sports and entertainment events for decades to come."
In addition to HOK, the project team includes Impact Development and Management as the owner's representative, with AECOM Hunt and Barton Malow serving in the role of preconstruction manager.
The Stadium of the Future design meets the evolving needs of all stadium stakeholders, which include the Jaguars, the annual Florida-Georgia college football game, the TaxSlayer.com Gator Bowl, international sporting events, major music festivals/tours and the thousands of fans and guests in attendance at each event.
Design highlights include:
Drawing inspiration from Jacksonville's lush landscapes--a network of biking and walking trails, parklands, greenways, beaches and marshes—the striking design captures the essence of Florida. Fans will enter through a subtropical Floridian park, leading them to the main concourse. The concourse is elevated 30 feet above the ground, offering expansive views for Downtown Jacksonville and the St. Johns River.
The 360-degree concourse, four times wider than before, will feature interactive social bars and a variety of unique experiences alongside culinary delights native to Jacksonville. Every fan will discover something unique during each visit to the venue, which offers a wide range of premium offerings and communal spaces.
The seating bowl flexibility provides for a base capacity of 62,000 with expansion capabilities up to 71,500 for a college football game and more for a concert. The venue can transform its appearance through lighting and digital technology that will create distinctive game-day experiences while ensuring that fans stay connected.
The stadium is designed with sustainability in mind. With a first-of-its-kind mirrored material, the energy-efficient facade reflects Jacksonville's waterfront, vegetation and distinct spirit. The open-air venue features a large shade canopy that reduces heat retention by more than 70 percent, lowers temperatures 10 to 15 degrees and protect fans from the weather. The façade is raised at the northern and southern ends to optimize airflow, enabling passive cooling throughout the stadium.
The stadium will feature lookout decks that offer citywide views. A fritted roof membrane introduces dispersed ambient light throughout the stadium interior. The new stadium design addresses key fan requests, including a 185-percent increase in main concourse surface area, a 260-percent increase in upper concourse surface area, 360-degree connectivity in the upper concourse, 13 new elevators and 32 new escalators to support vertical movement, 220 new food and beverage points of sale and 14 new restrooms.
Construction will generate thousands of jobs and, once complete, the stadium will become a source of immense civic pride and a coveted destination for residents and visitors alike to Jacksonville, which was rated by Lending Tree earlier this year as No. 5 among America's Biggest Boomtowns – and No. 1 among NFL markets.
"We fully anticipate a reimagined sports complex with the renovated stadium as its centerpiece will spark development in the east end of Downtown Jacksonville similar to the renaissance of the Brooklyn neighborhood to the west," Jaguars President Mark Lamping said. "Combining the power of development to both the west and east of Downtown Jacksonville should create even more momentum in our downtown core, which is already set to benefit from The Shipyards project currently underway.
"Just as important, this project will provide a development boost to existing neighborhoods around the sports complex, such as the OUTEAST neighborhood. Our goal is simple -- maximize every ounce of positive impact made possible by this project so all Jacksonville residents may benefit."
Over the next two weeks, the Jaguars will play host to a series of Huddle Up Jax events where residents and fans can learn more about the Stadium of the Future designs. Lamping will be on site at the community huddles, which will be strategically located around town to ensure access for all of Duval County.