Icemen Announce 2023 Kelly Cup Playoffs Roster
by 904 Newsroom
April 19, 2023
825 views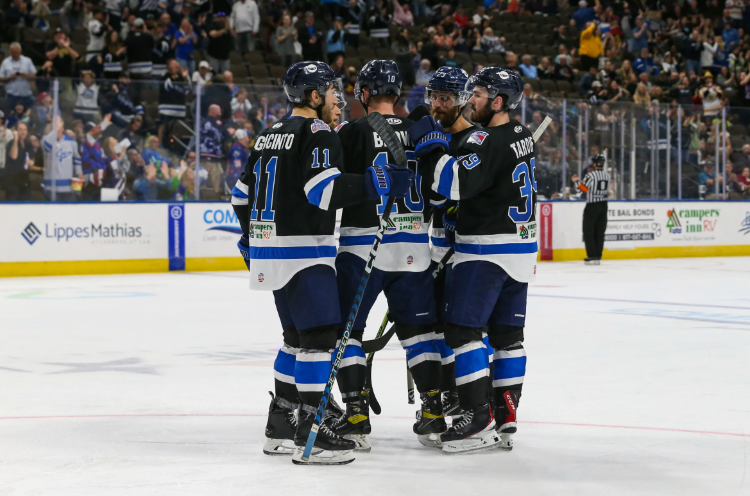 JACKSONVILLE, FL – The Jacksonville Icemen, proud ECHL affiliate of the NHL's New York Rangers and the AHL's Hartford Wolf Pack announced today the team's roster for the upcoming 2023 Kelly Cup Playoffs that will begin this Friday and Sunday in Jacksonville against the Greenville Swamp Rabbits.
The Icemen's playoff roster is as follows:
Goaltenders
Charles Williams
Olof Lindbom
Defensemen
Jacob Friend
Victor Hadfield
Mackenzie Dwyer
Julian Kislin
Jacob Panetta
Garret Cockerill
Tim Theocharidis
Brandon Fortunato
Forwards
Chris Grando
Luke Lynch
Christopher Brown
Cristiano Digiacinto
Derek Lodermeier
Ben Hawerchuk
Matheson Iacopelli
Easton Brodzinski
Ara Nazarian
Craig Martin
Benjamin Tardif
Brendan Harris
Playoff Eligible List (Players currently on recall to AHL)
Travis Howe
Parker Gahagen

Playoff Rosters consist of a maximum of 24 Players – a 20-man active roster and a four-man reserve list. Upon submission of its Playoff Roster, each Member is required to include:
1. a minimum of 17 active, available (i.e. not injured or on recall) skaters to its Active Roster, and at least two (2) eligible goaltenders to its initial Playoff Roster.
2. a list of all other Players who meet the Playoff Roster Eligibility requirements, but who are unavailable at the time that Playoff Rosters are due to the League Office due to recall to the AHL or NHL. The Playoff Eligible List may only list Players who are unavailable due to recall. All other players (i.e. injured Players) must be listed on a Member's initial Playoff Roster (active roster or reserve list) in order to participate in the Playoffs.
Throughout the Playoffs, but prior to the start of the Kelly Cup Finals, as the recalled Players listed on a Member's Playoff Eligible List become available (due to assignment, release from PTO or their respective AHL teams' seasons having ended), Members shall be permitted to supplement their initial Playoff Rosters with Players listed on their Playoff Eligible Lists, up to a maximum of 24 Players total. Once a Member has named a total of 24 Players to its Playoff Roster, or the Kelly Cup Finals have begun (whichever comes first), the Member's Playoff Roster shall be fixed for the duration of the Playoffs (barring emergency conditions).
A Player who has finished the Regular Season on Injured Reserve may still be named to a Member's 24-man Playoff Roster and will be eligible to participate in the Playoffs once his full IR time has been completed (provided all other playoff eligibility requirements have been satisfied). Once a Player has fully completed his remaining IR time, he may be activated and placed on the Member's Active Roster.
Emergency conditions shall be established when the playing strength of the Member, by reason of injury, illness, recall, or suspension by the League, is reduced below two (2) goalkeepers and sixteen (16) skaters. However, should a Member release a Player(s) from its Playoff Roster, its emergency conditions will drop by the same number as the Players they release. Only amateur Players may be signed and added to the Active Roster under emergency conditions.
Catch all Icemen game broadcasts on www.mixlr.com/jaxicmen and at www.FloHockey.TV.
--
Tickets are available on Ticketmaster or by contacting the Icemen office at 904-602-7825, or by visiting here for more information.