HOLIDAY TOY DRIVE BY JACKSONVILLE DEALERSHIP BENEFITS LOCAL CHARITY
by 904 Newsroom
November 8, 2023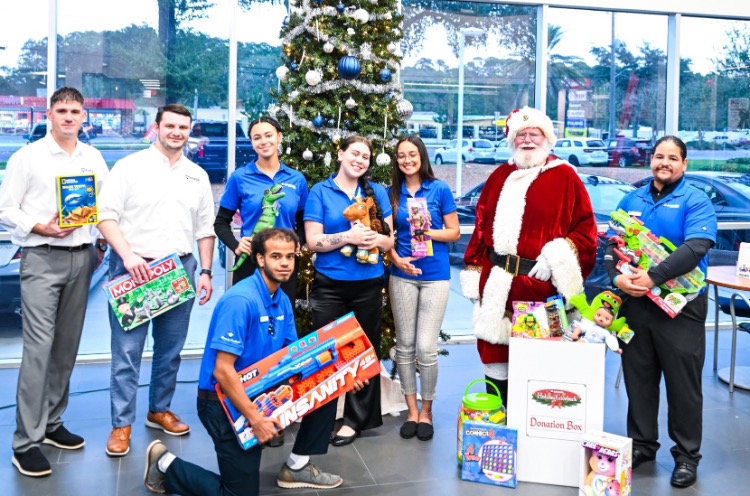 HOLIDAY TOY DRIVE BY JACKSONVILLE DEALERSHIP BENEFITS LOCAL CHARITY
The Inaugural Hanania Holiday Giveback event will collect toys for Jacksonville's Foster Closet to benefit children in need.

Now - December 10th, Hanania Automotive Group will have collection boxes at ALL 11 Jacksonville Locations as they collect toys for children. For any new unwrapped toy you drop off, you will receive a gift certificate for $50 off your next service!

Foster Closet is a free resource for foster parents and relatives, non-relative placements and Independent Living Teens in North Florida. They provide clothing, children's accessories, toys and children's furniture and more, to help take care of the foster children entrusted to them and help over 700-800 children every year!
The Hanania Holiday Giveback wraps up with the epic Riverwalk Rev Fest on December 10th, ending the toy drive in style. A free, family-friendly event that exhibits unique vehicles!
More Information
⁠
DROP OFF LOCATIONS
- Audi of Orange Park | 7230 Blanding Blvd⁠
- Acura of Orange Park | 7200 Blanding Blvd⁠
- Volkswagon of Orange Park | 7220 Blanding Blvd⁠
- Hyundai of Orange Park | 7600 Blanding Blvd⁠
- Subaru of Orange Park | 6400 Blanding Blvd⁠
- Infiniti of Orange Park | 6999 Blanding Blvd⁠
- Mitsubishi | 8105 Blanding Blvd⁠
- Westside Hyundai | 1672 Cassat Ave⁠
- Audi Jacksonville | 11401 Atlantic Blvd⁠
- Hanania Collision Center | 1485 Wells Road
- Buick GMC | 2250 U.S. 1
- Chevrolet | 2255 U.S. 1

The Hanania Holiday Giveback will culminate at a spectacular capstone event known as the "Riverwalk Rev Fest," which will be held on December 10th, marking the last day of the toy drive. The Hanania group decided to conclude the Hanania Holiday Giveback event at The Riverwalk Rev Fest because of its existing success in the community as a free, family-friendly event, attracting attendance from the local community as well as
surrounding states and cities. The combination of the events will offer a unique opportunity for the community to come together and celebrate the season of giving. For those who would like to participate in the Hanania Holiday Giveback, please drop off new, unwrapped toys at any of the 11 Hanania Automotive Group locations in Jacksonville during the collection period. Your generosity will help make this holiday season unforgettable for children in Jacksonville.
About Hanania Automotive Group:
The Hanania Automotive Group, located in Jacksonville, Florida, was founded in 1998 by Jack Hanania. Now in business for almost 25 years, the Hanania Automotive Group has over 15 locations across the state of Florida and Pennsylvania. Dedicated to bettering the community that supports them, Hanania Auto has donated to local charities, significantly impacting the progress of many incredible organizations. Focused on the client experience, Hanania is bringing about change through innovative ideas that engage the next generation of automotive consumers.