Explore The Spanish Pond Trail at Fort Caroline
by 904 Newsroom
May 3, 2020
17055 views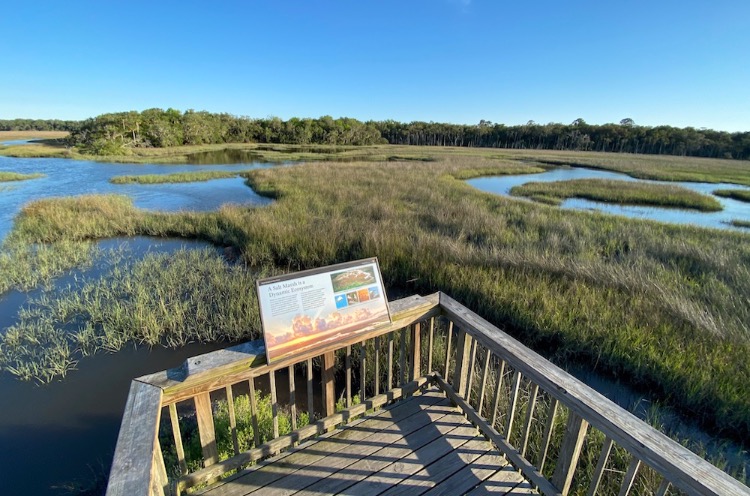 Located just 15 minutes from downtown Jacksonville off Fort Caroline Rd is the Spanish Pond Trail. This hidden gem consisting of 5+ miles of hiking trails is nestled under a dense canopy of trees. The Spanish Pond's boardwalk and trail provide an opportunity for a quiet walk and connects you to more trails through pine flatwoods, oak hammock, tidal marsh in the neighboring Theodore Roosevelt Area.
Photo Credit: @tom.in.abf
Hundreds of years ago at the trail's site, five hundred Spanish soldiers marched over four days through marsh, forest tangle, fierce winds, and heavy rainfall to an encampment near one of the trails. This is also the site of where Menendez and his men camped, exhausted and weary, the night before the attack and capture of Fort Caroline.
​Theres really no telling what actually happened here as the forrest and wetlands have had hundreds of years to erase almost all signs of the areas unique history.
Photo Credit: @bakshb
Dozens of birds depend on the salt marshes rich resources including the Snowy Egret, Prostate Spoonbill, Wood Sporks, Osprey & more. There are also lots of wildlife including foxes, rabbits, white-tailed deer.
Planning on visiting? The trail is located across from the entrance to Fort Caroline National Memorial and is open from sunrise to sunset daily. We highly recommend packing bug spray as there are lots of bugs that like to bite. On our trip, we brought some snacks and refreshments which we enjoyed at the scenic overlook at the end of the trail. Dogs are also able to use this trail but must be kept on leash.
Photo Credit: @irunmcclung
Photo Credit: @_shoottheworld_
Photo Credit: @jacksonvillephoto
Photo Credit: @cocorobertsbooks
Photo Credit: @cakes234
Photo Credit: @soniam1202
Address: 12713 Fort Caroline Rd
Lat-Lon: 30.3842, -81.4956
Click Here for more info
Related Articles