164 FT Yacht Aspen Alternative Makes Waves in Downtown Jacksonville
by 904 Newsroom
May 6, 2020
21028 views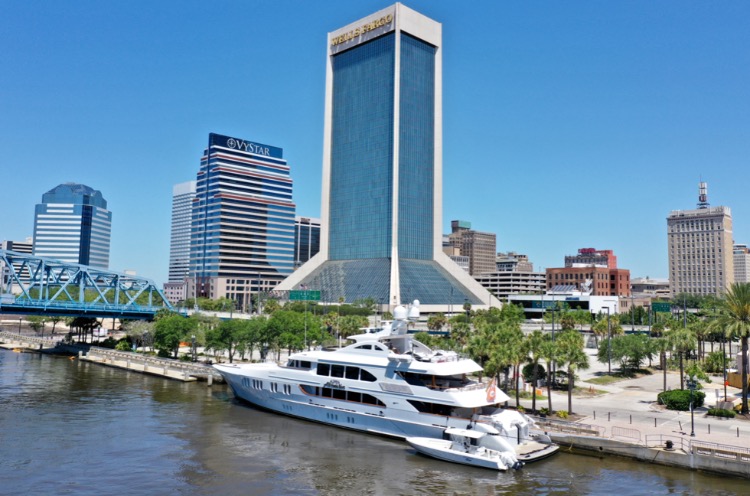 Just in time for this weekends UFC Main Event at Vystar Jacksonville Veterans Memorial Arena, 164 FT Yacht Aspen Alternative makes waves into Downtown Jacksonville. Who may be staying on the boat is a complete mystery but if we had our guesses, it most likely is one of the famous UFC fighters (Tony Ferguson & Justin Gaethje). The boat made port in downtown infront of the Hyatt Regency on Wednesday, May 6th and will most likely be docked for at least the next few days.
The 164ft /49.99m Custom motor yacht motor yacht 'Aspen Alternative' was built by Trinity Yachts in United States at their New Orleans, LA shipyard, she was delivered to her owner in 2010. This luxury vessel's sophisticated exterior design and engineering are the work of Trinity Yachts. Previously named Imagine, her luxurious interior was designed by Evan K Marshall. Her exterior is styled by the Trinity Yachts team who are also responsible for the entire engineering package. The yacht's luxury interior styling is the work of Evan K Marshall & Sylvie Charest.
Photo Credit: Jim Suber
ACCOMMODATIONS
Aspen Alternative's interior configuration has been designed to comfortably accommodate up to 10 guests overnight in 5 cabins, comprising a master suite, 3 double cabins and 1 twin cabin. She is also capable of carrying up to 10 crew onboard in 5 cabins to ensure a relaxed luxury yacht experience.
ON BOARD:
​
Related Articles