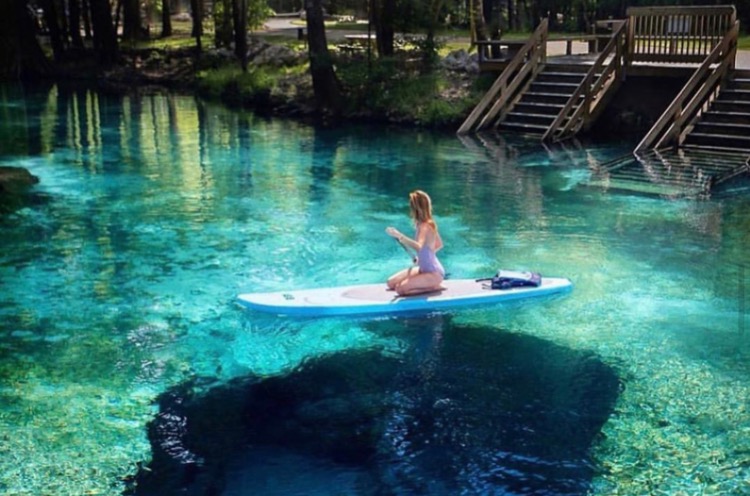 The Santa Fe River is one of North Florida's greatest treasures, loved and protected by many Floridians, and it's only an hour and a half from Jacksonville. Beginning at Lake Santa Fe, the 44-mile long river is well-known as one of the best Florida rivers to kayak or canoe. Dozens of famous springs and parks line the beautiful river, but some of the most wonderful discoveries are the unnamed locations and secret spots to be found.
Ginnie Springs. Photo credit: @destinosimperdiveis
Blue Springs. Photo credit: @breezybgwll
Many of the parks along the Santa Fe are currently closed or operating under limited hours, but you can still explore the beautiful river and spring system by canoe or kayak! There are dozens of small businesses in the area offering rental and shuttle services.
Our adventure found us at Rum 138, located off of County Road 138. Rum offers a huge selection of rentals and a shuttle ride for the "whole day" or "half day" river trip. They ask that you be at the pick up point by 5 p.m. so plan your time accordingly. We opted for the whole day trip which takes about 5 hours to paddle. The river flowed at a comfortable enough speed for us to float some of the way, explore nearly a dozen springs, and barely even get tired.
PRO tip: Arrive early so you have extra time to explore off the main river! We made an appointment for 10 a.m. which allowed us 5 hours for paddling/floating the river and 2 hours to spend exploring. Trust us, every spring is worth seeing!
Blue Springs. Photo credit: @breezybgwll
Most big parks charge admission to get off on land, so bring some cash or just swim near your boat in the water when you are visiting these. We passed through Poe Spring, Lily Spring, Pickard Spring, and our favorite Blue Spring! You'll know when your nearing Ginnie Spring because herds of people will be floating on tubes and camp sites will line the banks of the river. We decided not to check out the Ginnie Spring because of how crowded it was.
Ginnie Springs. Photo credit: @lily__bae
We highly recommend dabbling in a little "spring hunting" to find the many public and unnamed locations that don't charge a fee, but be warned they are easy to miss so keep your eyes peeled! Very few are marked with a sign so you'll want to look out for those crystal clear patches of water signifying the entrance to a spring.
Items we recommend bringing include a water proof/water resistant pouches for phone and other important items, a water proof speaker, water shoes, and a cooler with refreshments. Florida's aquifer and spring systems are a precious resource so please explore responsibly, leave only footprints, and don't trash where you splash!
Ginnie Springs. Photo credit: @offshoretom
About Rum 138: Rum 138 offers affordable kayak, canoe, and paddleboard rentals and shuttle service! They are currently only taking appointments and going the extra mile to ensure a safe and clean environment compliant with social distancing guidelines. In addition to rentals, Rum 138 is a Vibe Kayak dealer and a beautiful art gallery featuring work from local artists that celebrates the beauty of Florida's spring systems.
Related Articles