Diamonds For A Difference
by 904 Newsroom
October 21, 2020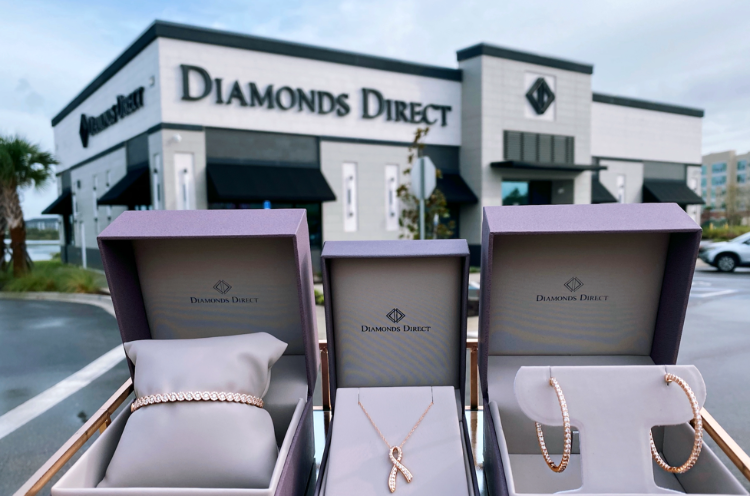 Baptist MD Anderson Cancer Center is partnering with Diamonds Direct for a chance drawing benefiting the Buddy Bus, a mobile mammography unit that Baptist MD Anderson is building together with First Coast News. The bus will offer 3D mammography to neighborhoods and worksites throughout our community.
Baptist MD Anderson and First Coast News decided to build the bus as part of an effort to reduce the risk of breast cancer in our community. Thirty-five percent of women don't get a regular mammogram, yet one in eight women will be diagnosed with breast cancer in their lifetime. By going to workplaces and sites throughout Jacksonville, the bus will make getting a mammogram even more convenient.
Diamonds Direct, with a location at the Town Center and 21 stores across the country, is the latest community partner to support the Buddy Bus campaign. In honor of Breast Cancer Awareness Month, they are hosting a drawing for three rose-gold diamond jewelry pieces, together valued at $10,000. Single tickets are $20, and three tickets are $50. Tickets can be purchased at this link. Drawing proceeds will benefit the Buddy Bus Operating Fund.
The three pieces include:
One 14-karat rose gold bangle style bracelet adorned with 1.55 carats of brilliant round cut diamonds

One 14-karat rose gold hoop earrings with 3.11 carats of brilliant round cut diamonds

One 14-karat rose gold breast cancer ribbon pendant containing 0.26 carats of brilliant round cut diamonds
"A group of strong and intelligent women make up 70% of our team," said Kelly Flahardy, General Manager of Diamonds Direct Jacksonville. "They have selected a stunning ensemble of rose gold fine jewelry to give back this October for Breast Cancer Awareness Month. We're so honored that our contribution can save the lives of women right here in our community."
The grand prize will be displayed at Diamonds Direct at 4840 Town Center Parkway in Jacksonville throughout the month of October.
Purchase your chance to win and support this very worth cause by clicking here!
JEWELRY PHOTOS:
Related Articles