Devil's Den to Open Back Up To Public
by 904 Newsroom
May 1, 2020
39280 views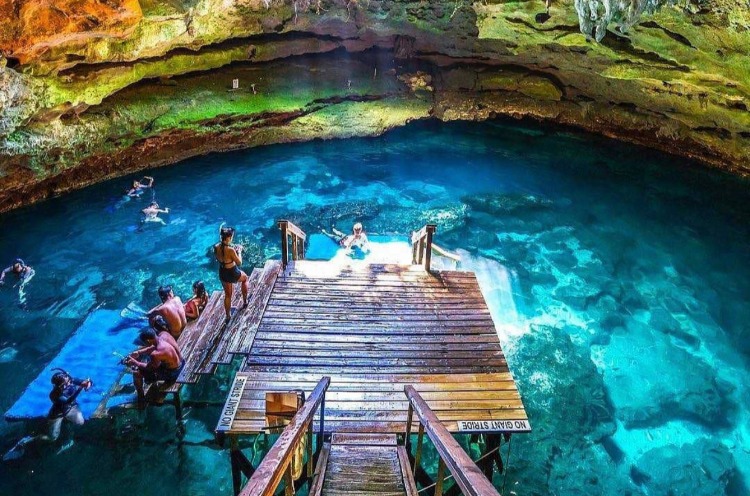 One of North America's most prehistoric places, Devil's Den is opening back up to the public this weekend! In addition, some of the states other recreational areas and springs like Ginnie Springs are also opening back up for swimming, camping, hiking and other outdoor activities.
Devil's Den, a underwater cave and spring in central Florida, was formed by a karst window in which the roof over a subterranean river collapsed, exposing the water to the open surface. Over the years, this natural wonder has been transformed from a simple scuba diving site to a world class tourist attraction.
Photo Courtesy: @chisumbond
At the cave, remains of extinct animals from the Pleistocene Age (2 million - 10,000 years ago) have been discovered, including the bones of early man, dating back to 7,500 BC. On cold winter mornings, you can see steam-like smoke rising from the chimney opening. Thus, the early settlers graced the name Devil's Den.
The spring features crystal clear water, year round 72 degree water temperatures, fossils beds dating back 33 million years plus more! Devil's Den offers scuba diving and snorkeling 7 days a week. They also offer equipment rentals, scuba instruction and night dives with special reservations. All divers must be Open Water certified, sign release, have proper training, and follow rules and regulations.
Photo Courtesy: @montanaxvoegtlin
Photo Courtesy: @mochilaotrips
Location:
Devil's Den is located just west of Williston on Alternate US 27. Take I-75 exit 74 if you're going south or exit 70 if traveling north. Go west on Hwy 121 or Hwy 27 respectively. Once you get to downtown Williston (watch for speed traps) head west on Alternate Hwy 27. The road to Devil's Den will be about two miles past the shopping center (near the town water tower) on the right. Just look for the Devil's Den sign on the highway. Follow the road for about 3/4 of a mile and look for the entrance on the left after a series of curves
Related Articles