Icemen Enter Into Affiliation Agreement With the Nhl's Buffalo Sabres & Ahl's Rochester Americans
by 904 Newsroom
July 18, 2023
730 views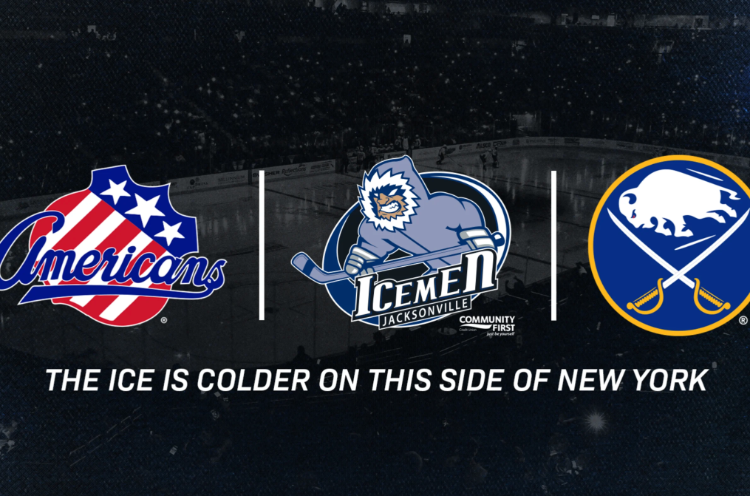 JACKSONVILLE, Fla. – The Jacksonville Icemen announced today that the team has entered into an affiliation agreement with the National Hockey League's Buffalo Sabres and the American Hockey League's Rochester Americans. The announcement came at a press conference held this morning at the Community First Igloo. The event was produced by Sight & Sound Productions.
"We are thrilled to partner with the Jacksonville Icemen as our new ECHL affiliate," said Sabres General Manager Kevyn Adams. "This partnership marks an exciting new chapter for both organizations and further emphasizes our commitment to the growth and development of our players and staff. The Icemen's dedication to excellence both on and off the ice, coupled with competitive conference play, made them a great fit for our new affiliate."
For the past two seasons, the Icemen served as the ECHL affiliate of the New York Rangers (NHL), and AHL's Hartford Wolf Pack. From 2017-2021, the Icemen held an affiliation with the Winnipeg Jets (NHL) and Manitoba Moose (AHL).
"We want to thank the New York Rangers and Hartford Wolf Pack for their affiliation for the past two years," said Icemen Head Coach & Director of Hockey Operations Nick Luukko. "Our goal is to continue to improve and bring the Kelly Cup to the best fans in the league while also continuing our commitment to develop players. We are confident that this partnership with Buffalo and Rochester will add talent to the Icemen that can move us forward."
The Sabres are one of fastest rising teams in the NHL and the team's roster is comprised of young talented players and prospects. Buffalo made big strides last season winning ten more games than the year prior with 42 wins, while also finishing as the third highest-scoring team in the NHL with 296 goals. Former Icemen Head Coach Jason Christie currently serves as an assistant coach with the Sabres. The Sabres were founded in 1970 when the NHL expanded to 14 teams.
The AHL's Rochester Americans are coming off a deep playoff run last season, falling just short in the conference finals to the eventual Calder Cup Champions, the Hershey Bears. The Americans, were founded in 1956 and remain as the second-oldest American Hockey League franchise behind only Hershey.
Icemen full and partial ticket packages for the 2023-24 Season are currently on sale! Payment plans are also available. Contact the Icemen office at 904-602-7825, or visit www.jacksonvilleicemen.com for more information.
#FireWithin