Celebrating 10 Seasons Of Deck the Chairs
by 904 Newsroom
November 16, 2022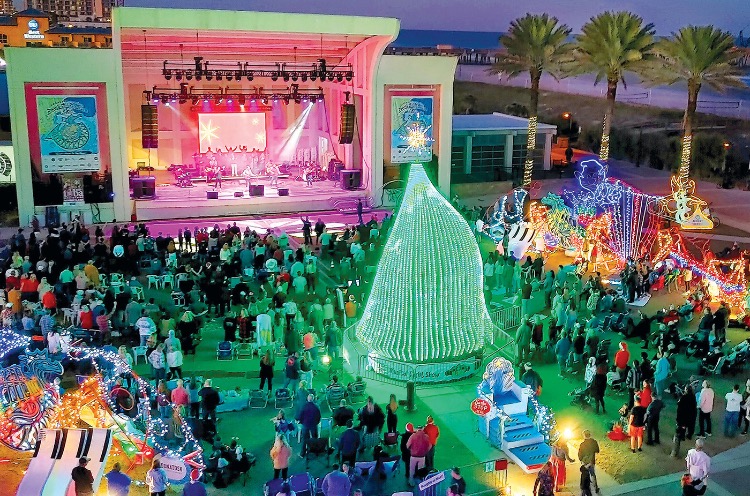 JACKSONVILLE BEACH, Fla (October 17, 2022) — 2022 Jax Beach Deck The Chairs (JBDTC) marks ten seasons showcasing decorated lifeguard chair displays and holiday arts programming in the popular Jax Beach oceanfront park space. JBDTC organizers, partners and volunteers have spent the past ten months planning and preparing the nationally celebrated holiday exhibit that will host more than 100,000 visitors over a six-week period.
A packed schedule of events is highlighted by more than 40,000 new lights throughout the park space. Organizers also expanded the chair exhibit working with Beaches Go Green and Publix to include a new student chair display area focused on sustainability. The popular DTC tree will be adorned with 8,000 new pixel lights and updated music.
JBDTC Programing volunteers have scheduled 10 nights of holiday stage events including the return of Tuba Christmas, three weekends with a dozen dance ensembles, CoJB Moonlight Movies, Santa visit, and JBDTC Chair Awards. Finally, a JBDTC One Mile Fun Run is planned to coincide with this years' TaxSlayer Gator Bowl Pep Rally late December.
"Deck The Chairs has received so much support over the past ten seasons from the business community and local non profit sector," states DTC Founder, Kurtis Loftus. "Everyone who participates understands the beauty of this holiday experience where we can connect through the arts, lift community, and inspire our children through imagination and joy. Public/private support and the work of our volunteers guarantees Deck The Chairs will continue its mission of promoting the arts and helping fund children's arts and arts education at the Beaches."
Chair decorating proposals include: Fleet Landing Model T Chair, Pablo Towers Rocket Sleigh Chair, Future Home Loans Candy Land Chair, Down Syndrome Christmas Lighthouse Chair, Brasfield & Gorrie Bulldozer Chair, Coast Guard Auxiliary Helicopter Chair, American Legion Military Appreciation Chair, UNF 50th Anniversary Tribute Chair, and so much more!
2022 Jax Beach Deck The Chairs opens November 23, and runs 40 consecutive days with lights on between 5 p.m. and 1 a.m. Free and open to the public. Handicap accessible. Concessions open every weekend except holidays including Thanksgiving and Christmas day. To learn more or to volunteer, please visit www.deckthechairs.org.

ABOUT DECK THE CHAIRS: Deck The Chairs (DTC) promotes the arts and art education through a nationally recognized holiday display featuring decorated lifeguard chairs. Free and open to the public, DTC has provided important economic benefit to the Beaches over the past nine seasons. Deck The Chairs, Inc. is a 501(c)(3) Public Charity.
More info: http://www.deckthechairs.org