A Tour On Board Yacht Kismet
by 904 Newsroom
April 26, 2020
1009 views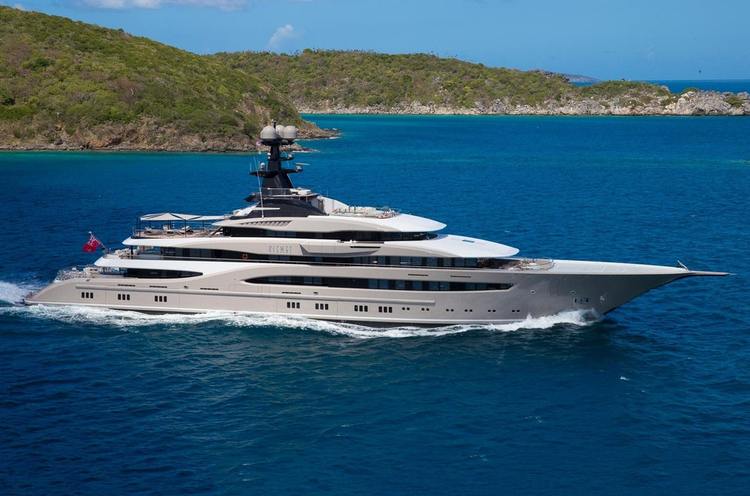 Kismet is back in Jacksonville and parked in downtown in front of the Hyatt. The 312' Mega Yacht owned by Jaguars Owner Shad Khan is BIG, even bigger than our new video boards. With exclusive access, we acquired some behind the scenes photos of how the million dollar man lives wen on the open water.
If you have a big enough bank account, the boat is available for charters and can accommodate a crew of 28 and host 16 guests very comfortably. Capable of speeding up to 17 knots, it is a very desirable and capable yacht for its size.
Espen Oeino designed exterior spaces have been created to accommodate the demands of charter guests with a number of generous sunbathing and dining areas. The external deck facilities include an open fire place, external lounging and eating areas on three different decks including one with a fully equipped BBQ, an oval shaped swimming pool with integrated Jacuzzi on the sun deck and a very private observation deck overlooking it all.
Reymond Langton Design are responsible for Kismet's beautiful interior and have used a variety of handmade textiles and artwork, exotic woods and rare marble to create an exceptionally high quality feel throughout. Meticulous detail has been displayed at every turn to include intricate joinery work, organic shapes and contrasting textures while still keeping an elegant and coherent design as a whole.
Other Amenities include a Swimming Pool, At anchor Stabilizers , Spa, Jacuzzi (on deck), Sauna, Lift (Elevator), Helicopter Landing Pad, Movie Theatre, Beach Club, BBQ, Tender Garage, Swimming Platform, Air Conditioning, Underwater Lights, Bathing Platform, Fireplace, Owner Study, Outdoor Bar, Stabilizers underway, Air Conditioning, Stabilizers at Anchor, WiFi connection on board, Deck Jacuzzi, Gym/exercise equipment and more!
Related Articles