2021 Jacksonville Jazz Festival - 40th Anniversary Details and Line Up
by Charles Wagoner
September 21, 2021
2570 views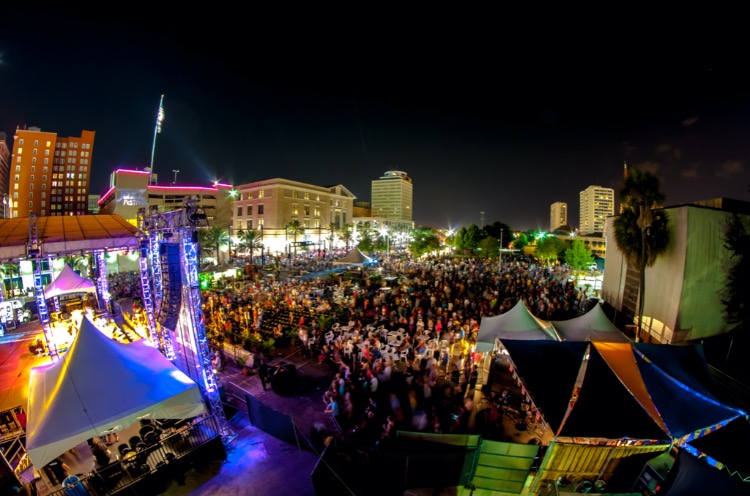 The Jacksonville Jazz Festival returns September 29 and October 1 – 3 and will feature several award-winning artists with free performances at two stages along the St. Johns River and a beautiful fireworks display to celebrate the 40th anniversary of the festival.
Kicking off the festival on September 29 at the Florida Theatre, the Jacksonville Jazz Piano Competition presented by Keyboard Connection - The Piano Place will feature a performance by emcee Noel Freidline. Five piano finalists, accompanied by Dennis Marks and Clyde Connor, will compete for cash prizes and the opportunity to perform at the festival on October 1. Tickets to the Piano Competition are available for purchase at jacksonvillejazzfest.com/piano-competition.
The Jacksonville Jazz Festival weekend will continue October 1-3 featuring free performances at the Swingin' Stage presented by the Jacksonville Aviation Authority at Riverfront Plaza and the Groovin' Stage at Ford on Bay. Performers include Sheila E., Lalah Hathaway, Kenny "Babyface" Edmonds, Najee with Special Guests Phil Perry & Bobby Lyle, Poncho Sanchez and his Latin Jazz Band, Stanley Clarke and many more! Festival hours are Friday, Oct. 1 from 4 p.m. to 11 p.m., Saturday, Oct. 2 from 2 p.m. to 11 p.m. and Sunday, Oct. 3 from 2 p.m. to 10 p.m.
Saturday's Swingin' Stage presented by the Jacksonville Aviation Authority will honor women in music with a lineup including Sheila E., Cécile McLorin Salvant, Tia Fuller: "Diamond Cut", Kandace Springs and Party in a Box featuring Allana.
In celebration of the 40th anniversary of the Jacksonville Jazz Festival, Saturday night will wrap up with an incredible fireworks display high above the St. Johns River between the Main Street and Acosta Bridges following Sheila E.'s performance.
While the festival is free to attend, limited upgraded premium experiences are still available for purchase. Premium experience options include VIP Full Festival Experience package, VIP Single-Day Experience package and Preferred Seating. For full details, please visit jacksonvillejazzfest.com/premium-experiences.
More festivities include the Jazz Clinic, Jazz Jam presented by HOT 99.5, Second Line Jazz Parade presented by V101.5, Jazz Marketplace and the Sacred Jazz Brunch. The Sacred Jazz Brunch will feature Camille Thurman & the Darrell Green Quartet and tickets are available for purchase at jacksonvillejazzfest.com/brunch. Details regarding the full festival event schedule presented by PRI Productions can be found on the Jacksonville Jazz Festival website.
This year's 40th anniversary commemorative poster was created by local artist, Michael Barnhart, a respected design professional in Northeast Florida. According to Barnhart, the 2021 poster design "represents the grace and talent of the jazz performer, but in a setting of energy and light that evokes the spirit of joy and excitement the event has brought to Jacksonville for so many years." Order your own signed & numbered or unsigned poster at store.jacksonvillejazzfest.com for pick-up at the Official Jacksonville Jazz Festival Store.
Line Up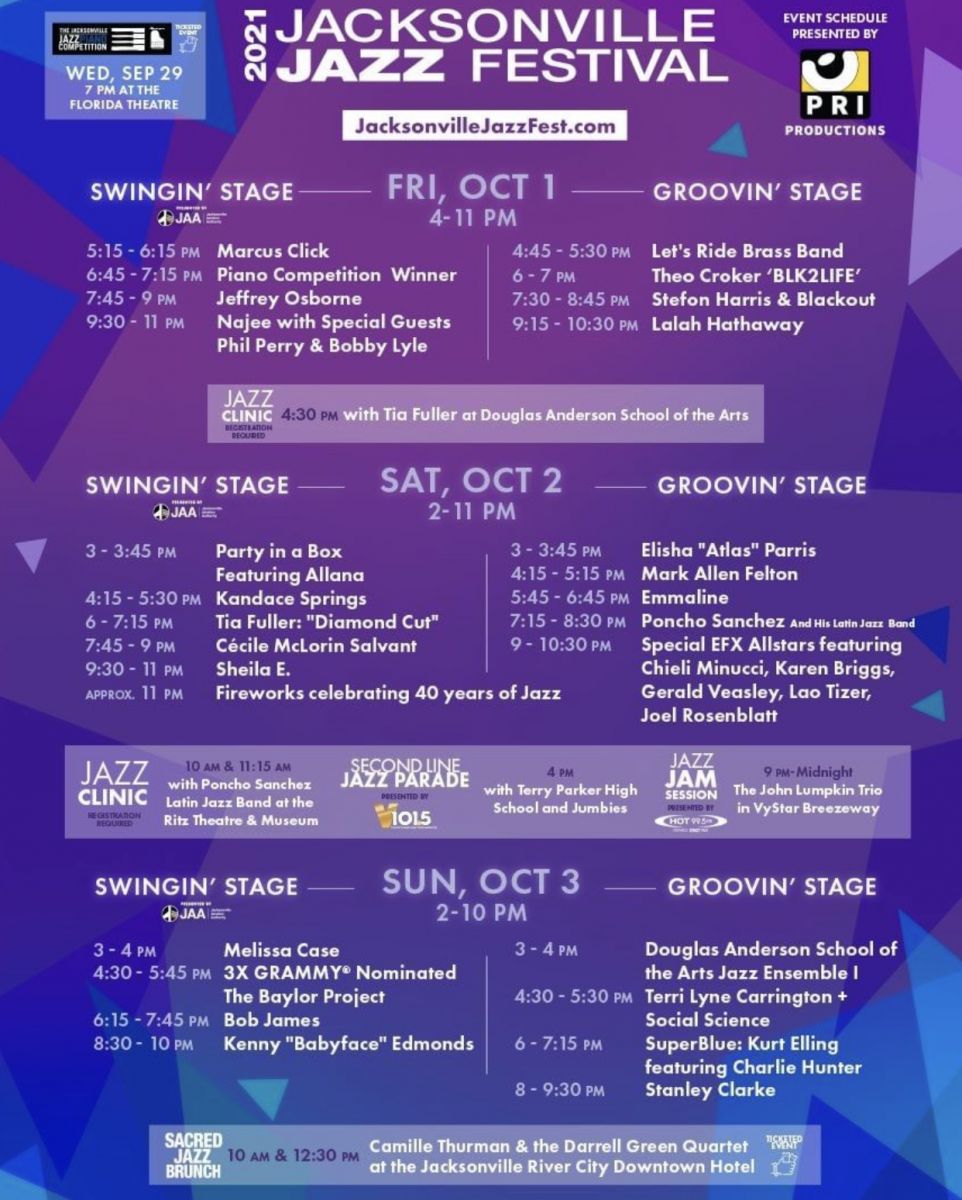 Map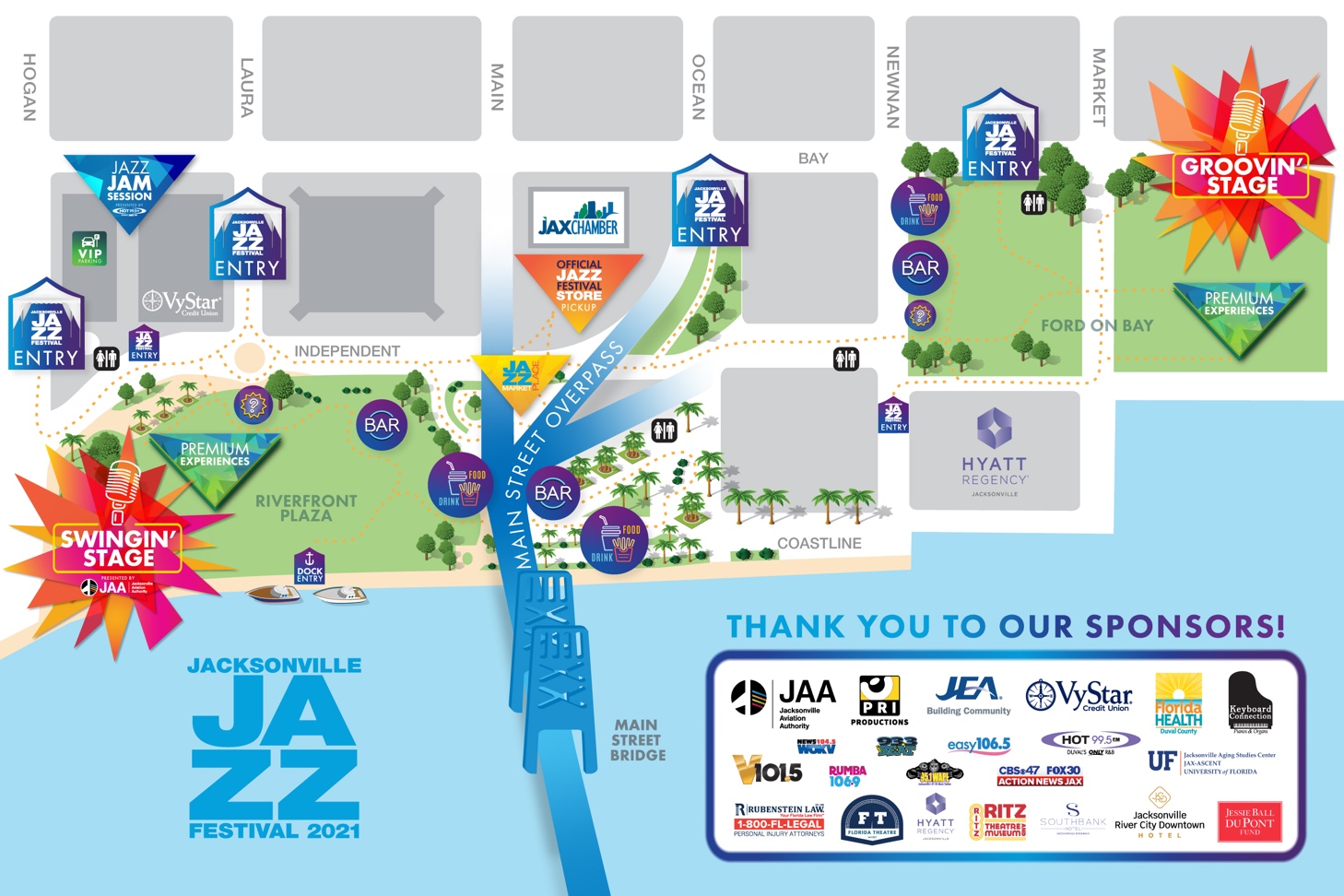 Related Articles