15 Picnic Spots Around North Florida
by 904 Newsroom
April 23, 2020
8836 views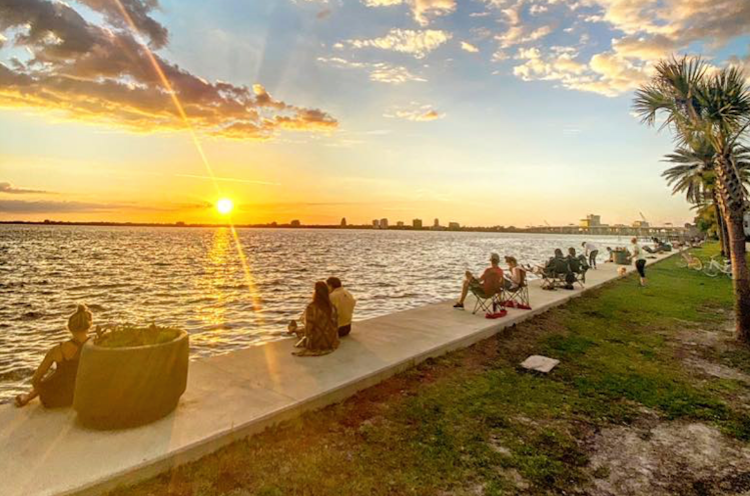 Happy International Picnic Day, Jacksonville! We curated a list of 15 popular picnic spots in and around Jax. Grab your blankets and get out to enjoy some of these beautiful spots in North Florida!
Friendship Fountain
Friendship Fountain is a large fountain in Jacksonville, Florida with an iconic view of the Jacksonville skyline and lots of grassy area for a picnic. It is in St. Johns River Park at the west end of Downtown Jacksonville's Southbank Riverwalk. The world's largest and tallest fountain when it opened, it has been one of Jacksonville's most recognizable and popular attractions.
Conagree & Penn
Conagree & Penn is a Florida farm dedicated to agriculture and culinary endeavors, and gathering the community to enjoy both. The farm is open Wednesday - Sunday for picnic and to go orders.
Riverside Park
Riverside Park is an 11.4-acre public park, located in the heart of Riverside, one of the most historic neighborhoods near downtown Jacksonville, Florida. It is the second oldest park in the city and one of our favorite sunset spots!
Memorial Park
Photo Credit: @_itsmayo
Memorial Park is a 5.85-acre public park, located on the St. Johns River in Riverside, one of the most historic neighborhoods near downtown Jacksonville, Florida. It is the third-oldest park in the city, and was listed on the National Register of Historic Places in 2017.
Hanna Park
Photo Credit: @moderndaycoveredwagon
Kathryn Abbey Hanna Park is a 1.5-mile public beach and city park in Jacksonville, Florida. It is located at Mayport in the Jacksonville Beaches area. It consists of 447 acres of mature coastal hammock, which is increasingly rare along Florida's heavily developed Atlantic coast.
Ed Austin Regional Park
Photo Credit: @cheryltegan
The City of Jacksonville purchased this 144-acre site in 1994, and was formerly the Dunes Golf course. Among the amenities at this large, Arlington-area park is the City`s top disc golf course. The park also includes lighted baseball fields, soccer fields, walking trail, a community center operated by the Police Athletic League, playground equipment and picnic areas.
Castillio De San Marcos
Photo Credit: @fromwavestowilderness
The Castillo de San Marcos (Spanish for "St. Mark's Castle") is the oldest masonry fort in the continental United States; it is located on the western shore of Matanzas Bay in the city of St. Augustine, Florida. Ownership of the Castillo was transferred to the National Park Service in 1933, and it has been a popular tourist destination & picnic spot since then.
---
Eagens Creek Greenway
Photo Credit: @autumnhazel94
A protected area of over 300 acres that runs north to south along Egans Creek, the Greenway was opened for public use in the summer of 2000 as an undeveloped park for passive recreational use.
Photo Credit: @autumnhazel94
Its grass-covered roads serve as a network of trails that are suitable for walking and bicycling, and its environment exhibits a variety of natural wildlife and vegetation. Local wildlife, such as alligators, snakes, bobcats, and many birds, may be enjoyed from a distance. Benches and interpretive displays are located throughout the Greenway, and restrooms are available at the Nature Pavilion, located at the Greenway entrance behind the Atlantic Recreation Center on Atlantic Avenue.
Boone Park
Photo Credit: @cesineyjane
Boone Park is located in the Avondale area and features trees and picnic spots a plenty. Riverside Avondale Preservation (RAP) has worked extensively for improvements at the park in recent years.
Guana River State Park (TEMPORARILY CLOSED)
Photo Credit: @haileygarland
The Guana Tolomato Matanzas National Estuarine Research Reserve (GTMNERR) protects 73,000 acres of Florida's northeast coast, stretching from Ponte Vedra Beach to Palm Coast. The pristine and beautiful landscape provides great recreational opportunities such as hiking, biking, horseback riding, fishing, kayaking, beachcombing and more.
Driftwood Beach
Photo Credit: @kellycarverphoto
Located on the north end of Jekyll Island, Driftwood beach will amaze you with the beautiful driftwood and trees that resemble a scene from another world. These gnarled and weathered trees are left behind from years of erosion. Driftwood beach offers a wonderful location for photographs and picnics!
Mom's Park
Yacht Basin Park is located in Riverside/Avondale on the west bank of Willowbranch Creek as it enters the St. Johns River. It features beautiful trees, foliage, and the cutest little gazebo with mosaic title and thought provoking quotations. A dedication plaque, which is titled "Mom's Park", was installed at the park in February 2004.
Treaty Oak Park
The 250+ year old tree, which predates the founding of the city, is a highly photographed spot with rich history. It is located in Jessie Ball duPont Park, a quaint 7-acre park on the south side of the St. Johns River in downtown Jacksonville. Most of the land surrounding the tree was the location of the Dixieland Amusement Park, which opened in 1907 and closed in 1917. During that time, the tree was festooned with electric lights, witnessed Babe Ruth playing baseball, and a John Philip Sousa concert.
Big Talbot Island State Park
Photo Credit: @tom.in.abf
Located on one of Northeast Florida's unique sea islands, Big Talbot Island State Park is primarily a natural preserve providing a premier location for nature study, bird-watching and photography. Explore the diverse island habitats by hiking Blackrock Trail to the shoreline, Big Pine Trail to the marsh or Old Kings Highway and Jones Cut through the maritime forest.
Photo Credit: @matt_bluejay
The unique beach is famous for the salt-washed skeletons of live oak and cedar trees that once grew near the shore. Bring a bicycle, in-line skates or a stroller and enjoy the 2.9-mile off-road paved multi-use Timucuan Trail that runs parallel to A1A. Stop along the way to read about the park's natural and cultural resources at the interpretive panels.
Cumberland Island (TEMPORARILY CLOSED)
Photo Credit: @katherinemclemore
St Marys is the gateway to Cumberland Island, Georgia's largest and southernmost barrier island. Here pristine maritime forests, undeveloped beaches and wide marshes whisper the stories of both man and nature. Natives, missionaries, enslaved African Americans and Wealthy Industrialists all walked here. Cumberland Island is also home to over 9,800 acres of Congressionally designated Wilderness.
Related Articles