Jenna Alexander Studio and Sunday Gathering Table will host the Secret Garden Market
by Catherine Tortorici
March 16, 2022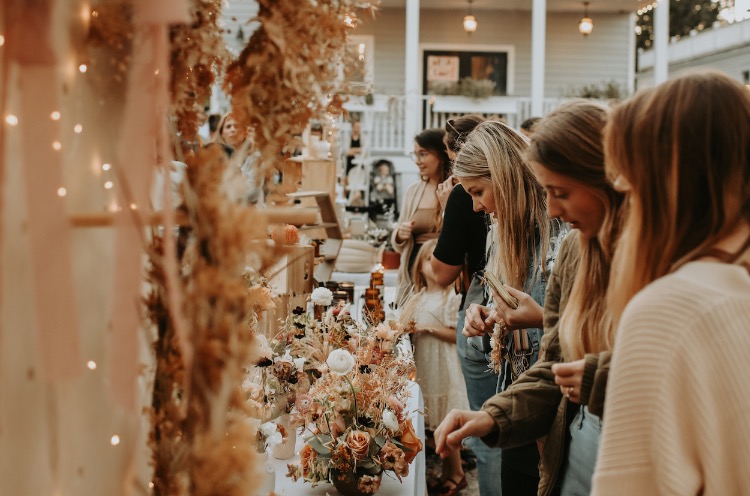 Photo by Jenna Alexander
Secret Garden Market will feature local art, ceramics, vintage goods + more on April 2nd
ST. AUGUSTINE, Florida (March 15, 2022) – The springtime sister market to last year's wildly successful Moonlight Market, Jenna Alexander Studio and Sunday Gathering Table gear up to host the Secret Garden Market on Saturday, April 2nd, from 5-9pm. A muse of renewal and romance, the upcoming Secret Garden Market will give residents and visitors alike a chance to connect with artisans in a new way as they shop local goods and meet the people that craft them. The curated event will include dozens of artists, jewelers, vintage vendors, farmers with fresh flowers and local honey, and candle makers as well as food and drink and DJ: Zach Engh spinning vinyl records, all underneath a twinkle-lit, outdoor space.
"We had an unbelievable turnout at our first Moonlight Market last fall and are very much looking forward to hosting another beautiful, buzzing evening with our wonderful community at the Secret Garden Market this spring," explains Jenna Alexander of Jenna Alexander Studio. Misty Lake, Owner of Sunday Gathering Table, adds, "In the spirit of spring renewal, we are poised to host Secret Garden Market, the sister event to our Moonlight Market. Coasting off the success of our first market, we're offering another curated evening featuring a selection of local vendors, both new and old."
The Secret Garden Market will offer specialty-crafted goods from over two-dozen local vendors, including Ariel Kellogg, Beaten Path Co., Bee Hill Farm, Grumpshine Candles, Hyppo Gourmet Ice Pops, Lauren Ytterbom Ceramics, MC Pressure, Pinfeather Designs, John Quick Ceramics, Magnolia Supply, Manifest Distilling, Scout's Honor Vintage, and more. In addition, Sunday's homemade sourdough loaves, preserves, and pickles will also be available for sale while Jenna Alexander's new illustrative series, offered in print notecards and limited originals, will make their debut. Learn more here.
ABOUT JENNA ALEXANDER STUDIO: Jenna Alexander is a fine artist and photographer known for her popular series including Salt Run, Stripes and Buns, Flower Map, and Naptime Botanicals. Her studio is located at 73 San Marco Avenue in Uptown St. Augustine. Learn more at www.jenna-alexander.com and follow along on social media @jennaalexanderstudio
ABOUT SUNDAY GATHERING TABLE: Sunday Gathering Table offers classic café fare with a twist, serving everything from artisan sourdough toast to sandwiches, salads, and entrees. Located at 73 San Marco Avenue in Uptown St. Augustine, the café is open Tuesday through Sunday from 8:30am to 3pm. Closed on Mondays. Learn more at www.sundaygatheringtable.com or call 904-907-2176. Follow along on Instagram @sunday____everyday and Facebook @heyheyheysunday
Related Articles