Rick Springfield with Loverboy, Greg Kihn and Tommy Tutone Live
by 904 Newsroom
August 1, 2018
68 views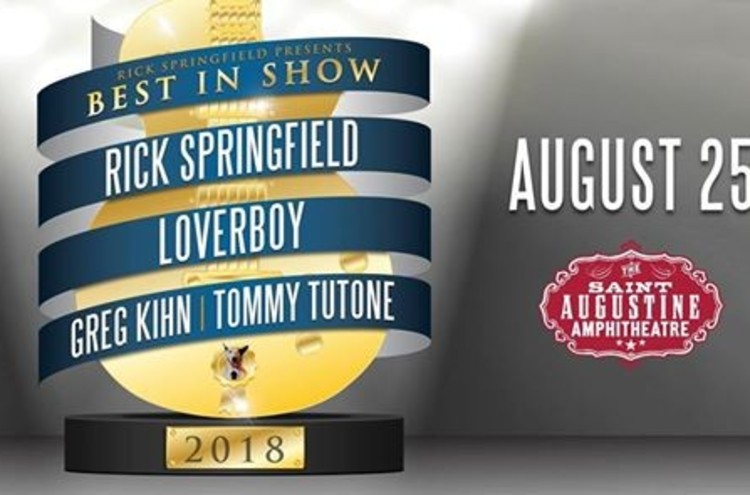 Over the past four decades, Rick Springfield has worn many hats as an entertainer and performer. The creator of some of the finest power-pop of the '80s, Springfield is a Grammy award-winning singer, songwriter, and musician who has sold 25 million albums and scored 17 U.S. Top 40 hits including "Jessie's Girl," "Don't Talk to Strangers," "An Affair of the Heart," "I've Done Everything for You," "Love Somebody" and "Human Touch." Springfield has toured for over 40 years, hand-delivering the hits to millions of fans worldwide via his dynamic live shows. His concerts are legendary with their rock heavy, high energy full band sets.
With their trademark red leather pants, bandannas, big rock sound and high-energy live shows, Loverboy has sold more than 10 million albums, earning four multi-platinum plaques, including the four-million-selling Get Lucky, and a trio of double-platinum releases in their self-titled 1980 debut, 1983's Keep It Up and 1985's Lovin' Every Minute of It. Their string of hits includes, in addition to the anthem "Working for the Weekend," such arena rock staples as "Lovin' Every Minute of It," "This Could Be the Night," "Hot Girls in Love," "The Kid is Hot Tonite," "Notorious," "Turn Me Loose," "When It's Over," "Heaven In Your Eyes" and "Queen of the Broken Hearts."
NBC called him "Rock's true Renaissance Man" and Apple iTunes called his band "A rock band of genuine consequence." As a pioneer with the legendary Beserkley Records, Greg Kihn helped write the book on revolutionary west coast rock and roll. He's toured the world, had hit records, and has won several awards for his hit songs "Jeopardy," "Break Up Song" and "Lucky." The iconic San Francisco Bay area rocker, radio personality and author has been on tour with his band – the Greg Kihn Band – across the country, performing his hits such as "Happy Man" and "Can't Stop Hurtin' Myself" as well as new material from his new ReKihndled album.
In the history of music, there are plenty of one-hit wonders – but none like Tommy Tutone. In 1982, Tommy Tutone exploded onto the music scene with what is one of the best known songs in history - "Jenny/867-5309." But to define Tommy Tutone by "Jenny" would only tell half the story. First, Tommy Tutone is the name of the band, and the lead singer is named Tommy Heath. The band was named Tommy & The Tutones, but so many people identified Heath as the face of the band, they called him Tommy Tutone, and the moniker stuck. The band rode their popularity through the '80s and early '90s before taking a break. Finally, Tommy Heath went to Nashville and did a good bit of writing and recording. He gathered the band again and started touring with his new sound, but never forgetting his legion of hard core fans in the process.
Rick Springfield presents "Best In Show" with guests Loverboy, Greg Kihn and Tommy Tutone
Saturday, August 25, 2018
Related Articles