Christmas Lights Around Jacksonville
by Joseph Cartolano
November 30, 2019
512 views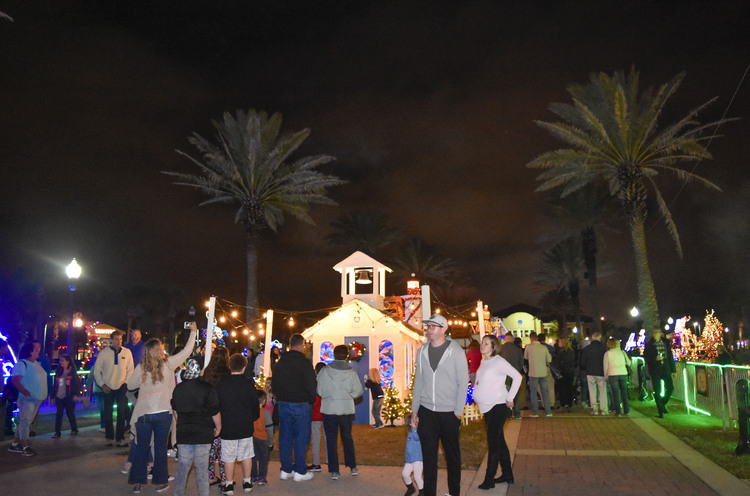 With Thanksgiving all wrapped up, it's time to find the best spots to look at the lights. Here is a list of places where you can check out.
1. Blackhawk Bluff Neighborhood off Girvin Road
Dazzle your family and friends with a drive through this neighborhood located just West of Neptune Beach. The entire neighbor hood participates in a event that started over a decade ago.
2. Deck The Chairs
Deck The Chairs is an annual lighted sculptural exhibit using the iconic chairs of The American Red Cross Life Saving Corps. Forty chairs are sponsored by local business and decorated by regional artists. The exhibit is on display in downtown Jacksonville Beach for the month of December.
3. 402 Snapping Turtle Drive E., Atlantic Beach
Two homes are covered with over 40,000 lights, set in motion to holiday music that is playing outside. It is free and open to the public to ride by. Lights are on nightly.
4. Christmas on Crystal Springs
Located at 10580 Crystal Springs Rd, "Christmas on Crystal Springs" is an animated Christmas light display located in Jacksonville, Florida. It is dedicated to celebrating an often neglected part of the Christmas tradition which is the birth of our Lord and Savior Jesus Christ.
5. Beauclerc Rd Christmas Lights
On Beauclerc Rd right off of San Jose is a beautiful display of lights that you can walk through and enjoy the beauty of Christmas.
6. Night of Lights in St. Augustine
St. Augustine's popular holiday season city-wide event - the famed Nights of Lights celebration – will glow with more than three million brilliant white lights again this year attracting hundreds of thousands of visitors to the oldest city in the Nation. Nights of Lights runs through January 31, 2019, in St. Augustine, Fla.
During Nights of Lights, St. Augustine glows with holiday magic – from the ground to the rooftops. Selected by National Geographic in 2011 and 2012 as one of the 10 best holiday lighting displays in the world, St. Augustine's Nights of Lights feature millions of tiny white lights that create a magical atmosphere in the Nation's Oldest City. The best way to experience Nights of Lights is to plan an overnight stay so you can soak up the sparkly, festive atmosphere and enjoy all the dining, tours, and entertainment this award-winning holiday celebration has to offer. Nights of Lights can always be enjoyed on foot, by bicycle or pedicab, on the Old Town Trolley's Famous Nights of Lights Tour or the Ripley's Red Train, or by horse and carriage.
7. Zoo Lights
Celebrate the holiday season and create a family tradition admiring the sparkling lights and brilliant hues at the Jacksonville Zoo and Gardens' Seventh Annual ZOOLights event. Thousands of LED lights will transform the Jacksonville Zoo and Gardens into a luminous winter wonderland filled with moving sculptures, forests of lighted trees and animal silhouettes. In addition to walking among the thousands of lights strung throughout the Zoo and listening to spirited holiday music, guests can enjoy a unique view of ZOOLights by boarding the Zoo's lighted train (the train only runs from the back of the Zoo to the front). Guests can also enjoy carousel rides, the 4-D Theater, marshmallow roasting, and more for an extra charge.
Dates:
Dec. 7-9 & Dec. 14 - Jan. 5 Closed Christmas Day
6:00 pm to 9:30 pm Sunday - Thursday
6:00 pm to 10 pm Friday & Saturday
The Zoo closes at 5:00pm and will re-open for ZOOLights at 6:00pm
8. Downtown Dazzle: An Illumination Celebration
The offices of the Jacksonville Children's Chorus at 225 E. Duval Street will be illuminated with a holiday light display synchronized to recorded songs of the season broadcast on 94.5 FM. The lights will be on display nightly from 5:30 p.m. to 9:30 p.m. from Nov. 29 through Jan. 1.
9. Stephen Foster Folk Culture Center State Park
Stephen Foster Folk Culture Center State Park hosts their annual Festival of Lights, a holiday celebration features more than five million lights. Named a Top 20 Event in the Southeastern US, visitors can enjoy award winning holiday sights and sounds throughout the park.
During the fully festive Holiday Magic Nights (Dec. 6, 7, 8, 13, 14, 15, 16, 17, 18, 19, 20, 21, 22 & 23), there will be free hot cocoa, popcorn, marshmallow roasting, bonfire, snow flurries, train display, the Gift Shop with crafters and vendors for shopping, and of course, Santa.
Silent Nights (Dec. 4, 5, 9, 10, 11, 12, & 24): Load up the family and enjoy the beautiful light displays at your leisure. We encourage you to park and walk through the lights, take photos and make memories!
Silent Nights do not have the same features as Holiday Magic Nights.
The North Pole Café is open every night of the festival and serves up great dinner vittles and delicious sweet treats. Between the gift shop and the craft vendors, you can do just about all of your holiday shopping at the park as well!
We recommend that you arrive early, especially during the Holiday Magic Nights, and that you allow at least one hour to fully experience the festival.
Bring a flashlight, as there can be tree roots and other natural tripping hazards.
The last ticket will be sold at 8:30 every night and the entry gates will close at 8:30 every night of the festival.
10. Arbor Glade Christmas Town
Off of Old St. Augustine rd between 95 and 295 is another great neighborhood you can drive through and see lots of houses with lights and decorations. This is a Free neighborhood drive thru.
Related Articles