Three new Restaurants and a Marketplace set to be unveiled at Downtown VyStar Headquarters on May 27
by Charles Wagoner
May 13, 2021
505 views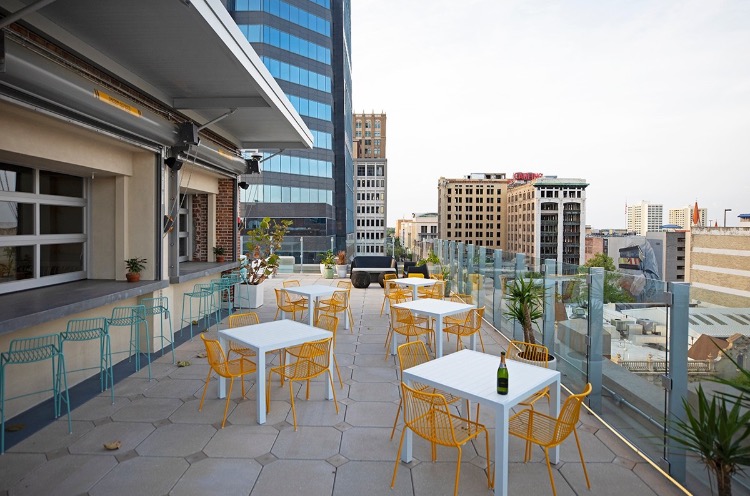 Downtown Jacksonville's restaurant scene is about to expand as The Bread & Board unveils its third location and adjacent marketplace, The Bread & Board Provisions, at VyStar Credit Union's 100 West Bay building on May 27. Founders Jonathan Cobbs and Dwayne Beliakoff will simultaneously open two new restaurant concepts, Bread & Burger and Estrella Cocina, also located on the VyStar Campus.
"We are excited to broaden our restaurant offerings to Jacksonville restaurant enthusiasts and think expanding to downtown is the perfect place to support the economic growth of the city while the downtown urban core continues to grow and thrive as a vital place to live, eat, play and work," Cobbs said.
"Bread & Burger takes our expertise in preparing elevated hand-held fare to create over-the-top flavorful burgers and shakes sourced from local, fresh ingredients," Beliakoff said. "Estrella Cocina is a completely new concept we're excited to unveil. It features tastes of Baja coastal Mexican, Baja Mediterranean and SoCal-Mexican cuisines inspired by my travels and heritage."
The Bread & Board Provisions will be stocked with top culinary take-and-go offerings and showcase local food and beverage producers. The specialty marketplace aims to fill a need downtown for fresh, convenient carry-out food and high-quality food goods and gifts for residents, visitors and professionals working in the walkable urban core. A curated selection of local vendors will reach new customers with the opportunity to have retail space in the downtown area.
"With these exciting additions to the VyStar Campus, we are creating a space that is authentic to who we are as a community," said Brian Wolfburg, VyStar's President/CEO. "Supporting local small businesses is an ongoing focus for VyStar, and we are proud to be a part of an initiative that will bring people together and further ignite our downtown."
City leaders, influencers and guests will get the first look at the VyStar Breezeway project and the new restaurants at a ribbon cutting and tour held on May 27. Bread & Burger and Estrella Cocina will officially open to the public immediately following the ceremony. The Bread & Board and The Bread & Board Provisions marketplace will open to the public in June.
About The Bread & Board
Bringing in the golden age of sandwich artistry, The Bread & Board is an independently owned eatery founded in Jacksonville, Fla.'s Five Points neighborhood. Equal parts fun-loving sandwich shop and fine dining kitchen, co-founders Jonathan Cobbs and Dwayne Beliakoff blend inspiration from classic deli favorites with global styles, influences and flavors to create versatile masterpieces. The Bread & Board offers artisanal sandwiches and sandwich boards using premium, house-made ingredients, homemade bread and meats. The multi-faceted menu also features fresh salads, made-from-scratch sides and redefined specialty boards, resulting in thoughtful fare that is seasonally focused and sourced using a local-first approach. Constantly evolving to introduce something new to the palette, a rotating Exploration Series menu highlights globally-inspired flavors and cuisines from a new destination each month. The Bread & Board delivers an overall eclectic dining experience that is both approachable and affordable. For more information, please visit www.thebreadandboard.com.
About The Bread & Board Provisions Marketplace
The Bread & Board Provisions Marketplace offers a farmers-market bazaar of sorts that allows guests to immerse themselves in the best tastes, retail and authentic experiences from top local vendors, artisans, specialty purveyors, pastry chefs and craft beer certified Cicerones. In addition to grab-and-go fare straight from The Bread & Board kitchen and a fresh-cut floral wall, the curated list of retail partners includes:
About Bread & Burger
Bread & Burger is an original restaurant concept that aims to bring a creative take on traditional American fare with specialty burgers, fries and shakes. Bread & Burger adds a dining element to the highly anticipated VyStar Campus breezeway that runs from 100 W. Bay St. through to Independent Drive. Highlights of the savory and sweet menu include grass-fed beef burgers, herbed turkey burgers, crispy chicken breasts and spiced lentil patties all on fresh baked brioche buns with a variety of unique and traditional burger toppings and combinations. Also available are hand-dipped one-fourth pound kosher beef corn dogs and fresh cut French fries with the option for garlic butter and herbs, Oregon white truffle oil and parmesan, or Cajun spiced seasonings. Diners can get a sweet tooth fix with a specialty shake menu of seasonal fruit flavors along with classic vanilla and chocolate.
The restaurant features a kitchen made from a custom-renovated shipping container and a raised patio surround with a selection of regular and high-top seating. Patrons can enjoy outdoor dining while also taking part in other entertainment options the breezeway offers, such as live music, games, green space and more.
About Estrella Cocina
Estrella Cocina is a specialty restaurant, bar and lounge space located on the seventh-floor rooftop of the downtown VyStar Tower at 100 W. Bay St. The restaurant is situated in 3,500 square feet of indoor rooftop space with an additional 4,500 square feet of outdoor seating and rentable event space. The new restaurant, bar and lounge are inspired by the owners' passion for fresh, locally sourced food and many years exploring Mexican beach towns. The menu features tastes of Baja coastal Mexican, Baja Mediterranean and SoCal-Mexican cuisines. The full bar menu includes an innovative cocktail menu and tequila shrine.
The 3,500-square-foot indoor space will seat up to 75 guests at a regular capacity. Additional table and lounge seating on the rooftop patio will allow for an additional 150 diners, with more outdoor standing room available for up to 500 people for reception-style events. Large retractable windows along the perimeter of the indoor space open to the patio to allow for a connected, indoor/outdoor feel year-round. Five-foot tall specialty nighttime lighting displays further enhance the Baja vibe. For more information, visit www.estrellajax.com.
About VyStar
VyStar Credit Union is the largest credit union headquartered in Northeast Florida and now serves over 750,000 members with assets totaling more than $10 billion. VyStar is the largest mortgage lender in Northeast Florida and one of the major employers in the region with over 2,000 employees. VyStar membership is open to everyone who lives or works in the 49 contiguous counties of Central to North Florida, 10 Southern Georgia counties and past and present military members and their families all over the world.
Related Articles