St. Augustine's Fireworks Over The Matanzas - 4th of July Celebration
by 904 Newsroom
June 27, 2022
884 views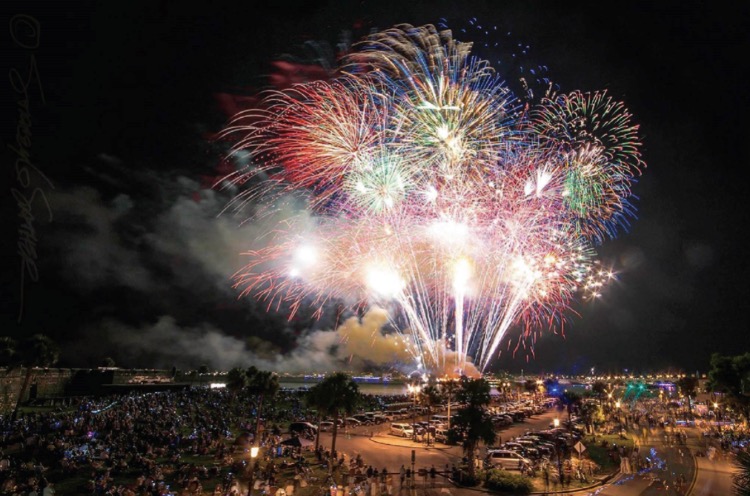 Save the date for Fireworks over the Matanzas, St Augustine's annual Independence Day Celebration! The special event is expected to draw thousands of locals and visitors to the Castillo de San Marcos and all along the bayfront and the Bridge of Lions this year.
The Fourth of July Fireworks event is scheduled to take place on Monday, July 4, 2022.
Schedule of Events
Concert: The "Fireworks Over the Matanzas" festivities start at 6 p.m. with the popular local band, The All-Star Orchestra, performing a two-hour show of big band and swing music along with patriotic favorites. The free concert is taking place at the gazebo in the Plaza de la Constitucionlocated in the center of the Historic District. Bring a chair if you'd like to relax and have a seat.

Just a reminder: Alcohol is prohibited on public property, including parks, streets and sidewalks. It is also illegal to possess fireworks that explode or leave the ground.

Fireworks: Then, get ready to be dazzled by 5,000 individual shells exploding as high as 2,000 feet and as low as 100 feet. The breathtaking display, one of the biggest and best on the East Coast, starts at 9:30 p.m. You can see it all from the Bayfront, the Bridge of Lions and Vilano Beach. Another great viewing spot that has cocktails, food and a great view is River & Fort - located right across the street from the fort with two rooftop lounges and a balcony overlooking the bay.
Parking
Parking in the lot at the Castillo de San Marcos National Monument is not free and is enforced by the National Park Service from 8 a.m. - 5 p.m., seven days a week, including federal holidays. There will be no vehicular access to or from the Castillo's parking lot on July 4th from 6-11 p.m.
Watch for some road closures starting at 8:30-10:30 p.m., so plan to arrive early for a cool drink at a local hot spot or enjoy a delightful meal at one of our many outdoor restaurants. Parking is available at the Historic Downtown Parking Garage behind the Visitor Information Center.
Shuttle Service
The free park and ride shuttle service on Anastasia Island only, is provided by the city with support from Old Town Trolley Toursand Ripley's Express Tours and will be available from 6 p.m. until midnight from parking locations along Anastasia Blvd.:
Anastasia Baptist Church (1650 A1A South)

St. Augustine Amphitheatre (1340-C A1A South)

R.B. Hunt Elementary School (125 Magnolia Dr.)

*St. Augustine Alligator Farm Zoological Park (999 Anastasia Blvd.)
NOTE: The Alligator Farm is a parking-only location. If you park there you will need to access the shuttle at the R.B. Hunt Elementary School stop by crossing Anastasia Blvd. at the lighted crosswalk just east of the attraction. Law enforcement officers will assist pedestrians to cross the road safely.
Related Articles