Spanish Food & Wine Festival Coming To St Augustine This February
by 904 Newsroom
February 7, 2023
8557 views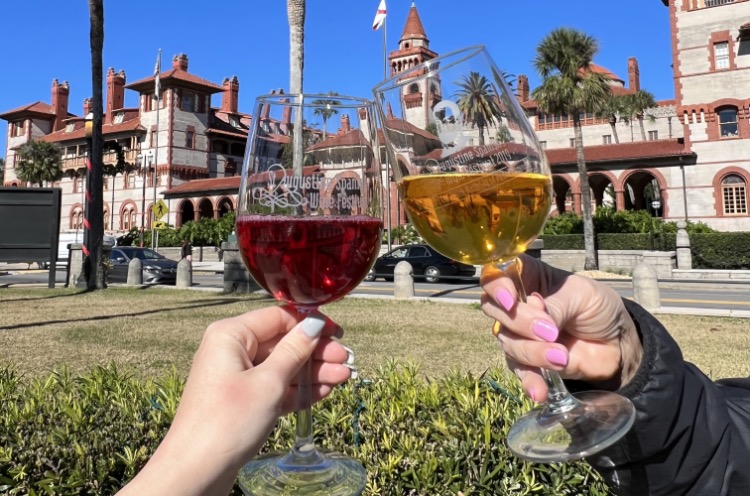 We are pleased to announce the 11th Annual St. Augustine Spanish Food & Wine Festival, in partnership with Flagler College and Bank of America, will be held February 23 - 25, 2022 on Flagler College's historical campus as well as the Lightner Museum Radzinski Family Garden.
The St. Augustine Spanish Food & Wine Festival is the signature fundraising event for the Hospitality and Tourism Management (HTM) Program of Flagler College with 100% of the proceeds invested in academic scholarships, study abroad/study away programs and professional development opportunities for Flagler students. In turn, these talented students treat this festival experience as a living classroom, helping to design, plan, and execute a series of special events featuring Spanish wine, cuisine, music, history and culture.
This year's festival will kick-off on Thursday, February 23rd with Tapas, Wine & Spirits in the Radzinski Family Garden at the Lightner Museum from 6-8 p.m., featuring local chefs and restaurants Spanish inspired tapas paired with Spanish wine and spirits. The following evening will include an exclusive Cava Reception & Wine Pairing Dinner in the historic Flagler Room, Solarium and rooftop of the Hotel Ponce de Leon from 6 – 8 p.m. This VIP event will feature a carefully- curated Spanish menu curated by Michael Lugo from the locally known Michael's. The festival will conclude on February 25th with the longest standing festival event, the Grand Tasting showcasing authentic Spanish wines, cuisine, art and musical entertainment on the beautiful grounds of Markland House, Crisp-Ellert Art Museum, and the Alumni House from 2 – 5 p.m. Throughout the festival an online silent auction will be available showcasing leisure oriented packages including deluxe hotel accommodations, premium spa and salon services, prestigious golf excursions, and many more products and services.
The 10th Annual St. Augustine Spanish Food & Wine Festival promises to be fun and enriching for guest from around the Northeast Florida Region and beyond.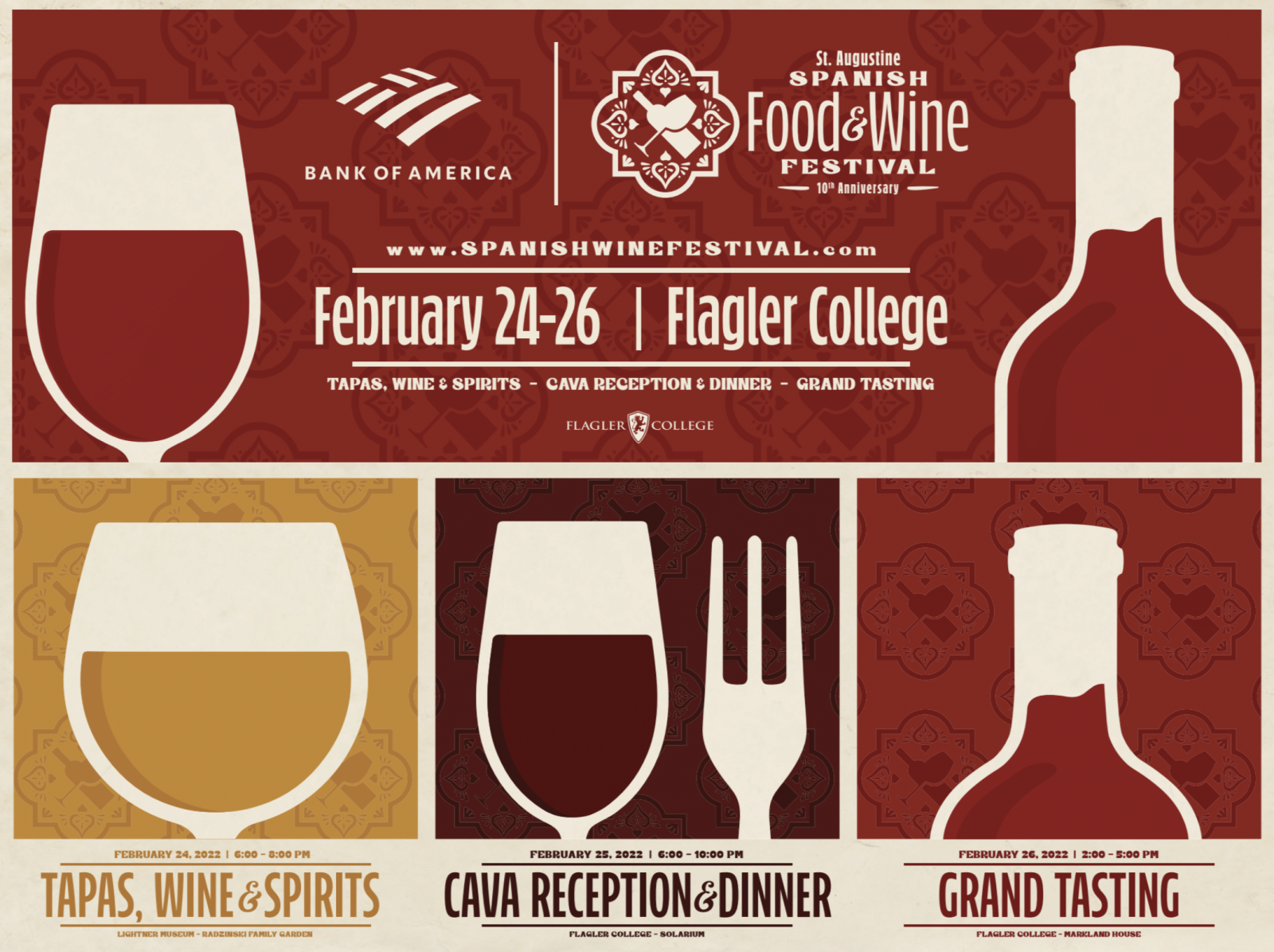 MISSION
The St. Augustine Spanish Food and Wine Festival's mission is to connect St. Augustine to our city's Spanish history through a series of special events that feature Spanish wine, cuisine and culture. The festival serves to raise money for local charities, provide memorable experiences for visitors, foster international economic development, and enrich the quality of life in our community.
St. Augustine history encompasses many cultures and ethnicities, but our primary history involves Spanish exploration and colonization. When Pedro Menéndez and the first 800 European settlers landed on our shore nearly 456 years ago, his ships carried survival provisions. Among his most treasured stores was Spanish wine.
ABOUT
Spain has cultivated wine grapes for more than 4,000 years. The Romans fell in love with Spanish wine and exported it throughout the Roman Empire. Spanish wine is the most popular wine in Europe and the fastest-growing segment of the American wine market. The St. Augustine Spanish Food and Wine Festival is an opportunity to promote our city regionally, nationally and internationally, to help local charities and connect with our founders through products that are as relevant today as they were when the early Spanish explorers came to America.
Spanish culture, music, food and wine defy space and time. The festival and all of its events are designed to promote St. Augustine as the Spanish Wine Capitol of America and to facilitate historical-destination tourism.
BENEFICIARY
Flagler College Hospitality & Tourism Management Program. Aptly named for the father of Florida tourism, Henry Morrison Flagler, Flagler College offers a collegial setting with a rich legacy of hospitality at the former Hotel Ponce de Leon. Located in the heart of the oldest city in America, the Flagler College Hospitality & Tourism program is career- focused, offers a complementary blend of hospitality and business, and is structured around practical application of hospitality and tourism business principles.