Renderingns & Info For New Lot J Development In Downtown Jacksonville
by Charles Wagoner
October 5, 2020
3459 views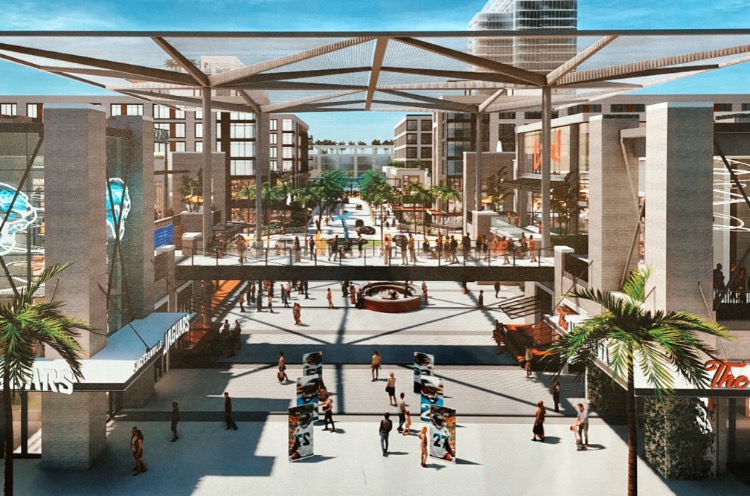 The City of Jacksonville, the Jacksonville Jaguars and The Cordish Companies are moving forward on a catalytic project at Lot J that is expected to spur economic growth in Jacksonville, especially in neighborhoods North and East of the sports complex. The mixed-use development, dubbed the "Live! District," will include:
two residential buildings with a total of 400 for-rent residences,

a 150-250 room hotel,

75,000 square feet of street-level retail,

40,000 square feet of Class A office space,

a 750-space surface parking lot,

two 350-space parking garages, and

a 100,000 square-foot entertainment center with bars and restaurants, as well as indoor and outdoor facilities.
The venture — a 50-50 partnership between the Jaguars and The Cordish Companies — is projected to provide an immediate boost to the local economy with more than $2 billion in direct and indirect salaries during the first 40 years, $100 million in economic output annually, and the creation of 2,300 construction jobs and 1,000+ permanent jobs, many of which will go to Jacksonville residents. Additionally, more than 25% of the contracts will be awarded to companies affiliated with MWBE and Jacksonville Small and Emerging Business (JSEB) program during construction and throughout operations.
Mayor Lenny Curry stated: "This project was designed with Jacksonville residents at the top of mind. The opportunities it will produce for the underserved will be immediate and, in many cases, lasting. We will work with City Council representation from all sectors of our community, but particularly underserved areas, to make sure all are aware of these opportunities – both during construction and for the permanent jobs that will be in place as these new businesses operate in the years ahead."
Project leaders are dedicated to full community involvement and support from start to finish, identifying the following goals:
Ensure that more than 1,000 new jobs are filled by individuals who reflect the diversity of Jacksonville.

Facilitate thorough participation of small, emerging and diverse businesses in the construction phase to produce more skilled workers who gained training through meaningful apprenticeships.

Establish internships and scholarships for local students.

Host charitable events to ensure philanthropic investments are made to support worthwhile causes in the community.
"I am very proud to invest in this project and reinforce my commitment to Jacksonville, our downtown and all of Duval," said Shad Khan, owner of the Jacksonville Jaguars. "A vibrant downtown drives economic upside and opportunity for the entirety of a community. This is our moment to make that happen in Jacksonville while creating jobs and bringing people together in the process."
"It is a tremendous honor to have been selected by the Jacksonville Jaguars and Iguana Investments as their development partner," said Blake Cordish, principal of The Cordish Companies. "We are committed to delivering a transformational world-class project that will create thousands of new jobs and play an important role in the revitalization of downtown Jacksonville. We appreciate the support of the City of Jacksonville and look forward to helping the Jaguars fulfill their vision for the Sports Complex if the agreement is approved by Council."
As part of the agreement, the total direct public investment of $152.7 million will include no more than $50 million for the City-owned Live! District, $12.5 million over 20 years in a REV grant to support the residential component, $12.5 million over 20 years to support the hotel, and $77.7 million in City-owned infrastructure. In addition, the City will provide a $65.5 million loan to the developer, which will be secured by the developer with a $13.1 million deposit into a City-owned trust account. The City will own the Live! district, the infrastructure and all parking within the project.
"A lot has changed over the past year, but what hasn't changed is Mayor Curry's commitment to Downtown Jacksonville reaching its full potential and the belief of the Khan Family and The Cordish Companies, one of the leading mixed-use and entertainment developers in the country, in the vast and positive impact this project will have on residents throughout the entire region," said Mark Lamping, president of the Jacksonville Jaguars. "This is a landmark project for Jacksonville that will spur additional investment and development into our downtown, and that will positively influence all of Jacksonville for many years to come"
Jacksonville City Council President Tommy Hazouri added: "Economic development is a major priority of our City Council, and the revitalization of downtown is a key priority for the economic growth of Northeast Florida. This unprecedented project at Lot J will further enhance Jacksonville's growing reputation as a world-class destination for citizens and visitors alike. I am grateful to Mr. Khan for his passion and steadfast commitment to the City of Jacksonville. This project will energize our downtown with more residents, entertainment venues, retail shops and cultural enrichments, and it will continue our efforts to make Jacksonville's downtown our next great neighborhood! While working with my colleagues on the City Council, we look forward to further reviewing this legislation in securing its passage with due diligence and transparency thereby fulfilling our fiduciary responsibilities."
Following approval by City Council, the project is expected to be complete three years from the date vertical construction begins.
PHOTOS:
Related Articles