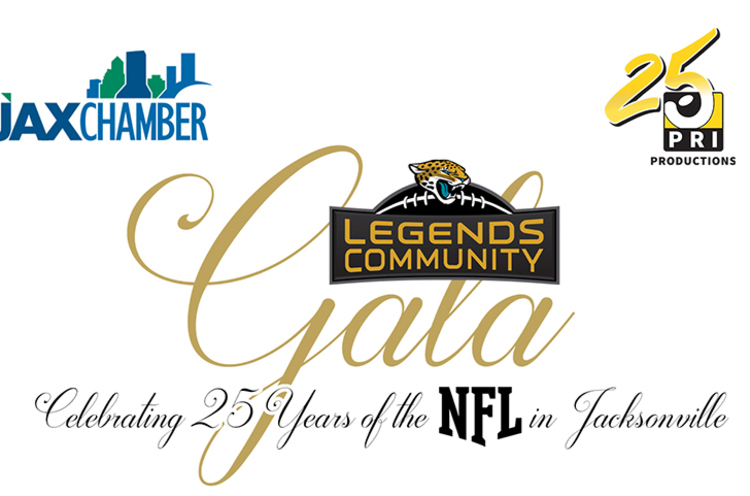 JACKSONVILLE, Fla. ––  JAX Chamber and PRI Productions present the NFL Legends Community Gala on Saturday, Oct. 12. The event will celebrate the 25th anniversary of the NFL in Jacksonville.
2019 marks the 25th anniversary of the Jacksonville Jaguars. The Chamber worked closely with Touchdown Jacksonville!, a group of local business leaders who led the community effort to bring the NFL to Jacksonville. The city was awarded an NFL franchise in 1993 and entered the league as an expansion team in 1995.
"Getting the team put Jacksonville on the map and changed the course of this city," said JAX Chamber President & CEO Daniel Davis. "The Jaguars are a driving force and continue to open doors to international economic opportunity that attracts business and investment to our community."
"I love this city and representing Jacksonville on the field was a dream come true," said Mark Brunell, former Jacksonville quarterback, three-time Pro Bowler, Ring of Honor inductee and now #5 in Jaguars ALL-25. "Our fans are unrivaled in the NFL. I'm looking forward to seeing my former teammates and the best of our fan base to celebrate this Jacksonville milestone."
The gala is 7 to 11 p.m. on Saturday, Oct. 12 at the Prime F. Osborn III Convention Center. Red carpet arrivals are 7 to 8 p.m. Tickets are $100 per person and can be purchased online.
Proceeds from the NFL Legends Community Gala will benefit the Tom Coughlin Jay Fund.
For sponsorship inquiries contact, Events Manager Rachel Harris, [email protected], (904) 366-6638.
Related Articles