Must See: Dinosaur Explorer Exhibit At MOSH Jacksonville
by Charles Wagoner
May 18, 2022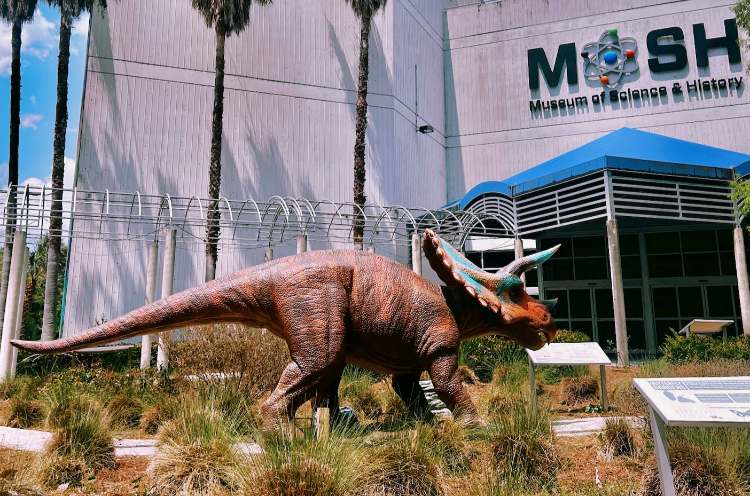 he Museum of Science & History (MOSH) today announced its newest traveling exhibition, Dinosaur Explorer, presented by Imagine Exhibitions. The brand-new exhibition, which is debuting nationally at MOSH, opens May 19 and will run through September 5, 2022.
This all-new exhibition explores the wildest, wackiest and most wonderous dinosaurs, and examines human physiology through the lens of these magnificent creatures. Although they lived millions of years before us, dinosaurs adapted to not only survive, but to thrive on planet earth, much like humans do. Paleontologists believe that dinosaurs shared many things in common with humankind, and, as astounding as it may seem, lived daily lives that may be quite familiar.
Whether it be feeding or family dynamics, intelligence or interpersonal relationships, Dinosaur Explorer examines the ways that environmental, biological and behavioral circumstances influenced dinosaur daily life, and asks: where do we see similarities in our world today?

"We love dinosaurs here at MOSH, and this brand-new exhibition from Imagine Exhibitions is an exciting, interactive one that will bring the joy of these mysterious creatures to all of our guests –– young and young-at-heart alike," said Bruce Fafard, CEO of the Museum of Science & History. "We are looking forward to inviting visitors in to experience this one-of-a-kind exhibit."
Through a series of 24 dynamic displays that feature advanced animatronic dinosaurs, authentic casts and highly interactive hands-on activities, visitors will learn the science behind dinosaur adaptations and understand the connections humans share with our prehistoric predecessors. Starting with a larger-than-life encounter with a Triceratops on MOSH's front lawn, visitors will move through a series of vibrant vignettes to discover what modern paleontology knows about the Triassic, Jurassic and Cretaceous periods, as well as what remains uncertain. They will be challenged to imagine how through small changes, such as tooth form or brain sizes, paleontologists have completely altered the world's understanding of these incredible creatures' success. And just like a scientist, guests will be empowered to hypothesize about prehistoric life by piecing together paleontological and biological clues.
This unique dinosaur exhibition utilizes the latest animatronic technology to create quiet, smooth and lifelike movements, and reflects the most current dinosaur science courtesy of content partner Dr. Gregory M. Erickson (one of only 150 full-time professional dinosaur paleontologists in the world). Dinosaur Explorer invites guests on an unforgettable adventure to explore the world through new eyes, compare themselves to the strangest and silliest dinosaurs and create a whole new understanding of the most fascinating living organisms in known history. And, who knows — maybe ancient history won't feel so far away.
To celebrate the arrival of Dinosaur Explorer, MOSH will present Camp Jurassic Mini Con on Saturday, May 21. This after-hours event will feature vendors and artists, interactive adventures in the Bryan-Gooding Planetarium, cosplayers and a costume contest, a liquid libations bar called "The Watering Hole" and more.
Dinosaur Explorer is open for a limited engagement through September 5.