Hyatt Regency Jacksonville Riverfront Colleague Honored by Mayor's Disability Council
by 904 Newsroom
October 4, 2022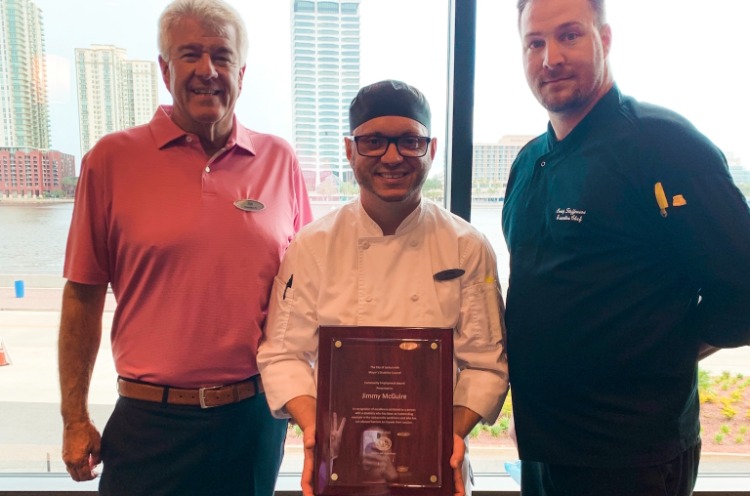 The City of Jacksonville Mayor's Disability Council (MDC) has awarded Hyatt Regency Jacksonville Riverfront colleague Jimmy McGuire with the Community Employment Award for the second quarter of 2022. The quarterly award recognizes outstanding employees with disabilities for their work achievements in the Jacksonville community.
"We are very proud of Jimmy and this incredible accomplishment of being awarded the Mayor's Disability Council's Community Employment Award," said Joe Hindsley, General Manager of Hyatt Recency Jacksonville Riverfront. "Jimmy exudes enthusiasm, professionalism, and confidence every day and is as an invaluable asset to our Hyatt team. We are thrilled that his hard work and dedication is being recognized on a city-wide level."
McGuire started his career with Hyatt in 2014 as part of the Hands-On at Hyatt, an inclusive workplace training program that is designed to foster independent living skills, and to increase confidence and self esteem. Through the two-week program, participants can work at the hotel to learn aspects of several departments ranging from culinary and guest services to receiving and engineering. He was hired following his graduation from the program and has been steadily promoted for the last eight years in the hotel's culinary department, where he currently is a cook.
Hyatt's purpose is to care for people so they can be their best and is dedicated to foster environments where all individuals feel welcome and that they belong. The company is regularly recognized among the nation's top employers and was recently named 2022's "100 Best Companies to Work For" by Fortune.
About Hyatt Regency Jacksonville Riverfront
Situated in the heart of downtown Jacksonville Riverfront, right next to the Main Street Bridge, Hyatt Regency Jacksonville is a premier downtown getaway in Northeast Florida. The hotel features 951 spacious guestrooms and luxury suites providing sweeping views of the city. Guests can enjoy a rooftop pool and 24-hour StayFit gym that provide aerial views of downtown. On-site restaurants include five-course dining at Morton's The Steakhouse, fresh seafood and southern-inspired dishes at SHOR Seafood Grill, craft cocktails and gourmet snacks at Tavern, and grab-and-go options at the 24-hour Market. Guests have easy access to world-class museums, theaters, and national sporting events at the TIAA Bank Field. For more information, please visit hyattregencyjacksonville.com, or call (904) 588-1234.