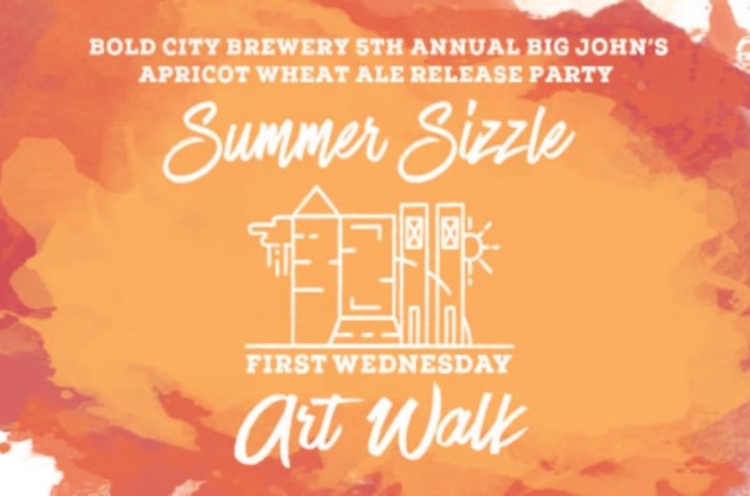 This Wednesday, start the summer off with Bold City's Brewery's annual release of John Apricot's Wheat Ale! Visit # DTJax for an afternoon of art, live music, food and more.
HEADQUARTERS @ HEMMING PARK
Main Stage: Join us for the 6th annual the seasonal release of Bold City Brewery's Big John's Apricot Wheat ale and a performance by The Firewater Tent Revival from 5:30-8:30 p.m.
The Oasis: Find your chill at Downtown Vision's newest summer placemaking experience. Grab a drink, relax in comfy lounge chairs and enjoy a cool, misted breeze right near the Main Stage.
Browse artwork: ABDUL, Artzy Fartzy Petz, The Bead Bowl, Moonchild Studio, Baliliving86, Tovah 2 Creations, Uniquewoodworks, Viktor Lazarev and Let's Paint Our Town. And in celebration of World Environment Day, check out works from the artists, upcyclers and thrifters of Trash Panda Flea in partnership with the Jacksonville Main Library.
And don't miss these vendors and non-profit organizations: Animal Care and Protective Services, City Rescue Mission, Clean Your 904, Climate Reality Project, Hello Fresh, JASMYN, Neighborhood Services Office, NextGen Climate Action Committee, Pet Wants, PFLAG, St. John's Riverkeeper, Talecris Plasma Resources, UNF Ceramics Guild, UNF LGBT Resource Center, Women's Center for Jax and VyStar Credit Union. Plus, stop by the Friends of Hemming Park tent for refreshments and concessions, swag and to learn more about upcoming events in Jacksonville's most historic public space.
KIDS ZONE @ ADAMS ST.
Bring the kids to enjoy magic by Crossroads Magic, activities by My Gym, bounce houses, mural-painting by Jax Kid's Mural Project and face-painting by JMarie Art and Life. Don't miss a performance by The Johns Twins from 5:30-8:30 p.m. Grab a quick bite from Mr. Potato Spread and Nitrogen Creamery food trucks.
ADAMS ST. EATS
Stroll down Adams St. to enjoy southern cuisine at Breezy Jazz Club, spicy Carribean options from De Real Ting, kosher offerings at Gili's Kitchen or flavorful Asian meals Kazu Sushi Burrito. Pick up a flyer at any of these locations or at the red Art Walk tent in Hemming Park for discounts and specials.
FASHION SHOW @ LAURA ST.
Enjoy a fashion show at 7:30 p.m. hosted by Regions Bank in partnership with Fashion Group In'tl and Paul Mitchell The School. Enjoy live music from DJ No Fame from 5:30-8:30 p.m.
ART & CULTURE HIGHLIGHTS
Jacksonville Main Library Get your green on and purchase goods from vintage artists and upcyclers in front of the library in partnership with Trash Panda Flea. Step inside to learn more about recycling through the exhibition "Reclaimed: Life Beyond the Landfill," located in Jax Makerspace.
Southlight Gallery Check out the exhibit "Now & Then," featuring artists such as Kevin Arthur, John Bunker, Larry Davis, Jim Draper, Doug Eng, Renee Faure, Tom Hagar, Paul Karabinis, Paul Ladnier, Robert Leedy, Dee Roberts, Tom Schifanella, Jane Shirek, Jim Smith, Mac Truque and Tonsenia Yonn.
MOCA Jacksonville - Stop by to view the exhibit "Project Atrium" in which Evan Roth displays four months of search history, starting with the day his second daughter was born. The full museum is open and free to the public on Art Walk night.
BUSINESS HIGHLIGHTS
Chamblin's Uptown - Browse works from local artists and enjoy a cup of coffee or a good book when you visit.
Visit Jacksonville - Swing by and discover hand-made products and other pieces by Body & Soul, Anthony Danes and Misty Prince, Dawn's Magical & Whimsical Fairy Items, Patrick Winterbourne, Coolery Jewelery, Aida Calderon and Pixel Ken.
Hollywood Cuts - Check out local rappers at The Lyricist Live, an open-mic street cypher from 5-10 p.m.
Stop by Wolf & Cub Boutique and Daniel James Salon for great gift options and more.
CULINARY HIGHLIGHTS
Bellwether - Support local farms, breweries and bakeries by dining on timeless American cuisine.
Food Truck Valley - Devour delectable food from Best Burgers Jax, Wurstbursters, Fusion Food Truck, Kaboom Kebabs, Rocco's Pizzeria, Frozen Sweets Truck, Josie's Latin Fusion and Delish Kebabs.
Super Food and Brew - Enjoy live music by the Chelsey Michelle Duo, works by artist Stephen Durden and happy hour from 3-6 p.m. Stick around for artisan food paired with great craft beer and wine specials all night long.
And check out these eateries for more delicious options: Burrito Gallery & Bar, Peterbrooke Chocolatier and Spliff's Gastropub.
AFTER DARK HIGHLIGHTS
Bold City Brewery Downtown Stop by the official Art Walk After Party and enjoy a musical performance by Rachael Warfield from 7-10 p.m., drink specials and more.
The Justice Pub Listen to live music by Stargoon, 5 Cent Psychiatrist and more from 6 p.m.- close.
Myth Nightclub - Don't miss out on Silent Disco featuring over a dozen DJs on five different music channels, artists, dance performances and specials all night long.
The Volstead - Enjoy happy hour from 4-7 p.m. and live music by The Snack Blues Band from 9 p.m.- 12 a.m.
Related Articles