First Wedensday Art Walk: St. Paddy Takes Over #DTJax
by Joseph Cartolano
March 2, 2020
522 views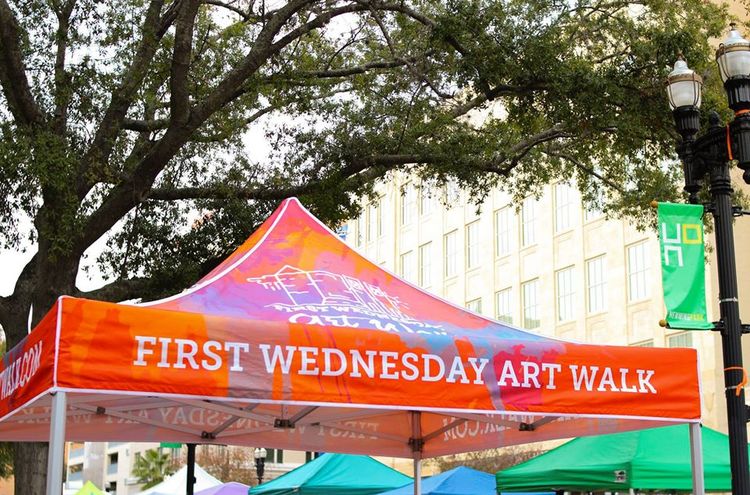 This Wednesday, come out to this First Wednesday Art Walk located in Hemming Park. St. Paddy's Day is not that far away as green will be crawling all over the downtown area.
Main Stage: True to theme, don't miss live performances by the JFRD Pipes & Drums as well as Celtic Band, Aisling Grove and the First Coast Wind Symphony.
#ShopSmall in Hemming Park - ABDUL Paintings and Carved Candles, Alternate Bazaar Art, The Bead Bowl, Maribeth Sanchez Illustrations, The Bead Guy, Reflections In Glass USA, Hooked by Faith Artist B. Elliott, Itzcali Huichol, SELAH the Artist, Candy Painted Boutique, Becky Lyons Art, Oremus Art, Opulent Venus, Sarah Sew Geeky, Unique Woodworks, JLJ Illustrates, bluedoorbodega, and more!
Drink up - The beer tents will be located in Hemming Park and on Laura & Monroe. Our friends from Pedal Pub Jax will be there to add to the fun!
Puppy Portraits by Chad Dennis Photography. This year, Chad has decided to photograph dogs for his end of year gallery exhibition and coffee table book. 100% free to participate - he needs all the pup pics he can get!
Green Marketplace - The Jacksonville Main Library will be painting the town green with a Green Marketplace Live sponsored by North Florida Green Chamber. This trade show of green businesses includes: Anactglobal, H20 at Home - Coralie, More Than Ink Printing, NativeJax, Permaculture, Phi Eco Salon, Sunshine Organics and Composting and more!
Food Truck Valley - Frozen Sweet Trucks, Happy Grilled Cheese Truck, Humble Wood Fire, Hapa Li Hawaiian Food Truck, Island Girl Seafood, Latin Soul Grille Food Truck and Mr. Potato Spread.
Related Articles