First Wedensday Art Walk: Nightmare on Laura Street
by Joseph Cartolano
October 1, 2019
175 views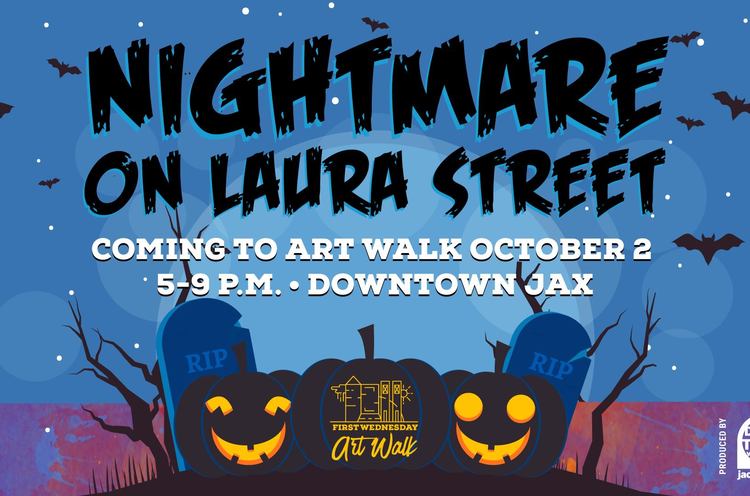 HEADQUARTERS @ HEMMING PARK
Main Stage - Enjoy live music with a spooky twist starting with DJ geexella followed by South City Live at 7:15 p.m.
Browse artwork - ABDUL, Artzy Fartzy Petz, The Bead Bowl, Alternate Bazaar, Baliliving86, Mark Krancer Photography, Jillie Makes, Moises Ramos Fine Art, Flor De Sol, Boho Babie, Creative Art Designs, Unique Woodworks, Viktor Lazarev, The Bead Guy, MichL Designs, Cliff Green Illustrations, PranaSolCreations, Moonchild Studio, Melted Records Art Forms, Diana Augustine Fine Art, House of Brushes, Let's Paint Our Town.
Businesses and Nonprofits - Affordable Marijuana License, Animal Care and Protective Services, All-American Gutter Protection, Friends of Hemming Park, Neighborhood Services Office, 100 Black Women of Jacksonville, Ministry of Reconciliation, Youth Block Party, Paranormal Investigators of the First Coast, and One Blood.
Kid Zone - Bring the kids to enjoy activities by My Gym, Jump 4 Jax and a fun Halloween-themed live mural by Jax Kids Mural Project.
Art Walk Beer Tent - Enjoy local craft favorites and pumpkin beer.
LAURA STREET HAUNTINGS
Black Light Block Party - Tiptoe your way down Laura Street for a black light experience with glow-in-the-dark face painters and a chalk art street mural by Ansley Randall of Jax is Rad.
Live Performances - By Dansations + Make Believe Costumes Dance Troupe at 6 p.m., Scott Jones School of Dance at 7 p.m. and Monet School of Ballet at 8 p.m. on the MOCA Jacksonville block.
13th Floor Haunted House Booth - Experience a "haunted wings" photo op and beware of the strolling monster actors throughout the night.
Trick-or-Treat - Kids are encouraged to at participating businesses along Laura St.
Art Walk Beer Tents - Enjoy local craft favorites and pumpkin beer.
ART & CULTURE HIGHLIGHTS
The 5 & Dime - Get your tickets for Silence! The Musical, the unauthorized parody of Silence of the Lambs at 8 p.m. This laugh-out-loud, naughty satire is only interested in devouring your funny bone.
Jacksonville Main Library - Don't miss the grand opening of POP: Perceptions of Poverty - an exhibit that encourages discussion about the inequities in basic human needs.
The Lark - Experience the re-opening of this newly transformed space for artists, exhibitions and events on the top floor of the historic Bryan Building.
MOCA Jacksonville - Head to the MOCA Theatre to listen to young refugees share their personal stories coming to Jacksonville at the One Jax Civil Discourse Project Panel. Admission is free.
Southlight Gallery - Discover the exhibit, "A Marriage of the Imagined and the Observed: a Husband and Wife Exhibition" featuring artists Christina Mastrangelo and Nicholas McNally. The bold, large-scale abstracts of M.J. Hinson also continue on display adjacent to the second floor gallery.
BUSINESS HIGHLIGHTS
Chamblin's Uptown - Browse works from local artists and enjoy a cup of coffee or a good book when you visit. Join former Mayor Jake Godbold for a book signing event from 6-8 p.m.
Hemming Plaza Jewelers - View local art work on the 2nd floor.
Hollywood Cuts - Check out local rappers at The Lyricist Live, an open-mic street cypher.
Regions Bank - Take a coffin break from the Halloween hauntings! Stop in and enjoy a live performance by the First Coast Wind Symphony.
Vagabond Coffee Co & Bodega - Discover DTJax's newest coffee and baked goods shop and host of the Vagabond Flea, a market featuring local up-cyclers, antique sellers and more.
Visit Jacksonville - Swing by to see: Metal Artist Patrick Winterbourne, Coolery Jewelry, Digital Art by Rhashid, Body & Soul, Anthony Danes & Misty Prince, Tea Nation, Pixelken, The Art Corner, Aida Calderon, K's Got You Covered. Live music with Bethany Stockdale!
And stop by Wolf & Cub Boutique, Holiday Salon & Apothecary and Daniel James Salon for great gift options and more.
CULINARY HIGHLIGHTS
Bay Street Bar & Grill - Join us for Happy Hour from 2 - 7 p.m. with $1 off locally brewed drafts and if you're hungry, Wing Night kicks off at 7 p.m. with 50c wings! Bay Street will also be hosting Jacksonville Zombie Walk for a pre-brain snack and zombie-theme cocktails before zombies haunt the streets of DTJax.
Bellwether - Support local farms, breweries and bakeries by dining on timeless American cuisine.
Breezy Jazz Club - Stop by for the free wine tasting, stay for the live music and art vendors!
Food Truck Valley - Grab a bite and enjoy live acoustic from local Jacksonvillian, Ryan Campbell. Food truck lineup: Back to the Grind, Fusion Food Truck, Manny's Cuban Food Truck, Nitrogen Creamery, Son of a Butcher and Wurstbursters.
Gili's Kitchen - Can't go wrong with a fresh Mediterranean meal! Sit for awhile for live acoustic by Elly Ben Simon and don't forget the 10% discount on Art Walk nights.
Super Food and Brew - Enjoy Happy Hour from 3-6 p.m. Live music from 6-9p.m. with Random Tandem. Works by Caroline Preston and Stephen Durden.
Sweet Pete's Candy - Check out the ghoulish touch over at the candy mansion! Looking for something to do before Art Walk? Head over for a Smashing Pumpkin Class at 4pm.
And check out these eateries for more delicious options: Burrito Gallery, Element Bistro Bar & Lounge, Peterbrooke Chocolatier, and Spliff's Gastropub.
ADAMS ST. EATS
Enjoy southern cuisine at Breezy Jazz Club, spicy Caribbean options from De Real Ting and a musical performance from Special Formula Band, fresh Mediterranean options at Gili's Kitchen or flavorful Asian meals Kazu Sushi Burrito. Pick up a flyer at any of these locations or at the Art Walk tent in Hemming Park for discounts and specials.
AFTER DARK HIGHLIGHTS
Myth Nightclub - Discover Silent Disco - Neon Garden Edition. Featuring over a dozen DJs on five different channels of music, several artist vendors, dance performances, and great food & drink specials all night long.
The Volstead - Indulge in Happy Hour from 4-7 p.m. and stick around for the Spook-easy After Party featuring Raisin Cake Orchestra from 9p.m.-midnight.
Related Articles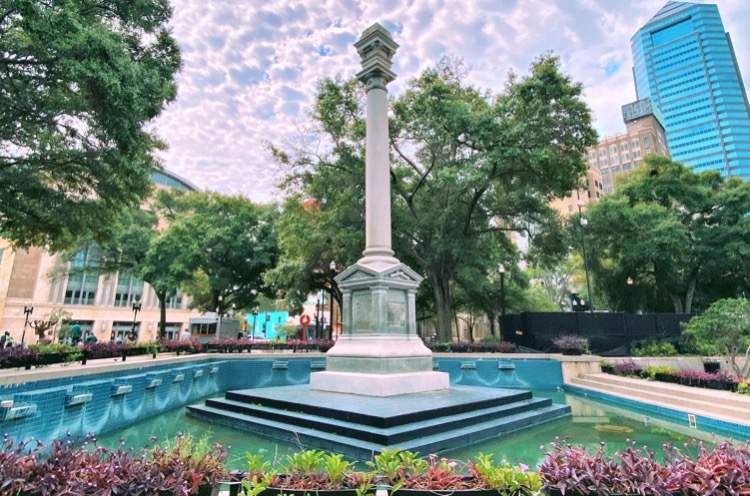 August 12, 2020
252 views