Constellation FURYK & FRIENDS Presented By Circle K Update
by 904 Newsroom
September 20, 2023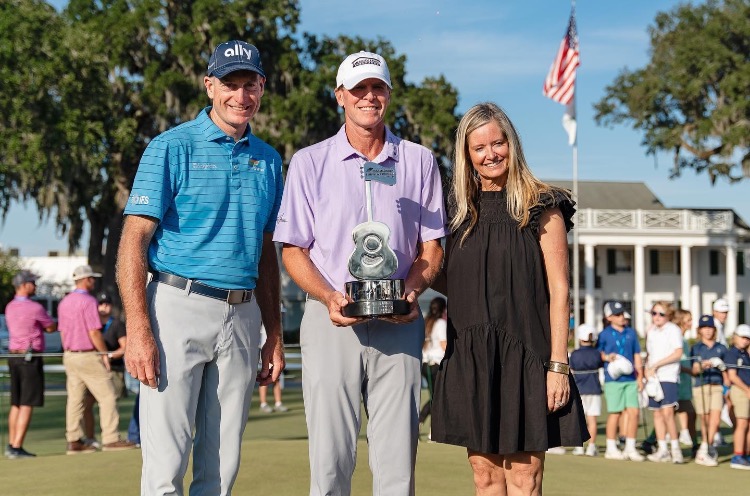 Constellation FURYK & FRIENDS presented by Circle K event update:

Fan Experience: Publix Tailgate Village is the perfect spot for Saturday and Sunday football games
Impact: VyStar Credit Union will again support tournament military initiatives
Competition: Avid outdoorsmen Boo Weekley, David Toms, and Ken Duke look to reel in the tournament trophy

Jacksonville, FL (September 5, 2023) – The top PGA TOUR Champions golfers will return to Timuquana Country Club October 6-8, 2023 for the third annual Constellation FURYK & FRIENDS presented by Circle K. In addition to world-class competition on the golf course, some of the many highlights at this year's event will include;
A unique opportunity to gather and watch college football on Saturday and then come together with fellow Jacksonville Jaguars fans on Sunday morning at Publix Tailgate Village to watch the Teal and Black compete in London
Initiatives in support of the military compliments of VyStar Credit Union
The Constellation FURYK & FRIENDS debut for one of the sport's most unique personalities, Boo Weekley.
Tickets are on sale now for this must-see Jacksonville event.
The Hendrick's London Mule

INGREDIENTS
1 ½ parts HENDRICK'S GIN
½ part Lime Juice
¼ part Simple Syrup
Top with Ginger Beer
Cucumber and Mint Sprig to Garnish

HOW TO MAKE
Combine all ingredients in a highball glass filled with cubed ice and lightly stir. Garnish with 3 thinly sliced cucumber rounds and a mint sprig.


FAN EXPERIENCE: If you are not planning to travel across the pond, Publix Tailgate Village at the Constellation FURYK & FRIENDS is the place to be for Jacksonville Jaguars fans on Sunday, October 8 as the Jaguars take on the Buffalo Bills in London at 9:30 AM ET. Located between the 17th and 18th holes and open to all tournament ticketholders, in Publix Tailgate Village fans can watch the telecast on two large videoboards. While watching the defending AFC South Champions compete, fans can enjoy exclusive craft cocktail experiences with Tito's Handmade Vodka and Hendrick's Gin including the special "London Mule" for Sunday's game.

Fans will also have access to the Michelob Ultra Beer Garden, tailgate activities, exclusive tournament merchandise, and more. However, Publix Tailgate Village is not just reserved for the Duuuval faithful on Sunday morning – tournament attendees can also check out Saturday's top college football games and the NFL's Sunday afternoon slate at this one-of-a-kind fan destination. Food options in Publix Tailgate Village will include BUBBA Burger, Mama's Food Truck, Mother Truckin' Pizza and the Publix food truck, which will be providing ice cream samples from 11:00 am- 4:00 pm, Friday – Sunday.

"While Tabitha grew up as an avid Ohio State Buckeyes fan and I grew up cheering on the Pittsburgh Steelers, we have both become Jags fans as well," said PGA TOUR great and tournament co-host Jim Furyk. "We wouldn't dream of trying to take fans away from their football down here in the South. We have made the Constellation FURYK & FRIENDS the best place to come watch football, enjoy all of our incredible food, beverages and fan activities while watching some great golf at the same time. The 9:30 a.m. kickoff works perfect for starting your day at the course with football and ending with a little bit of golf."

COMMUNITY IMPACT: At the Constellation FURYK & FRIENDS, VyStar Credit Union will again provide complimentary tickets to all three tournament rounds (Oct. 6-8) for active duty, military reserves, members of the National Guard, retired military, veterans and dependents with valid IDs. These tickets come with access to the VyStar Patriots Outpost, which offers great views of the action near the 7th and 8th holes along with free food and beverage and discounted bar items. Tournament ticket offers are available online now. The tournament will also have a shuttle running from the Naval Base to the Bobby Jones Gate for all military members and families. Parking will be available at Hangar 511 from 8am – 4pm all three days of competition Friday-Sunday.

"Jim and I both hold a great deal of respect and admiration for the men and women who serve our country and their families," said tournament co-host Tabitha Furyk. "We are thankful for everything that Vystar does in our community and beyond to help military members and we hope service members and their families can come enjoy a day away from duty at the Constellation FURYK & FRIENDS in October."

COMPETITION: While Boo Weekley is well known for his love of hunting and fishing, he's not the only outdoorsman in the tournament field. Experienced duck hunter David Toms and avid angler Ken Duke are also scheduled to compete, and both are showing the kind of recent form that can earn them golf's version of a big game trophy at this year's Constellation FURYK & FRIENDS.

Weekley, who was nicknamed after cartoon hero Yogi Bear's sidekick, "Boo Boo", is known for his love of the outdoors (much more than golf), laid back attitude and unmistakable southern drawl, endearing him to golf fans. In recent years, he has overcome a number of medical issues including a hip replacement, elbow tendonitis, and a cancerous cyst in his right shoulder. Now healthy and energized to be back on the golf course, Weekley turned 50 in July and made his PGA TOUR Champions debut last month at the Boeing Classic. The three-time PGA TOUR winner will be looking to add a win at the Constellation FURYK & FRIENDS to his career resume and if he's playing well, fans may even get to see him do the Happy Gilmore Bull Dance.

After an impressive PGA TOUR career that saw him win 13 events including the 2001 PGA Championship, Toms has kept things rolling since joining PGA TOUR Champions in 2017. He's a four-time winner on the senior circuit, with two of those victories coming earlier this year in March. Currently ranked 4th in the Charles Schwab Cup standings, Toms has continued to stay hot this summer with a runner-up finish at the Kaulig Companies Championship, a T7 at the Shaw Charity Classic, and a T8 at The Ally Challenge in his three most recent starts.

Winner of the 2013 Travelers Championship and three other international events during his career, Duke earned his first PGA TOUR Champions victory two weeks ago at the Shaw Charity Classic and will look to keep that momentum going in the weeks leading up to the Constellation FURYK & FRIENDS. With finishes of T25 and T14 in the first two editions of the tournament and a Hole-In-One last year, Timuquana Country Club looks to be a good fit for Duke.

Sparked by a $500,000 direct donation from Constellation, the tournament title sponsor, the 2022 Constellation FURYK & FRIENDS presented by Circle K generated more than $1.34 million for North Florida charities. Ticket sales play a large role in supporting the tournament's ability to generate this incredible impact for local community charities.
Constellation's funding supports several deserving North Florida charities including the MaliVai Washington Youth Foundation, First Tee – North Florida, Blessings in a Backpack, St. Johns Riverkeeper and Beaches Habitat for Humanity. The tournament also benefits a number of other local organizations during the year including Wolfson Children's Hospital, Operation Shower, Jacksonville Humane Society, Hope for the Holidays, Operation Hero, K9s United, Guardian ad Litem Foundation, Guardian Catholic School and many more.

For more information about Constellation FURYK & FRIENDS presented by Circle K charitable efforts, please visit here.

ABOUT CONSTELLATION FURYK & FRIENDS PRESENTED BY CIRCLE K - The event will feature a 78-player field and a $2.1 million purse in 2023. In 2022, the tournament generated more than $1.34 million for local charities bringing the two-year total to more than $2.51 million with plans to grow that number in the future. All three rounds of the Constellation FURYK & FRIENDS presented by Circle K are broadcast on Golf Channel, the exclusive cable provider of PGA TOUR Champions. More information on the event can be found online at www.ConstellationFurykAndFriends.com.

ABOUT THE JIM & TABITHA FURYK FOUNDATION - The Jim & Tabitha Furyk Foundation was created in 2010 to help children and families in need. This Jacksonville based non-profit partners with charities across North Florida to provide project specific funding and essential programing. The annual Constellation FURYK & FRIENDS presented by Circle K, created to raise charity dollars to support these partnerships, brings the community together to increase awareness and funding for programs that support education, healthcare, nutrition and safety for at risk children and families. Programs created from the support of the Jim & Tabitha Furyk Foundation in the Jacksonville Community include: Hope for the Holidays which packs over 6,000 bags filled with a holiday meal for at risk families, Operation Shower which provides car seats, strollers and baby essentials to active military families, Blessings in a Backpack, which feeds thousands of food insecure children each week of the school year, and Childcare specialists and services to provide medically complex children care through Wolfson's and Community PedsCare. The Jim & Tabitha Furyk Foundation is dedicated to bringing our community together to improve the lives of the children and families who live on the First Coast through each of these programs and many more.

ABOUT CONSTELLATION - Headquartered in Baltimore, Constellation Energy Corporation (Nasdaq: CEG) is the nation's largest producer of clean, carbon-free energy and a leading supplier of energy products and services to businesses, homes, community aggregations and public sector customers across the continental United States, including three fourths of Fortune 100 companies. With annual output that is nearly 90 percent carbon-free, our hydro, wind and solar facilities paired with the nation's largest nuclear fleet have the generating capacity to power the equivalent of 15 million homes, providing approximately 10 percent of the nation's clean energy. We are further accelerating the nation's transition to a carbon-free future by helping our customers reach their sustainability goals, setting our own ambitious goal of achieving 100 percent carbon-free generation by 2040, and by investing in promising emerging technologies to eliminate carbon emissions across all sectors of the economy. Follow Constellation on LinkedIn and Twitter.
Related Articles