City Employee Earns Navy's Public Service Award For "Unparalleled Devotion" To Jacksonville Military And Families
by Charles Wagoner
October 14, 2020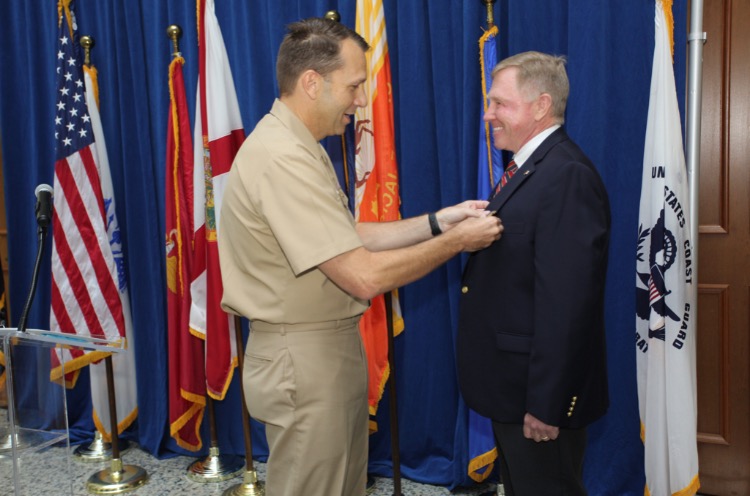 Harrison Conyers III, the City of Jacksonville Military Affairs and Veterans Department (MAVD) operations manager, was honored by the U.S. Department of the Navy with the Meritorious Public Service Award, a prestigious civilian citation that is rarely given. During a ceremony at City Hall on Tuesday, Oct. 13, Captain Brian Weiss, commanding officer of Naval Air Station (NAS) Jacksonville, and Mayor Lenny Curry presented the medal to Conyers while highlighting his decades of dedication not only to active duty and retired military members, and their families, but to all of Jacksonville's citizens.
"It is an absolute honor to be recognized by the United States Navy and Mayor Curry," said Conyers. "It is such a privilege to be able to serve the veterans and active duty military that guarantee the freedoms we hold dear. Although I am blessed to receive this honor, it is being able to see the military bases protected and the veterans lives we change each day that is the true symbol of success."
Captain Weiss stated: "Harrison is the connection for veterans and active duty members in northeast Florida, not just for the Navy, but for all military services. What he does is truly phenomenal, and I am thrilled that we can give a little bit back to him on behalf of all the service members in the area."
Conyers began his career in city government in 1996 as an analyst in the Community Services Division; he then briefly worked with the Jacksonville Children's Commission (renamed the Kids Hope Alliance) as the Quality Services deputy director before moving to MAVD in 2005. As a department leader, Conyers serves as the MAVD representative to several veteran-serving organizations and initiatives; manages in-house services, like the Homeless Veterans Reintegration Program; coordinates special events including the Veterans Day Breakfast, Memorial Day Observance and Military Spouse Appreciation Day; and advocates on behalf of military members in northeast Florida at the local and federal levels, along with many other duties. Among his most notable achievements, is the creation of the Jacksonville Veterans Resource and Reintegration Center, a central agency for social services, financial assistance, career support and military family support that stemmed from a partnership with the Jacksonville Jaguars Foundation.
For his efforts throughout the past 15 years, Conyers has received numerous military commendations including one in 2017 for securing $1.5 million in state grants used to protect local military installations from encroachment.
"Throughout my time as mayor, my team and I have known Harrison to be a dependable, committed and exceptional public servant," said Mayor Curry. "His love and commitment to his duty shines through in his professionalism and the high-quality of his work. As a public servant, he sets a high bar to which we all can aspire."
Bill Spann, director of MAVD, added: "Every wheel has a hub. In baseball, it is the catcher. In football, it is the quarterback. In music, it is the drummer. Harrison is the COJ MAVD hub – catcher, QB and drummer all in one. The guy bleeds red, white and blue. We would be lost without him. This award is well-deserved and I couldn't be prouder of him."
The Meritorious Public Service Award is the U.S. Navy's third highest civilian recognition and is presented to those who have made a substantial and positive impact on a specific activity or geographic location.
Related Articles