This Weekend: Celebrity Pop up dinner at Sawgrass Marriott
by Elaine Gonzales @ElaineEatsJax
March 10, 2021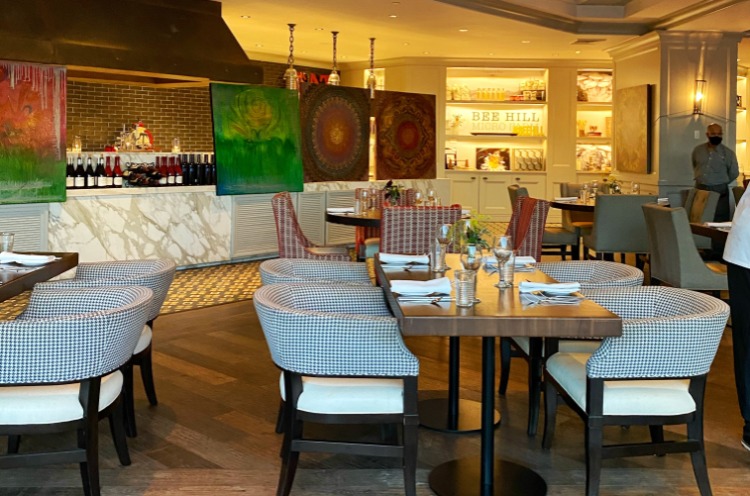 If you are a foodie, or want to impress someone who is-check this out! From March 9th through the 14th, The Sawgrass Marriott is hosting a preview of "Reunion" a brand new restaurant by celebrity Chef Art Smith. Reunion will debut later this year at Chicago's famed Navy Pier. Why is he doing a preview here you ask? It's because Chef Art Smith is a North Florida native and is a fan of Sawgrass Marriott!
During the week of TPC (right now!)you can buy tickets to this exclusive 4 course prix fixe event. I had the honor to attend last night, read on to hear my experience.
Everyone starts out with A Southern Pickle Board (for the table) as their 1st Course. It was a perfect little board of buttermilk benne seed crackers, goat pimento cheese, house-made pickles, candies pecans, seasonal jam and La Quercia Speck(prosciutto). Sweet, savory, tangy, crunchy and creamy all on one board!
For the 2nd Course- we both chose Shrimp and Grits- so pleased to see that they used our local Mayport shrimp served on top of creamy Bradley's Country Milled Grits topped with tomato ragu.
If I had just a couple more shrimp, I would have been happy to have this as my main course.
Fried Green Tomato was the other choice.
For the 3rd Course- My husband ordered the Wagyu Zabuton. So, I know that zabuton is a flat, square cushion that traditionally the Japanese people use to sit on the floor... but I had never heard of this cut of meat before. After doing a little research I found out that is is between the chuck eye roll and the chuck roll and is considered a super premium cut. It's known for it's marbling and tenderness. Chef Art served it with a spring onion soubise, Son & Skye Mushrooms on buckwheat risotto. My husband enjoyed it.
I chose Chef Art Smith's Famous Buttermilk Fried Chicken. With that name, I HAD to... and I wasn't disappointed! It's 3 pieces of fried chicken served with a goat cheese drop biscuit, roasted garlic whipped potatoes and house-made hot sauce. The batter was so light and airy. I know it's not good for me, but I found myself eating every little bit of crunchy batter that fell off onto my plate when I bit into the chicken (and I may have also licked my fingers).
Cornmeal Seed Crusted Snapper was the 3rd choice.
We both chose the Smith Family 12 Layer Chocolate Cake for our 4th and final course. The plate comes garnished with a drizzle of passion fruit and crème fraiche. Definitely not a traditional chocolate cake but sinful none the less.
The other choices for dessert were: Hemp Seed Meyer Lemon Cake and Buttermilk Panna Cotta.
Chef Art Smith came by our table several times to check on us and for a short chat. He was also kind enough to stop and pose for a quick picture for this post!
Oh, also pull right up to the entrance of the hotel because the valet is complimentary for the guests to this event!
Tickets are $95(inclusive of tax and gratuity)per person with an option for wine pairing for an additional $35 and can be purchased on Eventbrite.
PHOTOS:
Follow her on Facebook & Instagram @elaineeatsjax
Related Articles