Brewing with Chuck & Eddie for Charity
by Charles Wagoner
October 30, 2020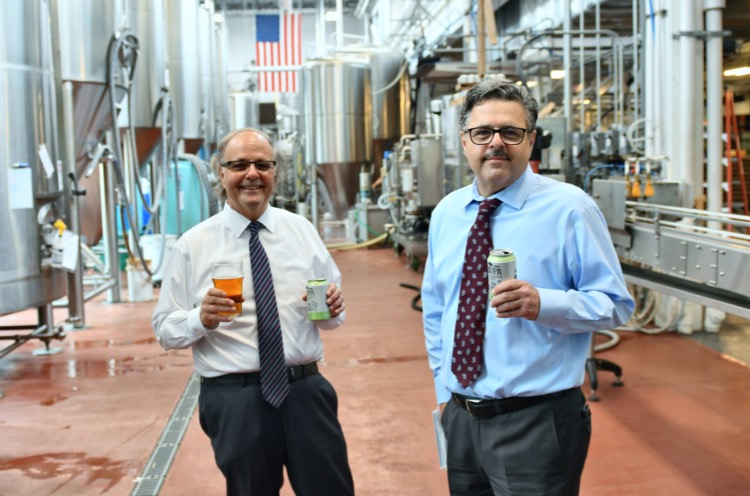 Farah & Farah, Jacksonville's leading personal injury law firm, is partnering with FIVE STAR Veterans Center for the third consecutive year to support the center's ongoing work with veterans in need of restorative care. This year, to celebrate Veterans Day, Farah & Farah is fundraising for FIVE STAR's new initiative with Jacksonville Humane Society, called Paws & Stripes. The program will provide in-depth volunteer training to post-9/11 service members through the Veterans Center, teaching them how to work with shelter dogs.
"This year's Veterans Day partnership is especially important to Farah & Farah because by working with the greater Jacksonville community and beyond, we can collectively fund the Paws & Stripes program and make a huge difference in the lives of hundreds of local veterans and shelter dogs," said Chuck Farah, partner of Farah & Farah.
To fund the program, Farah & Farah is inviting the community to participate through its first-ever partnership with Intuition Ale Works. From November 6 to December 10, the celebrated brewery will offer a peach IPA called '4 The Pups, Man' which will be available at select breweries throughout the region. Farah & Farah will donate $4 (up to $12,000) for every pint sold at the following locations :
​​​​​​​​​
A launch party featuring music, food trucks, raffled items, as well the fundraising ale will be held on November 6 from 5:30 - 8:30 p.m. at Kanine Social to kick off the initiative.
A 2017 study conducted by St. Louis University found that volunteering was associated with significant improvements in health, mental health, and social outcomes in returning veterans.
"Dogs often suffer from stress in the shelter, which leads to anxious behaviors and makes them difficult to adopt," said Denise Deisler, president and CEO of Jacksonville Humane Society. "Our veteran volunteers will provide individual training to the dogs to help them transition into new homes. The unique experiences of post-9/11 service members make them excellent candidates for working with shelter dogs."
Paws & Stripes presents a unique opportunity to improve the quality of life for numerous service members in the Jacksonville area while providing a second chance for dogs at the Humane Society shelter.
"We are forever grateful for the ongoing support that Farah & Farah provides to our veterans," said Suzie Loving, chief administrative officer of FIVE STAR Veterans Center. "Because of Farah & Farah's generosity, we're able to continue providing both essential and specialty care while also launching unique programs, such as Paws & Stripes."
FUNDRAISING & KEG TAPPING EVENTS
11/6 @ Kanine Social 530-830. Join us for a special keg tapping event featuring a food truck & raffle featuring swag from Bark, Kanine Social and Intuition
11/10 @ BrewHound 6-830pm: Chad Dennis will be doing pet portraits & a raffle featuring swag from Bark, BrewHound and Intuition
11/12 @ Intuition Dont miss a 45 minute Yoga & Brews class starting at 6:30 + raffle featuring swag from Bark and Intuition
Click here to donate and learn more
Related Articles