43rd Annual Gate River Run This Weekend
by Joseph Cartolano
March 2, 2020
1033 views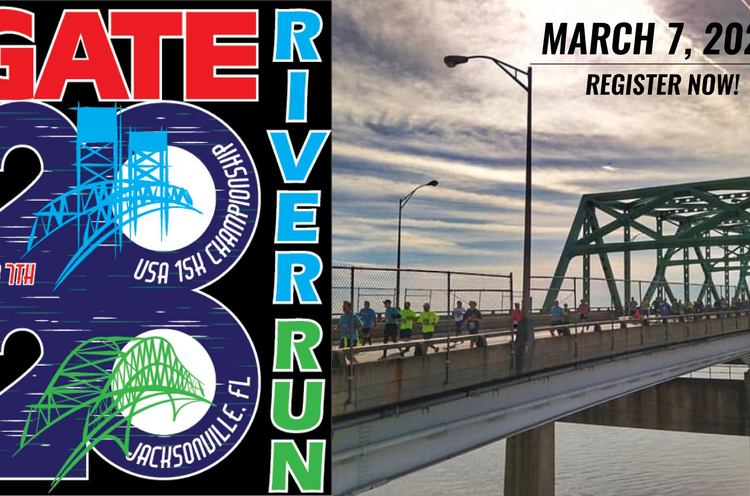 This weekend, Jacksonville will hold its largest 15K race in the United States. The GATE River Run serves as the USA 15K Championship with America's top Olympic athletes competing for $85,000 in prize money. Last year over 20,000 runners and walkers participated in one of our featured events including the 15K, The Florida Times-Union 5K for Charity, the Junior River Run, and the Brooks Rehabilitation Challenge Mile.
This Thursday and Friday, Jacksonville Area (Duval, Clay, St. John's and Nassau counties) participants must pick up their packets at the Runner's Expo located at the Jacksonville Fairgrounds. Runners will also have a chance to purchase any last minute accessories for the upcoming race.
For participants traveling from out of town, there will be packet pickup at the expo on race morning, March 7th from 7:00 AM until 8:00 AM. You can choose to pick up your packet on race morning when registering and pay the $5 fee for day of race pick up. This option is available to out-of-town runners only! Out-of-town runners are defined as runners from outside Duval, Clay, St. Johns and Nassau Counties.
Runner's Expo
510 Fairgrounds Place, Jacksonville, FL 32202
Thursday, March 5th: 11:00 AM until 6:00 PM
Friday, March 6th: 11:00 AM until 7:00 PM
Saturday, March 7th: 8:30 AM until 12:00 PM
Can't Make it to the Runner's Expo?
If you are unable to pick up your own packet, your packet may be picked up for you.
Before the Expo begins: Fill out the Authorization Card, sign, and give it to the person who is picking up your packet for you. They will need to bring this to the Runner's Expo with them. If the Expo has already begun, the person picking up your packet will go down to the Expo and fill out an Expo Authorization form. They will fill in your information and sign it stating they picked up your packet for you.
Bib Number Assignment: There is a spot on the Authorization form for you to fill in your Bib Number. You can look this up closer to the race once the race numbers are assigned, or there will be a "Bib Number Look Up" area at the Runner's Expo.
Related Articles