Riverside Craft Beer Festival This Saturday
by Joseph Cartolano
February 17, 2020
849 views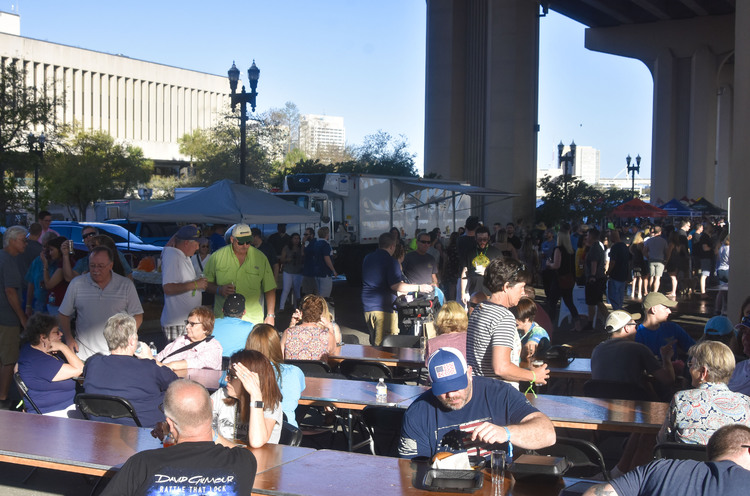 This Saturday, bring all of your friends out to the 7th Annual Riverside Craft Beer Festival. Taste over a hundred craft beers, from different breweries all over Florida. Food will be provided by the local food trucks from the Jacksonville area. Live music will be provided from Firewater Tent Revival. All festival proceeds will benefit the children and their families at Community Hospice and Palliative Care.
Food Trucks
Blue Pacific Tacos
Cely's Filipano Food
Dagwood's
Delish Kabobs
Funkadelic
Pie95 Pizza
Craft Beers
Florida
81 Bay Brewing Company
Aardwolf Brewing Company
Ancient City Brewing
Amelia Island Brewing
Azalea City Brewing
Barrel of Monks Brewing
Biscayne Bay Brewing Company
Bog Brewing Company
Bold City Brewing
Brew Bus
Cigar City
Congaree & Penn
Cycle Brewing
Dog Rose Brewing Company
Engine 15 Brewing
First Magnitude
Fishwier
Funky Buddha
Green Bench Brewing Company
Green Room Brewing
Hyperion Brewing Company
Intuition Ale Works
Islamorada Beer Company
Jdubs
Legacy Ale Works
Lemon Street Brewing
Main & Sixth
MIA Beer Company
Motorworks Brewing
Old Coast Ales
Orange Blossom
Playalinda
Ravenous Pig
Ruby Beach Brewing
Sailfish Brewing Company
Saltwater
Slim Pickens
Southern Swells
Sun Lab Brewing Co.
Strings Sports Brewery
Swamp Head Brewery
Tabula Rasa Brewing
Tampa Bay Brewing Company
Veterans United Brewery
Wicked Barley
Southeast
Abita
Blackberry Farm
Coastal Empire
Highland
Lexington
Sweetwater
Terrapin
Northeast
Stillwater Artisinal Ales
Heavy Seas Beer
Original Sin Cider
Sixpoint Brewery
Duclaw Brewing Co.
Halyard Brewing Co.
Dogfish Head Brewery
Samuel Adams
Brooklyn Brewery
Captain Lawerence Brewing Company
Mackjac Hard Cider
Midwest
Bells Brewery
Blue Moon
Destihl Brewery
Founders Brewing Company
Goose Island Brewery
Leinenkugel
New Holland Brewing
Sun King Brewery
Saugatauk Brewing Company
Shorts Brewing Company
Toppling Goliath Brewery
Urban Artifact
West Coast
Ace Cider
Anderson Valley Brewing Company
Elysian Brewing Company
Full Sail Brewing Company
Golden Road Brewing
Kyla Hard Kombucha
Lost Coast Brewery
Lagunitas Brewing Company
New Belgium Brewing
Sierra Nevada Brewing Company
Sufferfest Beer Company
International
Chihuahua Cerveza
Collective Arts Brewing
Delirium
Einstok Beer
Estrella Galica
Kronenbourg Brewing
Omnipollo
Pirate Republic Brewing Company
St Berardus Brewery
Tucher Brewery
Unibroue
Tickets are still available. This event will sell out!!!
VIP Tickets: $60 (online on Eventbrite) 3pm entry VIP's have first access to speciality, limited quantity brews while they last.
Early Bird Tickets (online on Eventbrite) 4pm entry
General Admission (at gate): $50 (4pm entry- purchase at event ticket counter day of)
More info: www.riversidecraftbeerfestival.com
Related Articles