Jacksonville Zoo and Gardens Launches New Behind-The-Scenes Experiences
by 904 Newsroom
August 16, 2023
657 views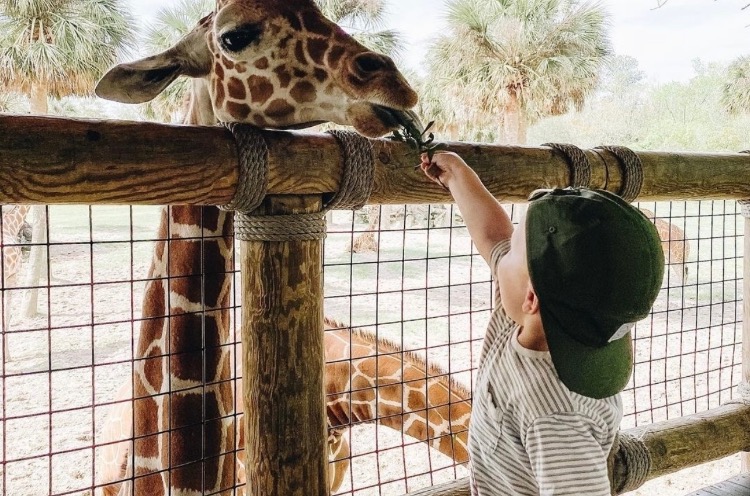 Jacksonville Zoo and Gardens Launches New Behind-The-Scenes Experiences Visitors can now go behind-the-scenes at Northeast Florida's #1 attraction

JACKSONVILLE, FL — (August 16, 2023) Jacksonville Zoo and Gardens announces the launch of its new Behind-the-Scenes Experiences, offering guests an extraordinary opportunity to get up close and personal with some of the Zoo's most beloved residents. Visitors will explore the inner workings of some of the animal habitats, gaining insights into the care, conservation and research efforts that take place daily.
For the first time in its nearly 110-year history, the Zoo is opening its doors to areas not accessible to the general public, allowing guests the opportunity to create unforgettable memories and foster a deeper appreciation for wildlife conservation. The exclusive experiences are an average duration of 45 to 60 minutes, with an encounter with a different species.
"We are excited to unveil our new Behind-the-Scenes Experiences, which will allow our visitors to get one step closer to their favorite animals and engage with our zoo and gardens in a whole new way," said Kelly Rouillard, Director of Marketing and Sales at Jacksonville Zoo and Gardens. "These unique experiences help us accomplish our mission of connecting communities with wildlife and wild places and offer valuable insight into the vital role zoos and aquariums play in conservation."
Guests can choose from a variety of experiences, such as African Elephant Painting, Southern Cassowary Encounters, Magellanic Penguin Encounters, Greater Flamingo Mingle, Warty Pig Encounters and a tour of the Manatee Critical Care Center.
• During the African Elephant Painting experience, participants can witness the artistic talents of the Zoo's resident elephants as they create marvelous masterpieces with their trunks. This interactive encounter allows guests to observe the elephants' natural behaviors up close while learning more from on-site animal care specialists.
• The Southern Cassowary Encounters offer a rare chance to meet one of the world's most fascinating and endangered birds. Visitors will learn about the cassowary's unique characteristics and have an opportunity to feed and interact with the magnificent creatures.
• For those captivated by the charm of penguins, the Magellanic Penguin Encounters are a must try. Guests will have the chance to meet these adorable sea birds, participate in a feeding session and learn more about their nesting habits.
• The Greater Flamingo Mingle provides an intimate encounter with these elegant and vibrant birds. Visitors will have the opportunity to mingle among the flamingos, observing their graceful movements and feeding the flock their favorite snacks.
• Warty Pig Encounters offer a unique opportunity to meet these charismatic and critically endangered pigs. Guests will discover fascinating facts about warty pigs, their habitat and the conservation efforts in place to protect them from extinction.
• Take a behind the scenes tour of the Manatee Critical Care Center and see what it takes to rehabilitate one of Florida's most iconic species! Visitors learn about the Zoo's vital role in rescuing, rehabilitating and releasing injured or orphaned manatees back into the wild.
Behind-the-Scenes Experiences will be available starting Labor Day Weekend and are not included with admission. Experiences and admission tickets can be purchased at www.jacksonvillezoo.org.

About Jacksonville Zoo and Gardens
For over 100 years, Jacksonville Zoo and Gardens has aimed to inspire the discovery and appreciation of wildlife through innovative experiences. Starting in 1914 with an animal collection of one red deer fawn, the Zoo now has more than 2,000 rare and exotic animals and 1,000 species of plants, boasting the largest botanical garden in Northeast Florida. Jacksonville Zoo and Gardens is a nonprofit organization and a portion of every ticket sold goes to the over 45 conservation initiatives Jacksonville Zoo and Gardens supports around the world, and in NE Florida. JZG is proud to be an accredited member of the Association of Zoos and Aquariums. For more information, visit jacksonvillezoo.org.
Related Articles