Donatos Pizza Opening June 2nd In Jacksonville Beach
by 904 Newsroom
May 21, 2020
2495 views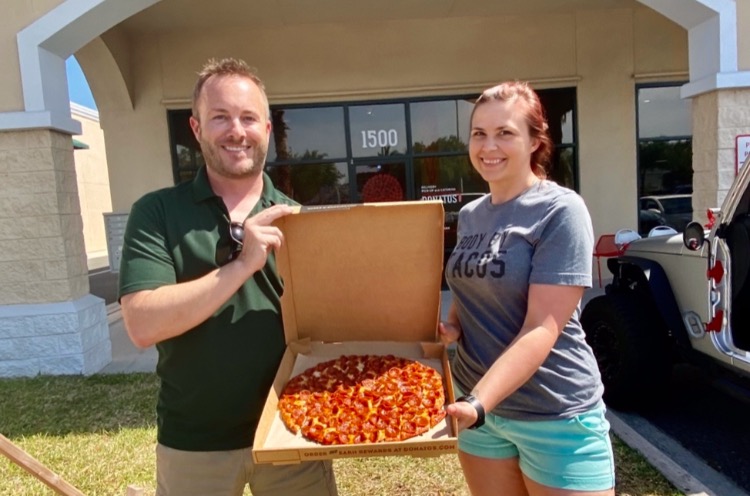 Donatos Pizza will be opening in Jacksonville Beach on Tuesday, June 2! Buckeye Pizza, LLC, led by managing partner, Justin & Courtney Sherman look forward to bringing Donatos premium pizza, salads, subs and wings to the community.
- Pictured is AGM Erin Husa
"As a Columbus, Ohio native, I have always loved Donatos," said Justin. "I felt like the Jacksonville area was missing a concept like Donatos, and I wanted to bring not only a fresh brand, but also this amazing pizza to the area."
The new location will offer online ordering at donatos.com for order-ahead pickup including a drive thru pick up window and delivery options. iPhone and Android users will also find the Donatos app extremely easy to order their favorite menu item. Donatos Pizza Jacksonville Beach will feature seating for 22 people in its 1,641-square-foot store located at 1500 Beach Boulevard. This restaurant will employ 40 full-time and part-time associates and will be open 11am daily and stay open until 11pm Sunday through Thursday and until 2am on Friday and Saturday (delivery & pick up window only).
One of the hallmarks of Donatos Pizza has also been giving back in the community where they serve.
"We are excited to open this new location in Jacksonville Beach," said Donatos CEO Tom Krouse. "We constantly get requests from fans of our brand to open stores in the Sunshine State and this is the first of several stores that will open in Florida this year and beyond. Justin and Courtney are passionate about our brand, and we look forward to them building lasting relationships around the city by giving a good thing."
The menu features Donatos' famous Edge-to-Edge® pizza, with toppings loaded from one edge to the other, all atop a layer of aged provolone cheese. Each large pepperoni pizza boasts 100 pieces of pepperoni, and customers can mix and match from a variety of 25 toppings including fresh vegetables that are hand-cut daily. Donatos Pizza Jacksonville Beach will also serve fresh salads, oven-baked subs and boneless or traditional baked chicken wings that are available naked, sauced or dry-rubbed.
About Donatos Pizza
Donatos Pizza Jacksonville Beach is owned and operated by franchise partner Buckeye Pizza, LLC. Donatos features the Edge-to-Edge® pizza, created by Jim Grote who founded Donatos Pizza in 1963. Donatos and its franchise partners operate 162 traditional restaurants in Ohio, Indiana, Kentucky, Virginia, South Carolina, Alabama, Tennessee, Georgia, Pennsylvania, and Florida. Donatos' products are also proudly served in 62 non-traditional locations (48 locations with Red Robin and 14 sports and entertainment venues). For more information about Donatos Pizza, visit donatos.com, like on Facebook or follow on Twitter and Instagram.
DELIVERY MAP
Order takeout or delivery by calling 904-DONATOS (366-2867)
Related Articles