Cousteau's Waffle & Milkshake Bar Opens New Location in St. Augustine Beach
by 904 Newsroom
April 26, 2023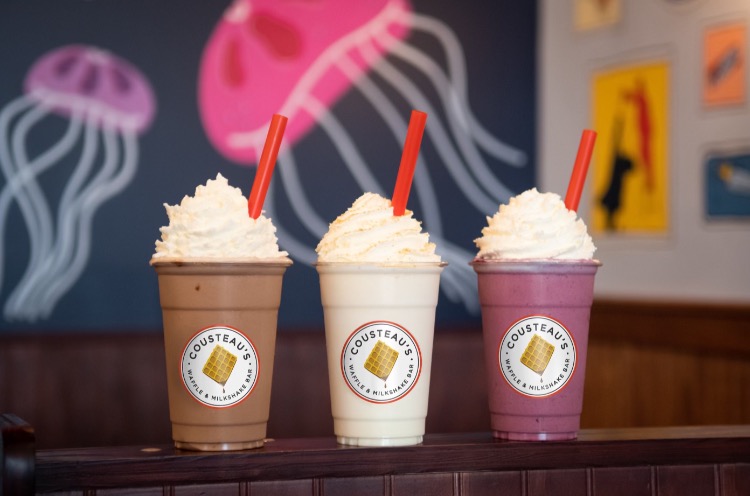 COUSTEAU'S WAFFLE & MILKSHAKE BAR OPENS NEW LOCATION IN ST. AUGUSTINE BEACH
Local sweet spot brings delectable treats to new location with grand opening on Thursday, May 11th
ST. AUGUSTINE, Florida (April 24, 2023) – Local St. Augustinians know who has their back when a sweet craving hits – Stephen DiMare. He creates treats that bring you back to your childhood, but with a sophisticated and unique flavor twist. DiMare showcases popsicles at his flagship Hyppo Gourmet Ice Pops, artisan ice creams at Mayday Ice Cream, and indulgent waffles and milkshakes at Cousteau's Waffle & Milkshake Bar. With the original Cousteau's located on Hypolita Street in downtown St. Augustine, a new space on St. Augustine Beach is a welcome addition to the DiMare family. Plus it's got some fun additions in store like a full Mayday case, extensive coffee program, and some savory waffle combos like prosciutto, fig preserves, and brie.
"I was born and raised here, so I know the landscape of St. Augustine," says Stephen DiMare. "Our downtown location was a great spot to start Cousteau's, but it's just such a natural fit for the beach. The concept was inspired by one of my favorite, cult classic films, The Life Aquatic with Steve Zissou. The beach, the ocean, our waffles, it's just perfect. And with this new spot, folks enjoying the beach don't need to cross the bridge to grab a Jaguar Shark."
The Jaguar Shark, like all of Cousteau's offerings, is named after a character from the film. It's a Liege Waffle, topped with real maple syrup, bourbon whipped cream, candied pecans, and candied bacon. Cousteau's waffles are made from house-prepared dough filled with Belgian pearl sugar and topped with a wide variety of toppings. They are paired with an equally-fun menu of hand-spun milkshakes. A hallmark of Cousteau's menu is the fresh and local offerings. For example, the marshmallow fluff on the s'mores-themed Hennessey waffle is made in-house as is the blueberry compote on the Plimpton waffle and the toasted coconut on the Life On Mars.
"Our focus has always been providing fun and unique flavors that are anchored by quality, homemade ingredients," stresses DiMare. "We love showcasing the local bounty and the culinary skill of our staff. Our new beach spot will offer the same great menu plus a few new offerings that will quickly become fan favorites with the same homegrown ethos as our downtown location."
ABOUT COUSTEAU'S WAFFLE & MILKSHAKE BAR: Cousteau's Waffle & Milkshake Bar offers gourmet waffles and hand-spun milkshakes in a wide array of flavor combinations. Cousteau's Waffle & Milkshake Bar will host a grand opening on Thursday, May 11th from 8am to 10pm with half-price Milkshake Happy Hour, vending machine giveaways, Captain's Toast in the evening, and limited edition merch for anyone who wears a red beanie. The new store is located at 3920 A1A South, Suite 1, St Augustine Beach, FL 32080. It will be open Sunday through Thursday from 8am to 10pm and Friday and Saturday from 8am to 11pm. More details and the full menu may be viewed here. Their flagship location is at 15 Hypolita Street in historic downtown St. Augustine. Learn more at waffleshakes.com and follow along on social media @cousteauswaffles
Related Articles