Bread & Board Begins Construction on Highly Anticipated Downtown Location
by Charles Wagoner
November 2, 2020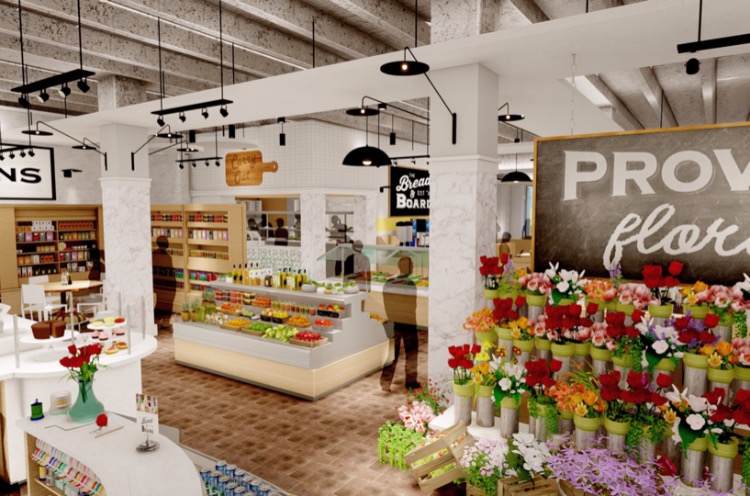 Hammers are ready to swing at The Bread & Board's highly anticipated third location at VyStar Credit Union's headquarters campus in Downtown Jacksonville. The restaurant, best known for its contemporary casual menu of baked in-house artisan breads and meats served as sandwiches, sandwich boards and now bowls, submitted an active construction permit on Tuesday, Oct. 27, for the downtown location and is preparing to enter the final construction phase. The project is anticipated to be completed this winter.
"We are very excited to put the finishing touches on the pre-construction phase and break ground on this new concept that will be a strong component in the revitalization of Jacksonville's urban core," said Dwayne Beliakoff, co-founder of The Bread & Board.
"As people begin to move back into office buildings and venture out more, we will be able to offer them a unique culinary and shopping experience with locally- and regionally-sourced foods and goods in one convenient and safe spot," said Jonathan Cobbs, co-founder of The Bread & Board.
The project consists of 7,200 sq. ft., ground-level space, at 100 W. Bay St. Approximately 5,000 sq. ft. will be dedicated to the restaurant and 2,200 will be for the Bread & Board Provisions marketplace. A breezeway will bring outdoor seating and an open-air communal space large enough to provide room to maintain social distancing.
FLC Contracting LLC was selected as the contractor for the space and the design is being handled by Thomas Duke Architecture, P.A. in collaboration with Micamy Design.
Those interested in getting a taste of what is to come are encouraged to stop by one of The Bread & Board's other locations:
The location that started it all in Jacksonville's Five Points neighborhood at: 1030 Oak St.

The newest eatery at the St. John's Town Center at: 4413 Town Center Pkwy.
Both locations offer in-house dining, pickup, curbside and delivery services. Select Bread & Board Provisions items may also be found in store or are available for pick up and delivery online at thebreadandboard.com. Coming soon, The Bread & Board will be unveiling a seasonal fall-inspired menu that combines old favorites and new treasures. All food is locally or regionally sourced, providing a flavorful, fresh and authentic culinary experience.
To peruse the menu and order from The Bread & Board or Bread & Board Provisions, visit order.thebreadandboard.com or call (904) 862-6992.
Bringing in the golden age of sandwich artistry, The Bread & Board is an independently owned eatery founded in Jacksonville, Fla.'s Five Points neighborhood. The restaurant currently has two locations – the original Five Points restaurant and one at the St. Johns Town Center – with one additional location coming soon in downtown Jacksonville at the VyStar Credit Union headquarters campus. Equal parts fun-loving sandwich shop and fine dining kitchen, co-founders Jonathan Cobbs and Dwayne Beliakoff blend inspiration from classic deli favorites with global styles, influences and flavors to create versatile masterpieces. The Bread & Board offers artisanal sandwiches and sandwich boards using premium, house-made ingredients, homemade bread and meats. The multi-faceted menu also features fresh salads, made-from-scratch sides and redefined specialty boards, resulting in thoughtful fare that is seasonally focused and sourced using a local-first approach. Constantly evolving to introduce something new to the palette, a rotating Exploration Series menu highlights globally-inspired flavors and cuisines from a new destination each month. The Bread & Board delivers an overall eclectic dining experience that is both approachable and affordable. For more information, please visit www.thebreadandboard.com.
Related Articles