Acclaimed Rock'n Roll Supergroup Sammy Hagar & The Circle Return To St. Augustine
by Joseph Cartolano
October 28, 2019
907 views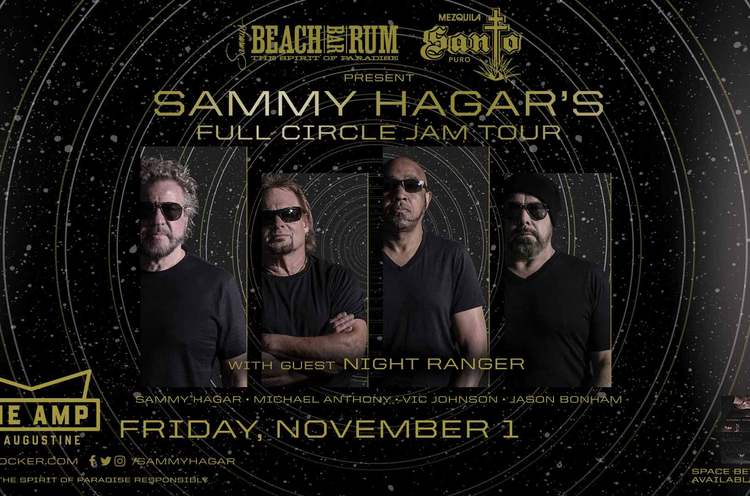 The Amp St. Augustine is thrilled to announce that acclaimed Rock & Roll supergroup Sammy Hagar & The Circle will return to The Amp St. Augustine on Friday, November 1, 2019. Sammy Hagar & The Circle last performed at The Amp in November, 2017.
For almost forty years, Sammy Hagar has been one of rock music's most dynamic and prolific artists. From breaking into the industry with the seminal hard rock band Montrose to his multiplatinum solo career to his ride as the front man of Van Halen, the "Red Rocker" has set the tone for some of the greatest rock anthems ever written with songs like "I Can't Drive 55," "Right Now," and "Why Can't This Be Love." He's earned the highest respect of the music industry with a Grammy Award and induction into the Rock and Roll Hall of Fame alongside Van Halen and is currently on his fourth platinum run with the supergroup Chickenfoot. Along his journey, Hagar has also become a dedicated philanthropist, a New York Times best-selling author and auspicious entrepreneur.
Additionally, since forming in 2014, Sammy Hagar & The Circle, the acclaimed supergroup featuring Rock & Roll Hall of Fame inductees Sammy Hagar and bassist Michael Anthony, drummer Jason Bonham and guitarist Vic Johnson, have quickly established themselves as one of the most emphatic and exciting live acts on the road today, seamlessly ripping through career-spanning hits from Montrose, Van Halen, Sammy Hagar and The Waboritas and Led Zeppelin.
With the May 10. 2019 release of the debut studio album, Space Between, the band has produced a collection of original new material which harnesses the depth of their artistic experiences and seminal collaborative sound with Hagar's prolific writing vein to produce an album that builds and explodes, song after song, around the concepts of money, greed, enlightenment and truth.
Hagar explained about the album, "The 10 songs on the Space Between are not just a bunch of new songs grouped together on an album. They were sewn together conceptually for a complete mental, emotional and physical experience (kind of a Three Lock Box). Inspiration is a beautiful thing and making this album is living proof that when the fire of creativity strikes, the songwriting process doesn't have to be painful or a struggle. Once I had the overall vision, the lyrics and music began to just flow through me."
Doors Open at 6:30/ Show starts at 7:30!!!
Related Articles