2023 Jacksonville Taco & Tequila Festival Lineup Reveal
by 904 Newsroom
August 22, 2023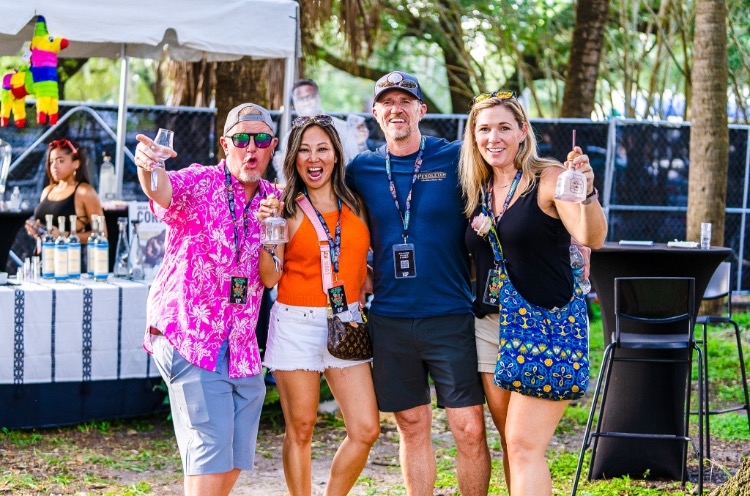 JACKSONVILLE FL: Organizers announced today that Iration, Big Boi from Outkast, Lupe Fiasco, Gym Class Heroes, Collie Buddz, Ballyhoo, The Main Squeeze, Night Tales, The Ries Brothers, Cas Haley, L.O.V.E Culture, The Hulagans, Outeredge, Ben Lewis, Easy Honey, Rohna, and additional special guests will be performing at the 2023 Jacksonville Taco & Tequila Festival.
This year's festival will be a music, food and drink experience like no other, including three stages of live entertainment featuring 40+ bands and DJ's. The signature event will take place Saturday, September 2nd and Sunday, September 3rd at the waterfront Metropolitan Park in downtown Jacksonville! The beautiful venue will play host to two jam-packed days of world-class, live entertainment, authentic cuisine from over 40+ taco makers and culinary teams, margarita and tequila sampling stations, local artist & makers village, art & cultural spotlights, games, and more!
The festival is a fundraiser for several local Jacksonville nonprofits benefiting the arts, community enrichment and education here on the First Coast. Over $115,000 was raised for Jacksonville nonprofits as a result of the 2022 Jacksonville Taco and Tequila Festival.
2023 Enhancements + Additions:
New Location & World Class Entertainment: Home to some of Jacksonville's most memorable events over the last several decades, the 2023 Jacksonville Taco & Tequila Festival will take place at the waterfront Metropolitan Park in downtown Jacksonville Fl. The layout will feature several different entertainment & taco zones, an impressive main stage, internationally acclaimed musicians, and tented seating areas and shade zones on the riverwalk.
The Golden Agave Club: The festival's Gold Standard for Hospitality. New this year, there will be a private, air conditioned speakeasy, stageside viewing and hospitality, all day access to the Grand Sampling Experience, premium tequila samplings + spirit offerings, bites from Iguana on Park, complimentary Draft Beer, VIP skip the line entry into the festival + more.
Grand Sampling Experience: The private, curated sampling will take place on the riverwalk twice daily, including representation from 40+ distillers & makers of craft tequila. Guests will also enjoy upgraded, all day hospitality at a two story, private lounge, air conditioned restrooms, limited edition, engraved crystal sampling glass, and an additional GA ticket for the second day of the festival.
Smooth Jams Stage: New to the festival this year, this shaded stage will highlight cultural music, immersive art performances, and offer complimentary dance lessons throughout the festival. More info coming soon.
Art on the Walk: Over the span of two days, attendees will be able to observe & connect with artists + creators as they bring life-size masterpiece's to life. This year, the festival is partnering with the Cultural Council of Greater Jacksonville to showcase and highlight 20+ local and internationally acclaimed artists at the festival.
Taco Disco Experience: This special experience will include "Jacksonville's Largest Silent Disco" featuring 1,500 headphones, dueling DJ's & an immersive light and art experience under a massive shaded tent on the waterfront. Over 30 local musicians, DJ's and performers can be seen here over the two days of the festival.
The festival is best enjoyed with a Grand Tasting Experience or VIP Pass. General Admission tickets include a welcome Margarita or cerveza!
For tickets and more information:
2023 Daily's Main Stage Line Up: Get Tickets
Saturday - Daily's Main Stage Line Up
9:30 PM Iration
8:00 PM Lupe Fiasco
6:45 PM Night Tales
5:15 PM The Main Squeeze
3:45 PM Ballyhoo!
2:30 PM The Hulagans
1:15 PM Outeredge
12:00 PM Rohna
Sunday - Daily's Main Stage Line Up
9:15 PM Big Boi
7:45 PM Gym Class Heroes
6:15 PM Collie Buddz
4:45 PM Cas Haley
3:30 PM The Ries Brothers
2:15 PM LOVE Culture
1:00 PM Ben Lewis
12:00 PM Easy Honey

About Iration: Iration is an alternative/reggae group of musicians, formed in Isla Vista, CA. Their deep-rooted reggae influence is fused with elements of rock and pop to create smooth original sounds – "We're all about luv", states the band. The group is made up of members Micah Pueschel (Guitar/Lead Vocals), Adam Taylor (Bass), Joseph Dickens (Drums), Cayson Peterson (Keyboard/Synth), and Micah Brown (Guitar/Vocals). Most of the members of Iration met while growing up in Hawaii but the band members reconnected in Santa Barbara, CA circa 2004 - the exception being Micah Brown, a California native, who officially joined the group in 2014. Iration has been touring nationally since 2008, performing at festivals nationwide from Lollapalooza to Sunfest and Hangout, closing stages at festivals like Bottlerock and Outside Lands. The Hawaiian-bred musicians look forward to spreading their original sound and 'Aloha spirit' all the while never forgetting to get a surf in when possible.
About Lupe Fiasco: Wasalu Jaco, professionally known as Lupe Fiasco, is a Chicago-born, Grammy award-winning American rapper, record producer, entrepreneur, and community advocate. Rising to fame in 2006, following the success of his debut album, Food & Liquor, Lupe has released eight acclaimed studio albums; his latest being Drill Music in Zion released in June 2022. His efforts to propagate conscious material garnered recognition as a Henry Crown Fellow and he is a recipient of the MLK visiting professorship program at MIT for the 2022/2023 academic year.
About Big Boi: Antwan André Patton, better known by his stage name Big Boi, is an American Grammy Award winning rapper, producer, actor and half of the critically and commercially successful hip hop duo OutKast. Big Boi met André 3000 while attending high school in the 1980s and the two eventually joined forces as OutKast and signed with LaFace Records. After six successful albums as a duo they both decided to work on solo projects, and Big Boi's debut solo album Sir Lucious Left Foot: The Son of Chico Dusty was released July 6, 2010 and his second solo album, Vicious Lies and Dangerous Rumors, was released on November 13, 2012. The Mama Told Me Songfacts reports that his sophomore set's title is a dedication of sorts to his recently deceased grandmother.
About Night Tales: Night Tales is an Australian electronic R&B duo with a mission to pioneer urban culture in the alternative electronic music scene. When the duo met they instantly began collaborating and eventually struck a 3 single deal with German label, Majestic Casual. Night Tales has reached audiences across the globe bringing in 12.5 million+ streams on Spotify.
About Gym Class Heroes: Melding elements of rap, rock, R&B, and funk into one cohesive and melodic sound, upstate New York's Gym Class Heroes have diverse appeal based on their impressive musical dexterity. Often touring with indie rock and pop-punk bands, they don't fit comfortably into one specific genre; the quartet's music is rooted in traditional hip-hop, but features live instruments instead of looped samples or beats. Lyrics are often socially conscious, but also incorporate humor and wry perceptiveness. The band's roots date to 1997 in Geneva, New York, when MC Travie McCoy and drummer Matt McGinley became friends during high-school gym class. Wanting to create a new palette for hip-hop, the duo worked with other musicians before Gym Class Heroes were officially born in 2001 with the addition of guitarist Milo Bonacci and bassist Ryan Geise. The guys self-released...For the Kids that same year.
About Collie Buddz: Colin Patrick Harper hails from the tiny island of Bermuda. In the music industry, he is known as the reggae artist Collie Buddz. Buddz was born on August 21, 1984 in New Orleans, Louisiana. After graduating from high school, he attended University in Winter Park, FL, where he decided to study studio engineering. Upon graduating from the top in his class in 2006, Buddz began looking for work in the recording industry as a performer or producer. One of his first major gigs was working with recording star Shaggy on the single "Mad Mad World" from Shaggy's new album at the time entitled Intoxication, which was released in 2007. That was the same year Collie released his self-titled debut album with Sony Music with tracks such as 'Come Around' and 'Blind To You'. The album was a success and well-received by critics. WWE (World Wrestling Enterprises) fans would immediately recognize Buddz's voice from the entrance theme ("SOS") for WWE superstar wrestler Kofi Kingston, which was included on the 2008 compilation WWE The Music, Vol. 8. Over the next year, he would continue making guest appearances on the works of many other artists.
Related Articles