The Savannah Bananas are bringing their 2024 Banana Ball World Tour to 121 Financial Ballpark
by 904 Newsroom
October 11, 2023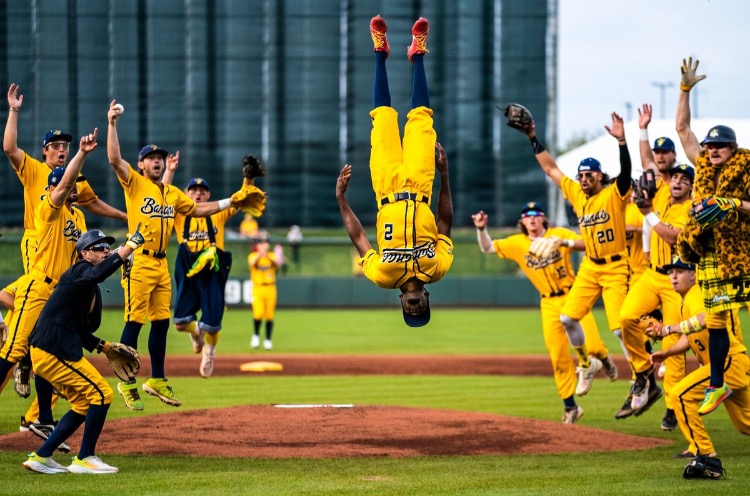 Savannah Bananas to play three games at 121 Financial Ballpark in 2024 Bananas scheduled to play March 1-3, 2024 in Jacksonville
JACKSONVILLE, Fla. – The Savannah Bananas are bringing their 2024 Banana Ball World Tour to 121 Financial Ballpark for three games from March 1-3, 2024.
Affectionately referred to as 'The Greatest Show in Sports" by ESPN, the Bananas have reimagined the baseball experience and the game itself. In addition to the cast of characters, dancers, performers, mascots and musicians, the Bananas are bringing their own twist of baseball to 121 Financial Ballpark. Banana Ball is a fast-paced, action-packed style of baseball with rules that include no bunting, a two-hour time limit, fans catching foul balls for outs, batters stealing first base, and a one-on-one tiebreaker showdown at the end of the game if it's tied.
The Bananas have been featured across the globe for everything from playing a game in kilts, using a Dancing First Base Coach, the first-ever baseball player to wear stilts, players back-flipping while catching fly balls and more. Fans can watch previous Banana Ball games on ESPN+ and the Bananas YouTube page.
The Bananas will face off against their rival, the Party Animals. All team rosters will be filled with the most entertaining and talented players in the world, including former MLB stars and celebrity guests. In 2023, former Major League stars Jake Peavy, Hunter Pence, Johnny Damon, Josh Reddick and Barry Zito all joined the team during the tour.
"I think this year showed people that we aren't just here to entertain but that we can actually play at a very high level too," Bananas infielder Jackson Olson said. "2023 was life-changing for all of us, but 2024 is about to be the biggest challenge yet, and we're all ready for it."
After selling out every night of the seven-city 2022 Banana Ball World Tour, the Bananas played a pair of games in 2023 in Jacksonville. When the Savannah Bananas are not on the road, they play their home games in front of a sold-out, 4,000- person crowd at Grayson Stadium in Savannah, Georgia. Bananas games at Grayson Stadium have been sold out for nine straight years.
For the complete schedule and opportunity for tickets, visit www.thesavannahbananas.com/tickets and join the Ticket Lottery List to get the opportunity to be drawn in the lottery for a chance to purchase tickets.
ABOUT THE JUMBO SHRIMP: The Jacksonville Jumbo Shrimp offer affordable family fun at 121 Financial Ballpark. Their inaugural season garnered the Southern League's Don Mincher Organization of the Year, Promotional Trophy and Jimmy Bragan Executive of the Year, won by general manager Harold Craw. The club added its second Promotional Trophy in three years following the 2019 season. The 2021 season marked the return of Triple-A baseball in Jacksonville. To experience the excitement with the terrific value of ticket and group options, call the Jumbo Shrimp at (904) 358-2846 or visit www.jaxshrimp.com.